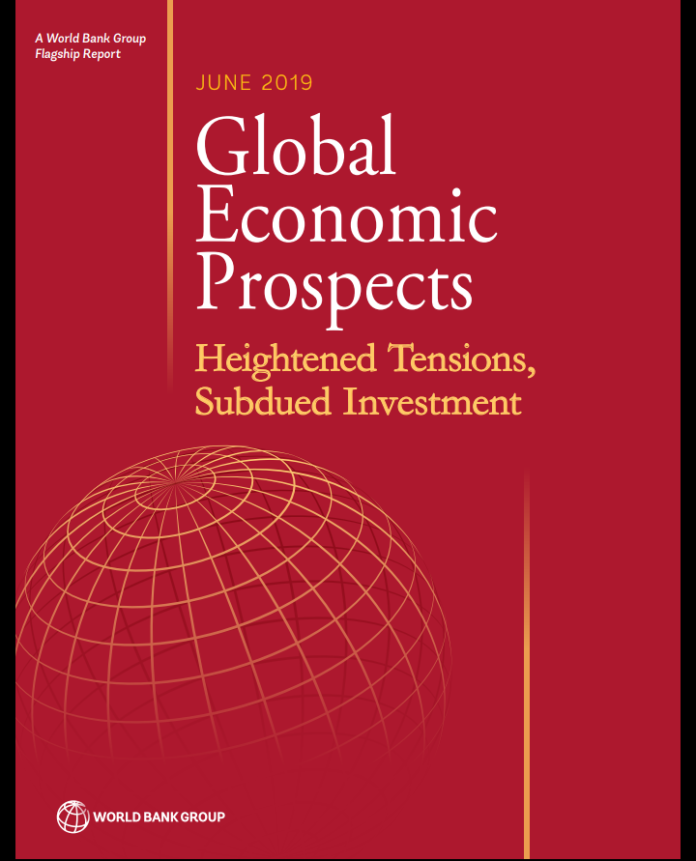 The World Bank Group published its flagship report 'Global Economic Prospects, Heightened Tensions, Subdued Investment' in June 2019. Regional outlooks in the 182-page report focused on some recent developments in the global economy and their downside risks. Regional outlooks feature East Asia and Pacific, Europe and Central Asia, Latin America and the Caribbean, Middle East and North Africa, South Asia and sub-Saharan Africa. This script of interest attempts to provide excerpts of the report on sub-Saharan Africa – the regional block within which Ghana is situated. Let's be informed!
According to the report, economic growth in sub-Saharan Africa is projected at 2.9% this year – up from 2.5% in 2018, but half a percentage point lower than previously forecast, reflecting more pronounced domestic headwinds and weaker-than-expected external demand. This translates into per capita growth of a mere 0.2% for 2019, following three consecutive years of contraction.
The report further states: "Growth in the region is expected to improve gradually over the forecast horizon, reaching 3.3% in 2020 and 3.5% in 2021. This cyclical recovery is weaker than previously envisioned – despite some increase in commodity prices – reflecting in part weaker demand growth in major trading partners, and in particular an increasingly challenging business environment in Sudan amid heightened political uncertainty. The forecast assumes that investor sentiment will improve in some of the large economies in the region, that oil production in large oil exporters will recover, and that robust growth in non-resource intensive economies will be underpinned by continued strong agricultural production and sustained public investment".
While per capita GDP growth is expected to improve somewhat, rising to 0.7% in 2020 and 0.9% in 2021, it will remain insufficient to significantly reduce poverty in the region. In countries where progress is being made in poverty reduction, increased prosperity is not always shared, as economic growth is often concentrated in urban areas with little benefit to the rural poor.
The global report also pointed out that: "Current account deficits have widened across the region, partly reflecting weaker exports (Guinea, The Gambia), and sizable capital goods imports related to large investment projects (Côte d'Ivoire, Mozambique, Niger). In non-resource-rich countries, sustained public investment spending is contributing to elevated deficits (Kenya, Tanzania, Uganda).
"International bond issuance activity has been slow to recover after weakening in the second-half of last year, and FDI inflows in the region remain mixed—despite easier financing conditions and a partial recovery in commodity prices. Capital inflows are nevertheless expected to sufficiently finance current account deficits—especially in countries with large infrastructure investment programmes."
Exchange rates
Commenting on exchange rates, the flagship report clearly noted that: "Exchange rates have been broadly stable this year, or have strengthened somewhat, amid improved external financing conditions (Botswana, Kenya, South Africa). This has, in part, supported moderating inflation in many countries during early 2019 (Angola, South Africa, Tanzania, Uganda).
"Reduced inflationary pressures have allowed authorities to pause monetary policy tightening in some countries (Lesotho, South Africa, Uganda), and ease their stance in others (Angola, Ghana, Nigeria). In Zambia, however, monetary policy was tightened as renewed currency weakness is expected to lift inflation above the central bank's target".
Public debts
The report minced no words on public debts. Thus, public debt vulnerabilities in the region remain a concern. It therefore noted that while primary deficits are expected to continue gradually narrowing to 1.2% of GDP in 2019, overall deficits are expected to remain in excess of 3% – reflecting the increases in interest burdens arising from the growth in government debt. Higher interest burdens also reflect the shifting composition of debt toward more expensive non-concessional financing, which has increased to about 60% of total external debt — about one-third higher than in the 2000s (World Bank 2019j). These higher debt-servicing costs tend to constrain non-interest expenditures and raise concerns about debt sustainability.
Risks
The regional outlooks are subject to several downside risks. "On the external front, a sharper-than-expected deceleration in activity in key trading partners – including China, the Euro Area, and the United States – could weigh on growth. These three economies together account for more than one-third of the region's exports and one-fifth of FDI Inflows. The slowdown in the Euro Area could be aggravated by a disorderly exit of the United Kingdom from the European Union, while a further escalation of trade tensions between the United States and China could adversely impact activity in both economies.
"A sharper-than-projected slowdown in China would hit metal-exporting countries particularly hard, as it accounts for more than one-half of global metals demand (World Bank 2016, 2018i). Lower-than expected commodity prices pose an additional risk to the outlook, as the region remains highly reliant on commodity export revenues."
Aside from that, it was also indicated that: "Domestically, various developments could weaken fiscal positions. First, while external financing conditions have recently become more benign, they could tighten again if investor sentiment were to deteriorate. This could pose a significant risk to the outlook for countries with elevated debt burdens or where a large share of debt is denominated in foreign currency, as higher interest rates and weaker currencies would raise debt-servicing and refinancing costs, absorb revenues, and constrain poverty-reducing expenditures. Secondly, state-owned enterprises in some countries (Angola, Ethiopia, Ghana, Mozambique, South Africa), particularly in the energy sector, have sizable debts that pose an additional contingent liability risk to already indebted governments (Bova et al. 2019).
Thirdly, countries holding elections during the next two-and-a-half years together account for one-quarter of the region's GDP (Gross Domestic Product), and the risk of fiscal slippages is particularly high as domestic political considerations could undermine fiscal consolidation efforts (Ethiopia, Ghana, Tanzania, Zambia). Neumann and Ssozi 2015.
Fourth, in countries where continued public investment is expected to support growth, the sustainability thereof could weaken if not accompanied by strong public investment management.
Banking Sector, including Ghana
Regarding banking sector vulnerabilities, the World Bank report has this to say: "Non-performing loans (NPL) ratios have risen, or remain elevated, among some industrial commodity exporters (Cameroon, Namibia, Nigeria, South Africa), as weaker growth and softer export revenues have translated into increasingly impaired private sector balance sheets. In Ghana, the large stocks of NPLs (Non-Performing Loans) are mostly related to state-owned enterprises, and the authorities' continued measures to help clear them have been contributing to improved credit extension".
Nevertheless, if slower-than-expected growth were to materialise, banking sectors could become even more vulnerable and likely amplify the growth slowdown (Mpofu and Nikolaidou 2018). Risks that political instability, armed conflicts, or insurgencies may weigh on economic activity are particularly elevated in some economies (Cameroon, Nigeria, Sudan, Zimbabwe).
Conflicts and insurgencies, in particular, could lead to forced displacements and hit agricultural production especially hard – reducing incomes and heightening food insecurity in many areas (Adelaja and George 2019). In some countries, a continuation of disappointing growth could become self-perpetuating. As slower growth stifles social progress and poverty reduction efforts, discontent and populist policies could become more widespread.
This could further elevate policy uncertainty and undermine investor confidence. The extreme weather events that have afflicted agricultural sectors in Southern and East Africa during the first half of this year include the return of El Niño (large-scale ocean-atmosphere climate interaction linked to a periodic warming in sea surface temperatures across the central and east-central Equatorial Pacific) conditions. More severe droughts than assumed could further suppress agricultural output and exacerbate poverty.
Thank you for reading! God Bless You! The full report can be accessed via https://openknowledge.worldbank.org/handle/10986/31655
This script was written by a Chartered Banker with a flair for feature writing. Apart from his work schedules, he edits or proof-reads corporate material for his colleagues, executive managers – including distinguished professionals working in various fields outside Banking. Through this column, his articles feature on third-party online media platforms in Ghana and outside. Email: Kwaku.Anumu@gmail.com