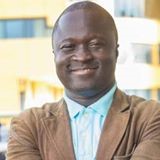 "To be successful, you must skate to where the puck is going not where it is." Wayne Gretzky
The banking industry in Ghana and the rest of the world have embraced technology in the delivery of service for some years now. Conspicuously, multinational banks in the country have adopted digitization to help stay in sync with their parent banks overseas and to also still the tide as the wind of digitization continue to blow from different directions with apparent disruptions in the industry.
However, some industry players are still working around to find their feet in the fast pace technology space. As the storm from the regulator`s cleanup has subsided, those who survived it should refocus and put themselves in shape to stay in competition with the digital trends in the industry. Today, the banking industry worldwide faces rising competition with tech giants such as Google and Apple entering the space as well as a slew of Fintech startups and the growing prevalence of the Internet of Things (IoT). These challengers bring new, innovative products tailor-made for the connected and mobile world into which they were born.
Tech giants and startups are also bringing new strategies to the banking industry that haven't been widely leveraged yet by traditional institutions: big data and data science, the collaborative disciplines enabling the age of algorithms. Specifically, data science is the combination of people, data, tools, and processes used to transform raw data into actionable insights and business innovation.
For example, data science is enabling these newcomers to leverage data mining and predictive modeling to personalize offers, reduce risk, create disruptive new products, expand markets, minimize operating expenses, automate traditionally manual processes, and much more. Traditional banks have been slower to adapt in this space, but the battle is not lost; they can still leverage data science to compete and emerge victorious in the internet era.
Satisfying tomorrow's Banking Consumers
Shifting consumer attitudes is one of the most profound changes that the financial industry must acknowledge and deal with in order to stay relevant. Much has been said and written about Millennials, and for good reason. This large consumer segment (born between 1979 and 1995) are already in or approaching their 40s. Over this period, Millennials have become the largest age-based demographic; and retail banking providers should carefully note their behaviour and preferences as they approach middle-age and their spending power grows.
Millennials have had access to smartphones for most of their adult lives. Generation Z can't remember life without pocket-size digital tools. Because younger consumers' are so comfortable with mobile technology (hundreds of mobile financial applications).
Studies have noted that while younger generations do seem to be brand loyal, they tend to even be more loyal to convenience. Millennials and younger consumers embrace a "do-it-for-me" culture (hence the "lazy" label they so often get slapped with), and have come to expect technologies that simplify their lives. Their preference for streamlined and personalized experiences, colours how they evaluate banking options.
Here are five ways banks can propel themselves forward:
Leverage Unique Assets
Though tech giants and startups have an edge in big data and algorithms, banks have unique assets the challengers lack, and all other things being equal, provide advantages and may win the battle for traditional banking:
Deep, historical troves of untapped customer data. Banks are uniquely positioned to get started with data science quickly since the data already exists and it's just a question of access and merging.
Physical touchpoints (branches). This differentiator will allow banks to use data science as well as develop meaningful customer relationships.
High levels of consumer trust. The traditional banking industry is more deeply regulated and under more scrutiny than startups in the same industry. All else equal, consumers have incentive to choose banks over their challengers.
Professionals with extensive domain expertise and advanced quantitative skills. Banks are also well poised to assemble skilled data science teams and data labs due to existing staff.
Partner With, Acquire and Invest in Fintech Companies
Investment capital for Fintech companies reached $22.3 billion in 2015, an increase of 75 percent over 2014. More than ever before, Fintechs are powering into a broad range of banking services, including virtual banking, personal/small business lending, financial advising, investment brokering, credit scoring, currency trading, money transfers, equity crowdfunding, payment processing, and more. These services disrupt and challenge traditional banks, but some have countered by partnering with Fintech companies. Others have either acquired or invested in the newcomers; banking institutions have accounted for a large percentage of total Fintech investment capital since 2010.
Embrace Transformation by the IoT Revolution
In IoT, billions of sensors, computer processors, and communication devices are attached to every kind of ordinary thing imaginable. The types of data collected and uses for that data are diverse, but the general role of IoT is remote monitoring, analysis, and control. For banking, this could mean revolutionary new products based on IoT like the provisioning of loans, leases or purchases based on equipment usage data. Thinking about and innovating into this space is crucial for the financial industry's survival.
Use Unconventional Data
In big data, it's not just transactional datasets that businesses use for analysis and predictive modeling. Unconventional sources of data, like social media activity or cell phone use, augments transactional data for a more complete customer picture. Combining datasets allows banks to more quickly and accurately do things like assess identity, fraud risk, creditworthiness, and to automate underwriting and loan origination processes.
Many Fintech & Techfin startups already use this kind of data to deliver innovative and personalized customer experiences and better financial performance. On top of these efficiencies, diverse big data combined with advanced algorithms can help banks with expansion, specifically into young or underserved populations with little to no credit histories (a global population estimated at more than 2.5 billion). For example, the startup InVenture has found success providing lending services to people in Africa based on historical, unconventional data sources.
Optimize with Machine Learning
Machine learning is perfectly positioned to provide efficiencies in banking by automating traditionally paper-based or manual processes. Algorithms can automate much of these processes and minimize (or possibly eliminate) the need for human review.
Reference:
https://www.banknews.com/blog/five-ways-traditional-banks-can-survive-and-thrive-in-the-age-of-alg
https://www.gbnews.ch/the-iot-revolution/
https://thefinancialbrand.com/digital-strategy/
About the Writer:
Ebenezer ASUMANG is a banker and researcher with extensive working experience in the Microfinance, Savings & Loans, and the mainstream (universal) Banking. He is also an Investment Analyst candidate of the CGIA Institute.
He is an Amazon published author of books incl. "More than Gold" & "Unmissable", and also the founder of AAKK Consult Ltd, a budding Writerpreneurship (book writing, coaching & training, proofreading & copy editing, articles & features, digital publishing, ghost writing, speech writing, and other forms of writing) Company.
Contact him via:
eben_asumang@yahoo.com
LinkedIn – Ebenezer Asumang
Facebook – Ebenezer Asare Asumang
Twitter –    @kwabenasumang