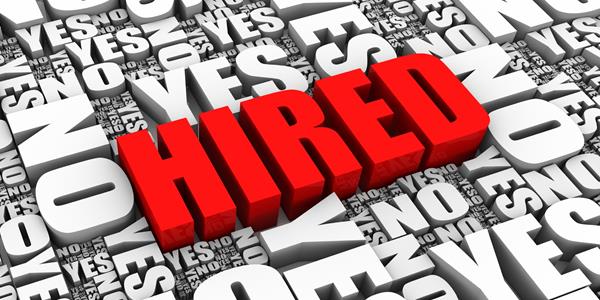 Step 1 – Fill out a cookie-cutter CV template
Step 2 – Repeat the archaic pitch about "why you'd be a great fit".
Step 3 – Blast this worn-out information to 50 different companies hoping to catch someone's attention.
This 'basic blueprint' represents probably the most difficult, and worst, way to land the job you want!
You might get the attention of one or two hiring managers, but this can never be the path toward great jobs responsible for crafting long-lasting careers.
Why?
Because the old ways of trying to get hired can never help you stand out!
…and in a socially connected world today, you must stand out – precisely what we're going to talk about today.
Here are the five quick-fire ways to get hired and advance toward the career of your dreams (in 2019!)
#1 – Discover your passion & find your niche
With enough practice, you can learn any skill in the world. However, passion can't be taught…and in most cases, sincere interest and passion are the only deciding factors for being hired at top companies.
Dig in hard and try to find what makes you a specialist, and highlight those points on your CV. Remember, hiring managers are looking for well-rounded specialists all the time.
Also, there's a strong temptation to apply to a bunch of jobs that you're not qualified for or interested in.
… and applying to more jobs seem sensible as it can improve your bets, but there's a chance you'd end up spending a considerable amount of time keeping track of those jobs. A far better idea is to be smart and apply to a targetted number of jobs based on your passion, interest, and niche.
#2 – Try and get hired at a Startup!
Alright. So, you have discovered a niche or a passion. Now understand what's going on in your industry. Follow the popular blogs, publications, and the viral news within your industry….and in a few days, you'll develop a wealth of knowledge that will be helpful during the interview process.
One effective way to gain quality experience fast is by joining a Startup. Early-stage Startups usually have a variety of needs. Startups are always known for providing decent learning, especially for young professionals (which leads to rapid career-growth a few months down the line).
You should start by compiling a list of recruiters that have a finger on the pulse of what's hot & who's hiring when it comes to new Startups. Don't be shy, and contact them directly. Most Startups will not hesitate to keep you on the radar for future job-openings. Once you have their attention, don't forget to attract them with your unique skills.
#3 – Improve your presence & influence
Your 'active' social media profiles could be a significant differentiator to your competition. Once you have a considerable social presence, it's far easier to advertise your skills as well. You can then network and reach out with potential Startups and recruiting managers through those social profiles. Here's a 3-step blueprint for crafting and optimising your profile:
Here's what I've been doing
Here's what I want to do
Here's how it will help your organisation grow
Joining industry-focused groups works as well. If you can write well, you have the option to produce guest-blog articles, since most industry blog owners are always looking for fresh content and a new perspective.
#4 – Fix up your LinkedIn (the #1 online asset you should dominate)
LinkedIn is certainly different from other social channels. It's designed explicitly for professional networking. As a platform, LinkedIn offers a golden opportunity to position yourself as a dynamic and employable entity. A powerful LinkedIn page shows discipline and acts as a powerful online asset to boost your personal brand. Here are a few steps to 'power' your LinkedIn:
Don't forget to complete your LinkedIn profile (and always state what you're looking for).
Create a reminder to update your LinkedIn profile every 12 weeks and showcase what problems you solve.
Post, share, and comment. Don't forget to create relevant content (be it text, images, or an infographic).
Join your niche-specific online communities. Answer questions and offer suggestions that show your experience and expertise. These groups are a great place to find like-minded people who share the same interests. Naturally, you'll see more than a few job openings as well.
#5 – Prepare yourself to add extreme value
So, you received an email invitation for an interview. First, try and understand the mission and values of the organisation – something that many avoid and then later regret. Then make your skills and experience seem 'profitable' to your prospective employer. For instance, you can share an estimate of the amount of money (or resources) you saved for your previous employer on a specific project. Most organisations want to see the value you provide, not just hear about it. The three most essential value-adds that hiring managers are looking for are:
Show them how you can save/make money.
Show them a way to improve the efficiency of an existing process.
Discover a way to prevent future problems for the organisation.
Concluding thoughts
It comes down to how well you market yourself, for no one will do it for you. Leverage the advantages of a connected world and play off of your strengths. The key to success lies somewhere between identifying, utilising, and presenting your unique strengths to potential employers.
Hopefully, the five pointers highlighted here will help you find your dream job. Create a systematic plan based on these tips and you'll be one step closer to getting hired in 2019. Now it's your turn.
What steps are you taking to stand out in a crowded marketplace?