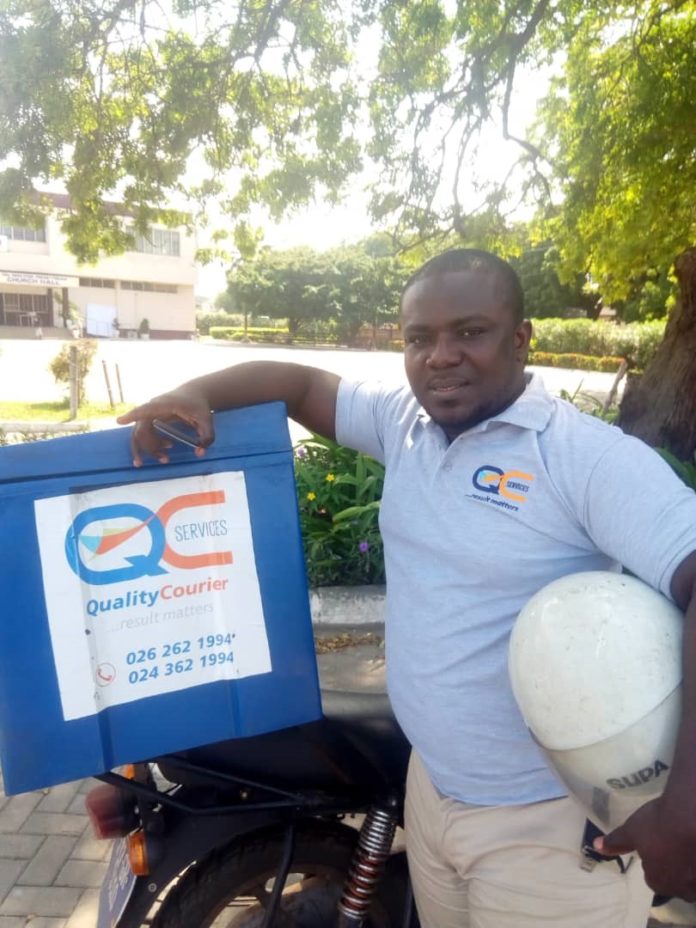 Gaps and challenges are inevitable. In the world of business, we come across them all the time. However, in the midst of problems, there are people who see opportunities. Steven Osei-Yaw, Founder and CEO of Quality Courier Service (QCS) has lived to prove that gaps and challenges can be translated into blessings if we learn to see the opportunities in them.
Identifying the gap
In 2010, he identified a gap in the offerings of courier companies. At the time, he realised that many of the existing firms focused on the corporate market, very much to the neglect of retail clients. That was when he decided to embark on the QCS journey.
After discussing the idea with one of his mentors Mr. Kwame Sowu Jnr of Energy Synergies, Steven began with one motor bicycle and a mobile phone. The company's services include dropping off and picking up packages, and submitting reports and feedback immediately work is done for action.
Challenge of growth
As demand for his services grew, Steven realised that he couldn't be at many places at the same time. He therefore procured two additional bikes and hired two riders to enable him adequately meet the demands of QCS' growing client base.
Initially, he found that the riders brought him a lot of relief and helped enhance customer experience. However, maintaining the riders became a challenge; their turnover proved to be too high. This occurred because there is virtually no barrier to entry in the business of courier services. Many of the riders preferred to move on after learning the tricks of the trade to run their own businesses.
Working the challenge
One morning in 2015, while listening to the business news on a private radio station in Accra, he heard about Invest in Africa's Business Linkage Programme (BLP). Invest in Africa is a not-for-profit organisation committed to improving Ghanaian SMEs' access to skills, contracts and finance to build long-term capacity. Through the BLP, Invest in Africa is able to offer coaching and mentorship interventions that assist SMEs to scale up and become globally competitive. The programme is funded by the African Development Bank's Fund for African Private Sector Assistance (FAPA). He did not hesitate in making enquiries to get QCS signed up.
Through the training offered by the programme, he became conscious of the importance of meeting regulatory benchmarks and updating his status with the Postal and Courier Services Commission. Having done that, he proceeded to enlist QCS on the African Partner Pool (APP), another intervention by Invest in Africa.
The APP is an online marketplace that bridges the gap between large companies with procurement needs (referred to as buyers) and SMEs who have products and services to sell (referred to as suppliers).
Joining the APP helped QCS gain exposure to large corporate organisations including Tullow Ghana Limited. Tullow is one of the APP's longest standing buyers. QCS won a contract from Tullow which constituted a substantial proportion of the company's earnings in 2017 and 2018.
Innovation through technology
To address the challenge of retaining bikers, he has developed a sharing platform. QCS mobile app. This app allows independent owners of bikes to sign up as riders. QCS is now not only a provider of courier services but an enabler too; it is also creating jobs for these bikers who are signing up.
The app also allows customers to enjoy courier services by simply making a request on their mobile phone. They are able to track the journey path of riders and ascertain the exact time parcels get delivered.
The future
Steven posits that courier services are gradually becoming an essential service; hence demand is expected to increase. He is therefore working, together with his team, to position QCS as the go-to provider of courier services in Ghana within the next few years by consolidating gains made within Accra and growing his customer base nationally.
He also expects turnaround time for delivery service to be shorter; such that same day intercity delivery will become the norm whereas deliveries within cities could be completed in less than an hour.
Terry Mante is an incisive and inspiring author, consultant, trainer and speaker.