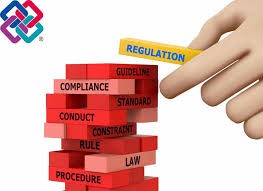 Two concepts employed to gauge the performance of an institution or organization are "efficiency" and "effectiveness". Efficiency refers to performing or functioning in the best possible manner with the least waste of time and effort (Source: Cambridge English Dictionary). Being efficient is about "doing things right". Thus efficiency is a concept by which we assess the processing activity of institutions or organizations – how they go about facing problems.
Effectiveness on the other hand means, the degree to which objectives are achieved and the extent to which targeted problems are solved. In other words, effectiveness is the adequacy or ability to accomplish a purpose; producing the intended or expected result (Source: Business Dictionary/Cambridge English Dictionary). Being effective is about "doing the right things". 
Ensuring effective compliance with rules and regulations is an important factor in creating a well-functioning society and trust in government. It is a key element in safeguarding health and safety, protecting environment, securing stable state revenue and delivering other essential public goals.
A country's economy is usually made of a number of sectors which compete for national resource allocation both private and public, and in turn generate returns on investment made in terms of wealth and social well-being. The appropriate choices of policies, programmes and strategies to be implemented in each sector, how each sector strategically supports each other, and the effective application of the available resources, will bring about optimal use of the nation's resources and yield the maximum outcomes. However, the major challenge that has historically faced the development of many countries, for example Ghana, is not the inability to formulate good and credible policies and strategies but rather, the weak capacity to implement or enforce these policies and strategies effectively and sustainably.
There is a popular adage which says "how well one lays his bed determine to a large extent how much he/she will enjoy the sleep". Regulatory bodies and law enforcement agencies are two major organs of the government machinery that are charged to ensure the application of regulations, law and compliance. The roles of these bodies or agencies are expected to have possible impact on the development of a nation. However, what do we see? Especially, in developing countries of which Ghana is no exception, there is so much indiscipline, non-compliance, corruption and financial mismanagement due to poor execution of duties of some of these agencies. The inefficiencies of these agencies do not only make implementation of government policies ineffective but also retard national development.
WHAT IS A REGULATORY BODY OR AGENCY
A regulatory agency (also known as regulatory body, regulatory authority or a regulator) is a government body that is created by a legislature to implement and enforce specific laws (Source: Wikipedia). In other words, it is a public authority responsible for exercising autonomous authority over some area of human activity in a regulatory or supervisory capacity. They implement laws by the regulation-making process which affect the daily operations of all businesses. Regulatory agencies are unique government entities because they are empowered with legislature, executive and judicial functions and are responsible for imposing requirements, restrictions and conditions, setting standards in relation to any activity and securing compliance or enforcement.
Below on the table are examples of some regulatory agencies in Ghana:-
NAME
CORE MANDATE

BANK OF GHANA (BOG)

Ø  Act as banker to other banks.
 

 

Ø  Formulate & implement monetary policies.
 
Ø  License, regulate, promote & supervise non-banking financial institutions.
 
Ø  Issue & redeem the currency notes & coins.
 

 

Ø  Ensure high standards of conduct and management in the banking system.

GHANA STOCK EXCHANGE (GSE)

Ø  To provide leadership in the development of the capital market in Ghana and serve as a pivot for capital mobilization.

NURSING AND MIDWIFERY COUNCIL OF GHANA (NMC)

Ø  To protect the health and well-being of the public, set standards of education, training, conduct and performance so that nurses and midwives can deliver high quality health care consistently throughout their careers.

NATIONAL PETROLEUM AUTHORITY (NPA)

Ø  Regulate, oversee and monitor the petroleum downstream industry to ensure efficiency, growth and stakeholder satisfaction.

NATIONAL COMMUNICATION AUTHORITY (NCA)

Ø  To regulate the provision of communication services in Ghana.

Ø  To set and enforce high standards of competence and performance to enable it to contribute significantly and fairly to the nation's prosperity through the provision of efficient and competitive services.

SECURITIES AND EXCHANGE COMMISSION

Ø  To protect investors and maintain the integrity of the security market.

PUBLIC UTILITIES REGULATORY COMMISSION (PURC)

Ø  Protect the interest of consumers and provision of utility services.

Ø  Monitor and enforce standards of performance for provision of utility services.

Ø  Promote fair competition among public utilities, receive and investigate complaints and settle disputes between consumers and public utility.

GHANA STANDARD AUTHORITY (GSA)

Ø  To establish and ensure high quality of goods produced in Ghana either for the local or export market.

Ø  To promote industrial efficiency and development.

Ø  To promote standards in public health and industrial welfare, health and safety in the light of the above.

NATIONAL ACCREDITATION BOARD

Ø  To contribute to the furtherance of better management of tertiary education.

Ø  Quality assurance body at the tertiary education level.

PHARMACY COUNCIL GHANA

Ø  To secure the high level of pharmaceutical care by ensuring competent pharmaceutical care providers who practice within agreed standards and are accessible to the whole population.

Ø  Collaborate with related local agencies and international pharmaceutical organizations to enhance effectiveness.

NATIONAL LABOUR COMMISSION (NLC)

Ø  To develop and sustain a peaceful and harmonious industrial relations environment through the use of effective dispute resolution practice, promotion of cooperation among the labour market, players and mutual respect for their rights and responsibilities.

FOOD AND DRUGS AUTHORITY (FDA)

Ø  Ensure adequate and effective standards for food, drugs, cosmetic, household chemical and medical services
RELEVANCE OF REGULATION
Regulation is a tool which government uses to intervene in the economy and life of citizens (laws, secondary legislation and other alternative tools) is of critical importance in shaping the welfare of economies and societies.
The objectives of regulatory policies are:-
To ensure that regulations support economic growth and development as well as the achievement of broader societal objectives such as social welfare, environmental sustainability and the respect of the rule of law.
Addressing the permanent need to ensure that regulations and regulatory frameworks are justified of high quality and achieve policy objectives.
To help policy makers to reach informed decisions about what to regulate, whom to regulate and how to regulate.
To help shape the relationship between the state, citizens and businesses which is an integral part of effective public governance and the foundation for building integrity.
Impacting analysis, the consideration of regulatory alternatives, administrative simplification, ensuring regulatory transparency and ex-post evaluation of existing regulation.
To support transparency and the participation of citizens (the regulated) in the application of regulatory powers, through public consultations and open communication.
To minimize the opportunities for corruption and to reduce its negative economic and social impacts.
WHY REGULATORY BODIES FAIL
Regulatory bodies need to define the organization, level of authority, responsibilities and accountabilities for competence management processes. However, some regulatory agencies fail in the execution of their core mandate because over and over, they have been doing the same thing and expecting different results. Some of the key factors that contribute to their failure include the following:-
Regulators are pulled many different ways simultaneously.
Managing competent regulatory staff is difficult in many countries due to staff retirement and the challenges in recruitment and replacing them.
Lack of resources.
Unsatisfactory systems.
General inefficiency or inability on the part of staff.
Poor supervision and monitoring
KEY ELEMENTS THAT MAKE AN EFFECTIVE REGULATORY BODY
The elements that make an effective regulatory body can be considered in two ways – (i) Elements which are provided by government or lawmakers, depending on national legal systems and (ii) Elements which are under the control of the regulatory body.
ELEMENTS PROVIDED BY GOVERNMENT
Government needs to provide the legal framework establishing the overall duties and responsibilities. A regulatory body needs to be provided with a legal basis with powers to set standards and powers to perform licensing, inspection, review, assessment and enforcement functions as well as to regulate these processes. To be effective, a regulatory body needs to be institutionally independent. It needs to be independent of the industry which it regulates. Governments need to set the mission to be accomplished by the regulatory body couple with sufficient funding to enable it deliver its mission.
Furthermore, government needs to agree on the division of responsibilities between the regulatory body and other regulatory or governmental agencies to prevent overlaps or gaps. Coordination and cooperation between all parties is important. The policy as regards the degree to which the regulatory body should publish the results of its work should be set out by government or generally be open.
ELEMENTS PROVIDED BY REGULATORY BODY ITSELF
Clear Policies, Objectives, and Strategies
A regulatory body needs to have clear policies, objectives and strategies. In general, policies need to:-
Aim to target high risk situations or areas,
be proportionate in such a way that resources are applied to matters of high safety concern or that enforcement actions are commensurate with offence and
be transparent by being understandable and accessible.
Typical objectives which are effective would be those which aim to reduce risks so far as is reasonably practicable and those which aim to ensure that periodic reviews are carried out at regular intervals by operating organizations against modern standards.
Examples of regulatory strategies are:
Those that are prescriptive, performance based, process based or goal based with self-evaluation by the operating organizations,
organization, functions and competencies to meet the mission and mandate of the regulatory body,
relations with operating organizations and others.
To be effective, a regulatory body needs to have an organization and processes to deliver licensing, inspection, review, assessment and enforcement functions including the withdrawal of previous authorizations. The organization will specify roles, responsibilities and accountabilities of staff, allocating staffing levels and provide a flexible approach to adjust resources according to priorities. The processes will allow for a timely response by the regulatory body to operating organizations activities, events, incidents and assessment function that is independent of the operating organizations and an inspection function which provides a capability for both proactive and reactive inspections. It is important that a regulatory body have the ability to follow up its regulatory decisions and requirements to ensure that these are met in a timely and correct manner.
Structure
A regulatory body needs to be appropriately structured to carry out its functions. There are several ways to achieve this successfully. For example, organizational units can correspond to each basic function of the regulatory body. Alternatively, organizational units can cover both inspection, review, assessment and enforcement functions leaving licensing and other more specialist functions in separate organizational units.
Whatever organizational structure is chosen, responsibilities of each unit and staff need to be clear, good communication needs to exist between relevant unit and staff on common items of interest and the overall organizational structure needs to be sufficiently flexible to respond to actual priorities.
Regulatory standards and Guidelines
To be effective, a regulatory body also need to have regulatory standards, regulatory guides and internal guidance for use by the regulatory staff. This suite of documentation not only need to exist but it needs to be reviewed regularly and updated according to need.
Supervision and Monitoring
Supervision has a number of important functions. In addition, to the consistent implementation of regulation, supervision can complement regulation in dealing with the institution's continuous innovation and adaptation thereby, reducing the need for frequent role changes and promoting regulatory stability. Moreover, supervision can go beyond the quantitative requirements to address qualitative matters such as corporate governance, influencing institutions to change their risk culture for better. There is a lot that supervisors can and should do to help make their institutions not only resilient but also more reliable and thus more able to perform their intended economic and social functions.
The success of any regulatory standard, depends on the supervision of that standard. Consistent implementation of the rules is one of the important roles of supervision, possibly the most important. It is a way to ensure sound and a resilient system. Secondly, dealing with complexity, innovation and continuous change is another important role. Supervision can complement regulation in dealing with this change. It should also be noted that, mere complying with regulations is not enough. The need to changes in behaviour and in the culture of institutions is also important.
Readers are remindered that, the recent crisis in the Ghanaian financial sector can be considerably attributed to lapses in supervision and monitoring as well as enforcement of law on the part of the regulatory body.
Adequate Staff
A regulatory body needs to have sufficient staff who are highly competent with sufficient knowledge, experience, training and motivation to perform efficiently and make independent regulatory decisions.
Access to External Support
Depending on the national system, size and competence of the regulatory body, it should have access to external technical support including Advisory Committees. However, such access does not relieve the regulatory body from discharging its responsibilities.
Adequate Planning
A regulatory body needs to ensure that adequate emergency planning and preparedness exists. Also it should be prepared to participate in national decision-making and communication in relation to significant events, whenever they occur.
Capacity for Research
A regulatory body needs to have the capacity to fund and manage or to perform research activities in support of its work. It also needs to fund and manage works which it is unable to carry out itself because it does not have the expertise. In all cases the regulatory body needs to be able to judge whether the outcome of the contracted work is adequate and whether it can be adopted by the regulatory body.
International Contact 
There is the need for a regulatory body to have international contact with other regulatory bodies in order to assist in standard making, to facilitate benchmarking of national practices and to exchange information on operating experience. International contact in respect of experience feedback is very important. It is also helpful to exchange personnel between countries to enhance training and to give and receive technical support from other countries. Below is a model of assessment of regulatory body:-
Outer ring: Front-line functions                                         Internal Management: Efficient practices
Technical and R&D support: Skills                          Strategic Direction: Resources
Knowledge                                                                  Priority
Experience
Model for assessment of regulatory body
Safety Measures
While recognizing its role as a regulator, a regulatory body should have an open relationship with operating organizations and other agencies on regulatory and safety issues.
Regular Public Communication
A regulatory body needs to deliver the government's policy in relation to openness. For example, it is helpful to have regular and open communication with the public through press releases, press conferences, seminars, published reports and provision of information on the internet about regulatory decisions and significant events.
WHAT IS LAW ENFORCEMENT
Law enforcement according to Cambridge Dictionary, is the activity of making certain that, laws of an area are obeyed. In other words, it is a system by which some members of society act in an organized manner to enforce the law by discovery, deterring, rehabilitating or punishing people who violate the rules and norms governing that society (Source: Wikipedia).
Therefore, what are law enforcement agencies?
LAW ENFORCEMENT AGENCIES
Law enforcement agencies are government agencies that are responsible for enforcement of laws (Source: law and legal definition). In other words, they are responsible for enforcing laws, investigate crimes and make arrests (Source: Collins Dictionary). The Ghana Police Service or Federal Bureau of Investigation (FBI) in America are examples of law enforcement agencies. Law enforcement agencies have powers which other government subjects do not, to enable them undertake their responsibilities. These powers exercised by law enforcement agencies include:-
Exemptions from laws.
Intrusive powers for search, seizure and interception.
Legal deception.
Use of force and constraint of liberty.
Jurisdictional override and
Below on the table are examples of categories of law enforcement agencies in Ghana:-
| | |
| --- | --- |
| NAME | CORE MANDATE |
| GHANA POLICE SERVICE | Ø  To ensure crime prevention and detection, apprehension and prosecution of offenders, consistent with the expectations of Ghanaians for safe, secure and peaceful communities |
| BUREAU OF NATIONAL INVESTIGATIONS (BNI) | Ø  If is an integral part of the National Security which oversees matters of counterintelligence and internal security of Ghana |
| GHANA IMMIGRATION SERVICE (GIS) | Ø  To regulate and monitor the entry, residence employment and exit of foreigners in the country |
| NATIONAL SECURITY | Ø  Considering and taking appropriate measures to safeguard the internal and external security of Ghana |
| GHANA ARMED FORCES | Ø  Role of defense of Ghana and other function for development of Ghana as the President may determine |
|  BOARDER GUARDS UNIT (BGU) | Ø  Border patrol to detect and apprehend illegal aliens and smugglers at or near the land boarders |
RELEVANCE OF LAW ENFORCEMENT
Law is the activity of subjecting human behaviour to the governance of rules. The rule of law requires that people should be governed by accepted rules or regulating the use of power rather than by the arbitrary decisions of rulers.
Therefore, without proper law enforcement;-
The rule of law would mean nothing.
There would be no one to protect citizens from harm and violence. Humans are social creatures and we tend to live in cities, villages and communities where interaction among our peers is almost inevitable. Unfortunately, there would almost always be those who would not respect the rights others, or would not do their social, financial and moral responsibility as a citizen. They will try to steal from others, threaten them and take advantage of them. That necessitates for the role of the police being the ones who would enforce the law, by arresting or deterring people who would violate the rules of the law and to protect rights of citizen.
Without law enforcement, if someone offends the other, the one has to take the person by him/herself and haul him before the magistrate.
The absence of law enforcement will make it impossible for a police detective to investigate when someone breaks into ones house and stole his or her belongings.
The rich and the powerful people in society may hire a detective agency to track down who ever committed crimes, but the poor might have no one to protect had they been victimized.
If someone is hit by a car driven by a reckless driver, without law enforcement, the driver could do away with it.
If the beer-gutted husband is smacking, beating or verbally abusing his wife, without law enforcement, the domestic violence might still continue on.
The rule of law identifies that your property is yours, and therefore no one can take it against your will.
The rule of law likewise identifies that no person deserves to be discriminated, whether because of his or her race, skin colour, sex or gender since those who discriminate will be brought to justice.
The rule of law recognizes that, as a citizen, you have a responsibility to fulfill, and that you also have rights which must be dutifully acknowledged, respected and protected by all means.
The rule of law dictates that corrupt officials, rapists, murderers and thieves must be punished.
These are only few among the many other violations, which can be done against you, but nonetheless, we can't deny the immense role law enforcement plays in our society.
FACTORS AFFECTING THE EFFECTIVENESS OF LAW EFFORCEMENT AGENCIES
Work effectiveness is the key to successful operation in every organization. The prevalence of crime in the world today is a cause for serious concern for all and sundry. It undermines the social fabric by eroding the sense of safety and security. The nature of these crimes include armed robbery, murder, rape, car theft, burglary, fraud, bribery and corruption, food and drug adulteration, gambling, smuggling, human trafficking, kidnapping, drug trafficking, money laundering, cyber fraud and other illegal activities. Therefore, crime control involves the idea of solving crime problems, arresting suspects, prosecuting and incapacitating offenders.
However, the capacity of the law enforcement agencies often been called to question due to the challenges that are usually characterized with the agencies. The challenges include:
INADEQUATE EQUIPMENTS OR LOGISTICS
Lack of modern equipment to effectively combat crime, is a major concern of law enforcement agencies. For example, vehicles, communication equipment, scientific tools for investigations and intelligence gathering control equipment are grossly inadequate. The implication of non-availability of transport impedes mobility especially, arriving early at crime scenes. In addition, lack of modern equipment means more workload making progress and accomplishments really slow.
LACK OF MOTIVATION
Motivation is a serious factor as far as efficiency in any endeavor is concern. Motivation goes a long way to encourage a work to maximum capacity. There are some security personnel for example, in the police service, who have been on the same rank for so many years. Some of the barracks are in various states of dilapidation and squalor and are in dire need of renovation to make it habitable for decent conditions of living.
Furthermore, apart from meagre salaries, they also have to operate in less habitable places as offices in addition to poor shelters. They feel demoralized yet the public are quick to blame them once they perform below expectation.
LACK OF COOPERATION FROM THE PUBLIC AND NEGATIVE PERCEPTION
Crime prevention and control is a collective responsibility and the security agents can't do it alone. However, majority of the public do not believe in the saying that "the security officer is your friend" either because of past experience or for some other reasons known to them. The public perception has greatly affected the level of support given to them in combating crime. Many refrain from giving valuable information which could have helped to checkmate crime.
UNEMPLOYMENT
Unemployment in the last few years has consistently increased. The rising rate has affected the effectiveness of the law enforcement agencies especially, the police to combat crime. The police are most overwhelmed with the enormity and frequency of crime committed since unemployment readily creates a large army of potential criminals.
BRIBERY AND CORRUPTION/GREED
Personnel of the law enforcement agencies are well known for their rottenness as many of them especially, police are known to be corrupt. Bribery and corruption are twin canker worms that have eaten deep into the fabrics of societies and organizations. For example, in Ghana, the police are known not to be exempted from this reckless orgy of financial ignominy. Criminals are known to usually bribe their way through and escape the long arm of justice. This has led to the increase in criminal activities since the criminals know that the police could be bought at a price. Arrested criminals are back on the streets again the next day if their go-fathers can negotiate and pay an agreed sum. This has affected the effectiveness of law enforcement in crime prevention and control.
FAMILY BREAK DOWN
The role of the family in maintaining a stable free society cannot be over-emphasized. The increasing rate of family marriage breakdown and its attendant effect on the children and society at large has become ticking time-bomb because it has given rise to increase in criminal activities by children from broken homes.
SOCIA MEDIA
Social media presents a host of issues and challenges for law enforcement in the 21st century from activist organizations sudden protests, gang recruitment tools, terrorism indoctrination, chilling crime, committed live on various social media platforms, to human trafficking, scams and personal security issues for the public and law enforcement. Despite the growth of some positive developments in social media, there are some serious threats that law enforcement must address.  
POOR LEADERSHIP SKILL
The beauty of effective leadership is, once the skills are mastered, a team can become well-oiled and literally functions without much supervision. One of the most dangerous recipes for disorder in any institution or organization is the lack of leadership skills and failing to make your workforce feel important.
Discarding people destroys performance and minimizes any significant plans for the agency. Effective leaders must be physically and emotionally available to employees if their organizations are to be successful. Even more frustrating is when a leader of the agency pays little attention to the staff, showers the community with attention and promises. However, the question we must ask is that, will that leader be able to deliver on any promise he or she makes to the community without the full support of the staff?
One significant role a leader has to his or her organization is being a champion of the people. In doing so, he creates vigor and energy for the workforce to carry out the mission effectively and efficiently. The success of a law enforcement agency is dependent upon the effectiveness of its leaders.
INADEQUATE TRAINING
In order to cope with the ever increasing challenges of society, well-trained personnel would be an absolute necessity. Employees can contribute to the success of an organization when they are adequately trained to perform their jobs according to industry standards. Inadequate training can severely impact on performance, team morale and organization's ability to retain good employees.
Poorly trained employees are likely to feel undervalued, which will reduce workplace productivity, loyalty and engagement. It is important that the workforce is adequately trained to acquire the knowledge and skill levels needed to work safely and productively.
ADDRESSING CHALLENGES IN LAW ENFORCEMENT AGENCIES
Every nation or society requires an effective and rational law enforcement system. Gathering, storing and analyzing extensive information are vital to the law enforcement process. Law enforcement in the 21st century is evolving rapidly, as law enforcement agencies face threats and challenges along with increased scrutiny from the public and media. Hence, there is the need for the law enforcement profession to respond with sufficient changes in the areas of leadership, structure, culture policy and technology (i.e. structural and institutional reforms).
Any attempt to address the challenges of law enforcement agencies for effective performance of operations should consider the following factors:-
RECRUITMENT AND RETENTION STRATEGIES
Recruitment and retaining qualified security officers is one of the greatest challenges facing law enforcement agencies. Low pay, antiquated hiring practices, negative public perception, high attrition rates, exposure to chronic, stress and trauma and increasing responsibilities all contributing to the downturn in the number of applicants.
The gradual exit of experienced officers through retirement is leaving a significant hole in personnel. Their departure means not only the loss of experience and knowledge, but also a vital component of on-the-job training for the next generation of officer. To address this situation with regards to recruitment, law enforcement agencies must seek out officers who reflect the diverse racial and ethnic cultures, genders and generational differences among their citizenry. To start, law enforcement agencies should evaluate existing gaps in their departments by conducting a staffing analysis.
It is also valuable for agencies to outline what type of person constitutes the ideal candidate for their organization. The ideal candidate should be more than qualified for the job, he or she should integrate with the culture of the organization. As part of recruitment strategy, it's important for leadership to evaluate what makes the agency unique and appealing to potential candidates. Leaders should identify and clearly articulate the core values of the organization and make sure those values permeate every facet of their organization to include recruitment.
Leaders must also assess issues that are likely to prevent ideal candidates from applying. Leaders need to consider the agency's relationship with stakeholders and how that may affect employment. How is the agency perceived by those in the community, local politicians, the media, administrators and business leaders?
Agencies need to regularly review their hiring practices and policies. They should evaluate current qualification requirements including education minimums, residency requirements and physical fitness standards. Making recruitment and hiring improvements will pay off, as enhanced selection policies often lead to low rates of personnel turnover, few disciplinary problems, high morale, better community relations and more efficient and effective service.
BUDGET CONSTRAINTS
Government should increase budget allocations to enable the agencies address the problems of logistics and personnel. Linking the budget to operations, shows how resources are allocated to achieve qualitative and quantitative outcomes. In a climate where government bodies are plagued with lingering economic woes and are forced to make very difficult choices about their budgets, most agencies are underfunded. Consequently, it becomes increasing difficult to compete for qualified applicants and to retain experienced personnel.
Increased budgetary allocation will facilitate recruitment of more personnel, improve incentives, including salaries and accommodation and modernized information and communication technology (ICT) capabilities.
POOR INFRASTRUCTURE/LOGISTICS
The infrastructure deficit of law enforcement agencies should be given the needed attention by:-
Renovating existing barracks.
Constructing additional barracks.
Constructing more police stations.
Rehabilitating outdated and ageing jail infrastructure.
Providing adequate logistics like vehicles of all categories, investigative tools, forensic laboratories, modern and sophiscated communication and information gauges, all to improve the efficiency and welfare of security personnel. The provision of the above-mentioned requirements will also improve the quality of investigations and criminal records management to enhance efforts at stemming rising crime. Lack of effective criminal records keeping has stifled criminal control mechanisms and the slowness of criminal trials, which impacts negatively on security personnel work.
FAIR AND CLEAR REWARD SYSTEM  
The system for considering promotions and reward in the law enforcement agencies should be improved and adjusted to be fairer and clearer by using real values of work performance to identify "Key Performance Indicators" or KPI's. To acquire a fair and explicit system for considering promotions and rewards, the law enforcement agencies could set up a framework as a central standard and then release it as a rule for Commanders from Headquarters. This will motivate personnel to be committed and give of their best.
ADEQUATE TRAINING
The efficiency of law enforcement today, is commensurate with the degree of training of its personnel. The effect of training and education of law enforcement personnel is especially important because it helps personnel to override natural inclinations, biases or reservations they encounter while in the performance of their duty. They should be given further training in human rights, accountability and the role of the security personnel in a democracy. Training and education improve the overall effectiveness and efficiency of law enforcement personnel.
Training did not only allows them to stay up-to-date with new laws and legislation but also remain sharp with new security tactics and evolving trends in criminal activities. Training will also increase their productivity by utilizing their newly acquired skills and talents to enhance their experiences, which ultimately boosts their self-esteem and self-motivation. Maintaining training needs and the motivation of personnel, are key concepts for reducing turnover rate and increasing retention rate. Regular training will help law enforcement personnel by reducing organizational strain, increase mental awareness and develop their interpersonal skills, competence and confidence.
Law enforcement agencies have a responsibility to put forth 100% of their effort to combat potential problems within their given geographical arena. Anything less than 100% results in grievances, liabilities and a poor public profile, not to mention missed opportunities, distractions and complacency.
CORRUPTION
Since an effective system of government that prides itself on democracy and good governance is at the forefront of all nations as they embrace the 21st century, it is critical important that democratic countries build effective institutions and enhance institutional capacities to deal with corrupt practices. Corruption by its very nature, undermines the rule of law and good governance and ultimately, forfeits the public trust and confidence in those institutions, whether they are governmental or private. Corruption should be treated with urgency it deserves at all levels and the prosecution of all offending personnel remains the strongest deterrent.
This measure is very necessary since these officials often exercise a large amount of discretion when carrying out their duties. It is vital that the citizenry perceives that the discretion is being carried out in an even-handed manner. As guardians of the law, law enforcement provides the direct link between the justice system and civil society.
There are other measures apart from prosecution of offending personnel that can be implemented to prevent corruption. No single measure can address corruption influences entirely nor is there a single "cure" for corruption or its influences. As measures are implemented, enterprising minds are working to overcome those measures-this is the frailty of the human condition.
This requires continued training of both law enforcement personnel and society so that citizens know what they should expect from the law enforcement. It is also important that personnel receive regular promotions and adequate salaries and incentives so that there is less incentive for corrupt behaviour.
Furthermore, there should be a way that citizens can complain of personnel misbehavior and a methodology for these complaints to be honestly and adequately addressed. Overcoming a culture of corruption in law enforcement, will require the dedication of those in power to forgo benefits that accrue through corruption – it is only then can real strides be made.
CHANGE IN LEADERSHIP STYLE
The rapidly changing political and social climate in every country presents new challenges for law enforcement and requires exceptional leaders to navigate through them. Law enforcement administrators and line supervisors must possess leadership skills that allow them to connect with a wide-ranging demographic within their agency while remaining dedicated to their primary mission of serving the public.
The success of a law enforcement agency is dependent upon the effectiveness of its leaders. In law enforcement, two leadership styles are very critical. These are (i) Situational leadership style that requires leaders to quickly assess a situation and recognize the appropriate personnel and resources needed for a specific mission. (ii) Transformational leadership style which is the second one, focuses on encouraging the success of others. A transformational leader develops a vision of the future intended to excite and inspire followers. Ideally, transformational leaders create valuable and positive change in their followers with the end goal of teaching them to become leaders.
The role of law enforcement rarely remains fixed, but the methods by which law enforcement officers serve and protect, shifts with the political climate ( Source: Nicole Cain – American Military University). Hence law enforcement leaders must understand the nuances of the profession and the shifting political to guide their members. Law enforcement leader must possess certain attributes that influence others to follow. These attributes include:-
Hierarchy awareness and delegation skills.
Ability to motivate and reward.
Knowledge of the field, encourage education and professional growth.
Caring about officers' well-being.
CONCLUSION
National development includes all aspects of life of an individual and the nation. It is the all-round and balanced development of different aspects and facets of the nation namely, political, social, economic, cultural, religious, scientific, and material (Source: John Vaizey – noted economist). Consequently, the agenda as outlined above for Regulatory and Law Enforcement Agencies is of immense proportions. It necessities a bold set of actions ranging from updating laws, augmenting regulatory approaches and refining enforcement strategies to meet the existing and emerging challenges of rapid growth. As economies continue to accelerate and the demand for new development increases, the performance of Regulators and Law Enforcement Agencies will come under increased scrutiny and pressure.
The needed institutional changes, however, cannot be achieved overnight (or even over a year), as many of the measures would involve further examination, design and consultation with the public, other government agencies and the regulated community. It is however, important to move quickly towards a broad agreement with all major stakeholders on the priority actions, based on the identified list, and develop a medium-term programme of implementing the agreed measures, supported by necessary resources, monitorable targets and clear accountability mechanisms.
ABOUT THE AUTHOR
ROBERT OWUSU is a Fellow of the Chartered Institute of Bankers (Ghana). A seasoned banker with wide experience in Retail Banking, Internal Auditing, Project Management, Electronic Banking with high specialty in Internet Banking. He is also a Consultant and a Supervisor of CIB examination.
CONTACT
E-mail address:  kwa_rob@yahoo.com