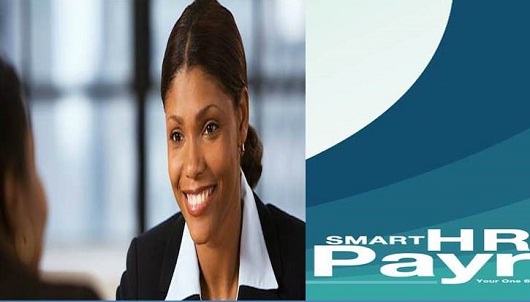 The SMART HRM and Payroll Software has three key modules, namely: HRM, Payroll and Employee Self-Service) which are needed for effective management. It is also designed to integrate with time & attendance management solutions.  
The Smart HRM & Payroll solution is very flexible and can be customised to suit specific client requirements. In the last episode we delved a bit into the Human Resource model and highlighting some essential features one can find.
Today, our focus in this article will cover both the Self-Service and Payroll modules.
The Employee Self-Service Module
It is essential that today human and a material resource management tool is one that is interactive. All employees should be able to connect with your HR management tool. This is very essential to enhance the collaboration and communication needed for greater productivity. As long as the employee is connected online, he or she can engage.
Some of the key feature under the Employee Self-Service are as follows:
The Employee Profile
This page is designed to enable all employees in your organisation to view and validate their personal data. The employee is not allowed to edit but only view. If there is any correction to be made, an officer's attention is drawn to do so.
The Employee Profile Update
With this page, an employee is allowed minimum editing capabilities as defined by your HR manager during deployment. From our references, the common allowed options have been: emergency contact, personal phone number, contact email and home address.
The Leave Request
Here the employee can have an overview of his leaves. The Employee can make a leave-request from whichever location. The submitted form goes through the approved process defined by your organisation.
Objectives & Appraisal
Appraisal is very important to constantly measure an employee's readiness for the task or role assigned. The defined objectives for the period go through the Line manager and upward, and are finally communicated back to the employee.
Other essential features one can find under this module include: Training needs, pay-slip and loan requests.
The Payroll Module:
One of the essential processes in every organisation is the payroll. For effective processing you cannot continue to rely on excel or some obsolete software. Your earnings and deductions, income tax definitions, loans, provident fund, SSNIT are all well-defined in this software.
Earnings & Deductions
This helps to define all the benefits employees are entitled to. It also has the taxable and non-taxable assignment addition to the various benefits. Here, you can choose to define benefit as a percentage of the basic, or consolidated to the basic. Any additional requirement for earnings or deductions in your company can be done here.
Staff Loans
All loan-types approved by the company can be defined under this feature. There is room to accommodate various loans and their interest rates. Be it personal, car, or rent loans, your organisation will have to define this during requirements-gathering.
Income Tax
Accurate income tax computation is essential. This burden is taken away from the pay officer as the system takes care of it. With a few button-clicks, one can reset to match government's defined rule for a particular period.
SSNIT Deductions
Statutory SSNIT employee deductions are well-captured in the system. The software supports the new three-tier pension scheme. The maximum deductible social security computation can easily be set up in this system
Provident fund
There is provision for provident fund deductions, which can be taken for staff every month for both employee and employer deductions.
Pay Processing
Normal pay and benefit pay can be handled by this system. One can also handle back-pay when the need arises. There are in-built logics that ensure accurate taxation and accurate computation of multiple back-pays.
Payslip (Multi-Currency Operation)
This system is capable of multi-currency pay processing. By simply entering the current exchange rate, foreign currency pay processes can be handled.
Overtime
Overtime definitions as witnessed vary from company to company. The flexibility of this system makes it possible to handle this with ease.
Various reports required can by system-generated. These reports may include, as defined by you: GL report ( Earnings and Deductions Summary) payroll summary, payroll register, net summary by banks, income tax return, first-tier and second-tier reports etc.  These reports can be exported and imported to and from excel.
Current Users include: Top Government Agencies, Manufacturing Companies, Commercial Banks, Savings and Loans, Insurance Companies, Shipping Agencies, Churches, NGOs etc. email: tedlawson10@gmail.com for a full list of our references and presentation.