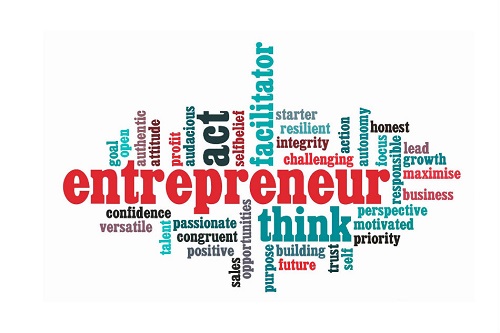 The private sector needs commercial activities that will reduce graduate unemployment.
The question is; how? Today, there are countless innovative businesses and endless new industries emerging and replacing outdated and dysfunctional ones. Most of all, as old ones crumble and struggle to reinvent themselves to compete in the market, there are challenged by new businesses and today's sophisticated markets, given the knowledge economy we find ourselves in at present.
Putting this at the back of your mind, do you imagine how your business will look like in the next two, five or ten years from now? Do you think prospectively you could be one of the dominant industry players in the near future? What do you think competition is going to be with your major competitors in the market at that time? And how aware are you and prepared to deal with disrupters who will jump in to share the market with sophisticated and innovative ideas? If you are not sure, then you need to rise up and face the future with the right tool.
Of course, it is obvious there are many reasons why people get into self-employment and the primary reason that put people into self-employment further dictate the nature, size and future of the business. To mention but few, we know to most people starting a business is a compelling issue that has necessitated the sale of some items that are readily available to obtain some money at a go or on a regular basis. To others in this same vein, it is to use a skill obtained through training or one that is inert to gain some income for day-to-day self up-keep or family survival. Technically, these are technicians practicing what they know and also feel obliged to benefit from what they are endowed with by nature.
To us in Ghana, these are people who constitute the informal sector and are certainly called the self-employed individuals who form the largest portion of our economy, have no bank account to save their revenue and may or may not employ one or two people in such employments. Even if they do employ an extra hand, it is usually without a contract or a fixed salary. Economically, their contribution to the economic growth and development is valuable indeed and cannot be overlooked. They do not grow because they do not have such objective from the art and therefore remain small businesses even without any future.
Further to that, there is another group of people who are a bit advanced in their approach to business with economic objectives, thus; to acquire wealth through large scale value creation. To this group, a commercial activity is not just to get by or satisfy only the basic human needs but to take every business idea conceived to another level and generate large amount of revenue. Surely, this category of people in our mist is popularly called business persons or businessmen and women.
Indeed, they are those who engage more hands to make real economic impact on many lives than the technicians who only want to just complete individual task and take their money to keep body and soul together. Conversely, the business persons here have business bank accounts and may put their employees on regular salaries and sometimes with other benefits attached.
Admittedly, most of these business persons described here do not concerned themselves so much on swift changes within their businesses and industries in response to external factors usually due lack of understanding of modern day business dynamics. Some of them find it difficult to relate any form of knowledge to business existence, sustainability and profit so they just work and work and keep working in their businesses and may not even plan effectively with long term objective.
Nonetheless, they can manage current issues and challenges with their skills and experiences gained overtime to keep their businesses above sea level. Definitely, business persons are self-employed too and are also significant to our economy. In addition to, they have the potential to grow big to a certain level where external help may be required before a disaster strikes to defeat the owner. Otherwise, they grow to a limit and expansion becomes impossible, something scary and the business growth take a constant forever.
Undoubted, still in the categories of self-employment we have some of the greatest organisers of all factors of production with the most effective and innovative tools ever made available to man. Accordingly, they are the entrepreneurs who combine available resources to solve social and economic problems in a more creative fashion without any limitations. Entrepreneurs are at the top of the business pyramid,  are few, great thinkers, visionaries and game changers who go into self-employment not by accident or a single compelling issue but by spotting an emerging 'opportunity' in the market in their locality or even in the international market.
They have a high sense of purpose and vision they pursue with pragmatic plans to leave legacies for generations to come. Entrepreneurs always take a break from their businesses, sit down and reflect to find out how to take their ventures to higher levels. From this, they think, study, design plan and generate ideas that have meanings and can help them take their operations beyond making just a living and getting by. To answer the question of how, the rest of the article presents a synopsis of an innovative business model for your consideration if you are thinking of creating value and building a new business or trying to improve on your existing organisations. It is a generic model and also for those who are currently struggling to find an innovative way into modern day business activities and to move away from outdated ways.
Business idea/opportunity
What is your idea? And where is the opportunity for the idea marks the starting point for all business start-ups. What is the problem identified? What and where is the gap? Then what is in existence but not satisfying customers' needs? Who are the customers? What do they want? What do they complain about? Are they organisations, individuals or a mass market segment? Is it about prices or features of products and services? What are their fears, concerns, passion, expectations that have not been met? To really address any of these issues, entrepreneurs design and offer a rationale to create, deliver and capture value in solving any of these social problems above or similar ones.
Value proposition
To get into the market to solve any problem, entrepreneurs actually create value by introducing products and services that offer what others businesses do not or cannot offer based on core competence. As a new entrant for instance, you need to show how you can solve a problem that others have not been able to solve and offer better and innovative products and services. Start-ups should be able to disrupt the market with new offers or products and services with added features. It could even be based on simplicity of use a product or service to customers. In fact, your value proposition should identify a unique selling point for the business to claim a substantial share of the market within a reasonable time scale.
Channels
How a company links, communicates and reaches out to customers tell a lot about the future and success of the business venture. For example, these are channels of communication and distribution and not excluding awareness creation in the market. Also methods used to present your company's value proposition to customer segments and facilities made available for purchases, receipt of pre and post sales services are all channels entrepreneurs take serious in growing their businesses. Sometimes channels are outsourced to people or organisations that can deliver better services for efficiency and cost reduction.
Customer relationships
Entrepreneurs have very strong customer relationships with their customer segments and this is expressed in relation to the categories of customers needs to be satisfied. Namely, personal relations counts sometimes here and it could be a facility like automated services or others technological innovation adopted to facilitate relationships between their businesses and the segments of the market they serve. All these are in the name of customer retention, acquisition and to boost sales for the entrepreneurs to grow to greatness. Also, social and network capitals are utilised to foster better relationships with the subjects that give entrepreneurs the rewards for their effort.
Revenue streams
Entrepreneurs also concern themselves with revenue streams because that is the lifeline of their businesses. Where and how much comes into the business as reward for solving problems constitutes a very significant part of a business existence. Entrepreneurs know the value of each customer segment to their businesses and the volume of income that each brings into their businesses. They also tend to differentiate between them with respect to pricing and attention given to specification and after sales services, given the weight assigned to each stream. Above all, how many are they and how strong each stream is in keeping the key activity alive is calculated and treated accordingly.
Key recourses
Every entrepreneur tries to identify the key resources that make the business, those that make the difference in terms of creating the value proposition. Actually, the acquisition of key resources is of special interest to entrepreneurs because the quality of the resources brings a lot of difference in the face of customers and specific segment of the market. This can be physical, intellectual, financial or human that the business relies onto as a core competence to lead the market. What are they, where do they come from and how they are acquired and treated at source also play significant role again in the value proposition.
Key activities
Another significant component of an innovative business model is the main activities that the business does and known, and to build a brand on. It could be more than one and constitutes the very operations that actually deliver the value proposition. In effect, a business is in the market because of such activities and issue relating to them must be taken with all the care and seriousness because entrepreneurs do not play with them. To illustrate, whist some organisations solve problems as services other just design and make physical products for their customers and entrepreneurs look for the right knowledge and skills to deliver them to perfection without any compromise.
Key partners
For entrepreneurs, key partners are not to be plaid with in business and are identified and treated accordingly for continued existence and profit for their businesses. Anybody or person outside a business that has anything to do in the day-to-day running and upkeep of key activities of a business is considered a significant partner. To be specific, suppliers, distributors, wholesalers and even competitors are all partners who require special treatment to be given to them to deliver the value proposed by the business to customers. Entrepreneurs do identify and take care of them to reduce risk and uncertainty in their businesses. In particular, the identification of key partners also helps in the acquisition of key resources and to furnish business core activities well to optimise and gain economies of scale. When entrepreneurs identify key partners they can easily go into strategic alliances with them and even partner with their competitors at some pint to take some advantages in the market.
Cost structure
Entrepreneurs also concern themselves so much with cost right from the start of a business. In principle, financial discipline is very important in business especially to start-ups because over spending and needless expenditures will only take a needless toll on resources. To clarify, cost incurred in operating key activities, obtaining key resources and delivering value with the necessary customer relations established are well streamlined and managed by entrepreneurs to minimized cost and maximise profit at the end of the day.
Therefore, the most important costs are spelt out clearly, thus; which resources are most expensive and which alternatives can we get without compromising our value proposition are good questions? Also, activities that are expensive are also looked at carefully to settle on the least minimum in the course of operations.
To be more exact, you have: fixed cost and variable cost to deal with. Further to that, entrepreneurs vary their cost depending on the models they find suitable at certain times, in some markets and even in other specific market segments. Eventually, that helps them to determine whether it is prudent to use value-driven or cost driven business model.
Conclusion
On the whole, whilst technicians and business persons just work on their businesses all the time to sustain revenue entrepreneurs go the extra mile to in-cooperate planning, vision for the future and innovative tools to scale limitlessly for endless revenue without any fear.
Although, all the three categories are in self-employment at various levels in their own rights, I must admit, entrepreneurs distinguish themselves by their ability to create and innovate all the time using state of the art business models and plans. Unfortunately, self-employed persons who are technicians and business persons who cannot do that tend to be limited by lack of knowledge, creativity and fear of risk of failure during expansion.
They may not take the pain or lack the capacity to develop business models and plans. In all, entrepreneurs do not give their businesses to chances and always work on them to make the difference.
The author is a consultant in entrepreneurship and business development, and an expert in university-industry interaction and knowledge transfer for innovation. He is also a co-author for two textbooks: Financial Entrepreneurship for Economic Growth in Emerging Nations, and Innovation and Social Capital in Organisational Ecosystems. Contact: Email: 00233545581420; fatahi507@yahoo.com