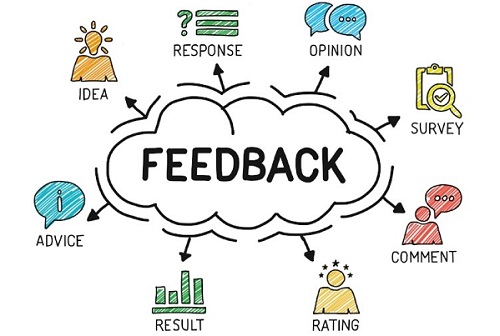 "Customer feedback."
A student at a management school came up to a pretty girl and hugged her without any warning.
The surprised girl said, "What was that?"
The guy smiled at her, "Direct marketing!"
The girl slapped him soundly.
"What was that?!" said the boy, holding his cheek.
"Customer feedback."
The above might be a humorous take on the issue of customer feedback but the truth is that customer feedback is no laughing matter. Customer feedback is as essential to the success of any business venture as any other important variable. Customer feedback, or information provided by customers about their satisfaction or otherwise with a product or service, is something that a business cannot thrive without. Customer feedback can take the form of complaints, grievances, praises, suggestions, advice, ratings, recommendations, etc.
Unfortunately, feedback is not ranked among the most important things a business must concentrate on. Business leaders would prefer to concentrate what they deem to be the more important matters such as product development, raising of capital, getting products to market, recruiting the right calibre of staff, setting up a competent board of directors, etc. Customer feedback, I am of the opinion, should rank high on the order of important things a business owner, manager or leader must concentrate on.
In my experience, the challenge of customer feedback is not an issue with customers; it is with organisations. Over the years, many organisations have just not taken it as a serious aspect of the business. Those who also get feedback do not usually make good use of it.
The truth is that customers are always providing feedback. I am well aware of a popular customer feedback statistic that claims that only one out of twenty-six customers would lodge a complaint. That might be true but also true is the fact that even a refusal to provide feedback (or complaint) is feedback. Because if the customer is truly excited about the experience, he or she would inform the business—or another person. Very few people would keep a great experience to themselves. Therefore if customers are not coming forth with complaints or suggestions, that in itself is a feedback that the organisation must consider with all seriousness.
No matter how much feedback a brand receives on a regular basis, I still believe feedback must be sought for. The most successful brands do not wait for customer feedback alone. They know that the organisation must go out of its way to get customers to express their honest opinions and suggestions about the product or service they had patronised. And when I say "customers", I mean all customers. As much as is practicable, the organisation must know what every single customer thinks of its service or product offering.
If the feedback is from a happy customer, it can be used as testimonial in the organisation's marketing and promotional efforts. If the feedback is from an unhappy customer, like the lady in the story above, it would serve as a great learning resource for the organisation—and in that case, it would be a positive thing. After all, Henry Ford tell us that "The only real mistake is the one from which we learn nothing." 19th-century Scottish author and government reformer, Samuel Smiles adds, "We learn wisdom from failure much more than from success. We often discover what will do, by finding out what will not do; and probably he who never made a mistake never made a discovery."
I am led to believe that sometimes organisations shy away from hunting for customer feedback because these companies already know what the customers would say. On many occasions, when your service or product is poor, in all likelihood, you must be aware. So you do not need a customer to tell you.
Other times too, it could be out of fear. Businesses that shy away from soliciting for customer feedback because of the fear of not knowing what the customer might say do not help themselves in any way. It is far better to know what the customer thinks of your product than to hide from the truth. Have we not been admonished that "A blow which is inevitably yours, earlier on encountered, extricates one from further torrential hostilities"?
I am actually convinced that sometimes the best approach is to go the way of our management student in the opening vignette—direct approach. If the business is not too sure of what the customer thinks, it helps if it "stirs the hornet's nest" just to get the customer's reaction. It might be as painful as that chap's but at least, from there, the business would be left with no doubt as to what that particular customer thinks of it.
Surprisingly, customers would normally voice out their opinions if they are asked and asked in a respectful manner. All the business has to do is to ensure that it seeks feedback in ways that are also not too intrusive. A customer should not feel pressured to give feedback. It must be something the customer should do of the one's own volition.
In soliciting customer feedback, it is also important to note that feedback must be a continuous process that takes place throughout the customer lifetime period. It should not be something a business does once and forgets all about that customer. Views, attitudes, situations, etc. all tend to change so what the customer told you last month might not hold this month. That is why the conversation must be continuous.
Making feedback a continuous process also benefits the organisation as these views are needed to continue developing or upgrading the product or service. In many industries, there is nothing like "standing still" when it comes to research and development. The organisation must always be researching and further developing its product-service offering. Refusal to continuously upgrade will sound the death knell for the product or service as the competition would pounce on the opportunity to release newer and better options on to the market. It has been argued that brands such as Apple owe their longevity to their constant soliciting of customer feedback. By getting to know what customers are thinking of their product, they are able to make improvements in subsequent models.
Another good example of a brand that is continuously soliciting customer feedback is Uber. No journey ends without Uber asking the customer to provide feedback on the quality of the trip. Using this method, Uber is able to deal with bad drivers and thereby improve on their services.
It is true that when it comes to collecting feedback from customers, organisations that are multi-branched such as banks, retail businesses, etc. tend to face peculiar challenges. If each outlet has to handle customer feedback separately, it often becomes a disjointed effort. It is important that incidents that happen at one location are shared throughout the organisation so that other locations become aware and prepare well for any such eventualities.
In referring to the means by which organisations can collect feedback quickly and even in real time, one cannot disregard the power of social media. A study carried out by global social media management platform, Sprout Social, asserted that almost half of all aggrieved customers would air out their grievances on social media. This is why it is important for every organisation to have an eye out on these social media platforms. The brand must find itself where the conversation and feedback is being thrown around for free. I prefer to refer to social media as "feedback heaven". Feedback on social drops like manna. Opinions that an organisation would have had to hire and pay a research agency to unearth in times past is now being given for free on social media.
Research shows that one of the most effective means to solicit customer feedback is via Short Messaging Services (SMS). With a response rate of about 45%, SMS Text Messaging has the highest response rate for customer surveys compared to the likes of Email Surveys. This is not too surprising. It is estimated that it takes the average person just about 90 seconds to respond to an SMS alert. Also an article from UK-based ICT solutions provider VoiceSage claims that 80 per cent of people check their smartphone within 15 minutes of waking up. It also adds that overall, people spend more than four hours of their day engaged with their mobile phones. All these means that using SMS to solicit customer feedback can be very effective.
There are also a variety of customer feedback management software that are out there that businesses can make use of. These include Survicate, CustomerSure, Get Satisfaction, Survey Monkey, Client Heartbeat and Get Feedback. Others include OpinionLab and Survey Gizmo. Depending on what specific objectives the organisation wants to achieve, there is always a tool out there to help.
So long as businesses continue to strive to please customers, the need for customer feedback would always be important. Every physician will admit that it is easier for prescribing the appropriate remedies if the patient is able to describe exactly where the pain or discomfort is. Feedback is the customer telling the business exactly where the pain is. It is therefore imperative that businesses make conscious efforts to better elicit and solicit feedback from customers. Customer feedback management is one of the most important things that every business must muster if it intends to thrive in the marketplace. When done properly customer feedback is a precious gift for the organisation. However, if it is not done well, then customer feedback will be as painful and as embarrassing as our management student's.