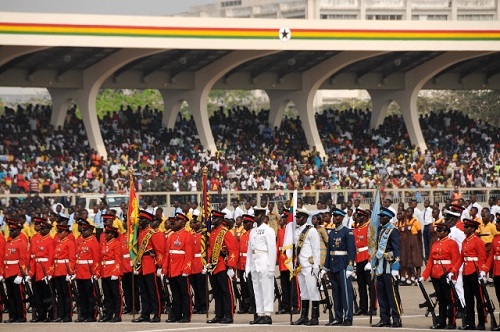 Ghana's 62nd Independence celebration was destined to be an epoch-making event for several reasons. The first reason is the return of peace to Dagbon after a protracted chieftaincy dispute robbed the people of the needed peace and unity necessary for development since 2002.
Second is the relative macroeconomic stability the country has enjoyed since 2017. Below is a table of some economic indicators:
| | | |
| --- | --- | --- |
| Balance of Trade (US$ million) | 193 | 52.74 |
| Current Account (US$ million) | -586 | -571 |
| Current Account to GDP (%) | -4.2 | -6.7 |
| Government Debt to GDP (%) | 70.5 | 73.4 |
GDP Growth rate
| | |
| --- | --- |
| GDP growth | 3.8% (2015), 3.7% (2016), 7.8% (2017e), 6.9% (2018f) |
| GDP per capita | US$5,026 (PPP, 2018 est.) $1,786 (nominal, 2018 est.) |
| | |
| GDP by sector | Services: 50.6% (2013); Industry: 28.1% (2013); Agriculture: 21.3% (2013) |
(Credit Trading Economics)
According to Focus Economics (a global think-tank) on economic forecasting, Ghana's economy seems to have finished 2018 on a strong footing following a robust third-quarter outturn, which came against the backdrop of surging mining and quarrying output.
Focus Economics predicts that solid growth will be a main feature of Ghana in 2019. This is underpinned by robust household consumption and healthy investment activity growth. Besides, inflation is at a six-year low of 9% – dropping from 14 percent in 2016.  On top of that, the price outlook for Ghana's key export commodities remains favourable, boding well for the all-important external sector.
In fact, Ghana has been touted as one of the fastest-growing economies in Africa. Nevertheless, rapid depreciation of the cedi, high cost of goods and services and imports, and the uncertainty surrounding fiscal discipline after the IMF bailout programme ends in April 2019 are possible challenges to the economy going into 2020, says Focus Economy.
The third reason for an eventful 62nd anniversary is 2019 being designated as the 'Year of Return', which will mark 400 years of the Trans-Atlantic Slave Trade in the history of the Black man. Ghana will be at the centre of 'The Day of Emancipation' designed to encourage our brothers and sisters of the African family to return to Ghana, and for that matter Africa, to invest and help develop their roots.
Thus, Ghana 2019 is the only centrally-organised public-private partnership to commemorate the quarter centenary of the African's arrival in the United States as slaves (the Olmec civilisation in present Mexico was clearly of African origin and predated the European arrival in the Americas by several hundred years). To demonstrate their affection for Ghana and their desire to return to Ghana, some of the Diasporans graced the event in Tamale; further boosting the tourism potentials of the north (more on this below).
As President Akufo-Addo said, Tamale was chosen as the venue not only to underline the unity of our nation, but also to express of the nation's appreciation for the peace and the process of reconciliation since the enskinment of Yaa-Na Mahama Abukari II as Overlord of Dagbon
on 25th January.
"After decades of being identified with unrest and disharmony Dagbon has good reason to celebrate, and it is fitting that we use the opportunity of our independence anniversary celebration to converge here and celebrate with them on the theme of peace and unity.
"This is the day we justifiably celebrate the collective energies and sacrifices of our forebears which led to that joyous night, when our historic first leader Kwame Nkrumah uttered the immortal words 'Ghana, your beloved country, is free forever'. We will defend that freedom with the last drop of our blood, as we remain dedicated to its preservation."
Against this backdrop, the decision by President Nana Addo Dankwa Akufo-Addo and his advisors to locate the 62nd Independent Celebration outside Accra was right. Celebrating the event in Tamale – the first time outside Accra since independence in 1957, was not only an innovative political decision – it was also an economic and developmental decision.
Chieftaincy institution
Over the elapsed time, the chieftaincy institution has evolved to become an integral part of Ghana's political and local governance process. But over the years, the institution in many parts of Ghana has become more of a drawback to democratisation and development. The Dagbon case was a clear example.  It therefore made sense that Ghanaians celebrated peace in connection with our struggle for independence.
In the view of President Akufo-Addo, it is important for Ghanaians to examine and take a critical look at the chieftaincy institution. "When it works, our chiefs provide the cohesive link to our past and what defines us as a people. When chieftaincy works, it is an embodiment of our culture and the rock on which we lean for support, and to which we resort in times of trouble.
"In many parts of our country, our chiefs are the custodians of our lands, and their activities can be the spark for development or for disputes. Where the chiefs have united their people and offered forward looking leadership, modernisation has been rapid. Where there has been disunity, the area has lagged behind and the disputes have been a drain on the public purse."
On this score, the attempt by some disgruntled political elements to incite some Ga chiefs against holding the event in Tamale was needless and, thank God, the scheme flopped.  If we don't value peace, we should count the cost of war. Sierra Leone, Liberia, Angola, Central Africa Republic etc. are good examples in Africa.
Decentralisation
The president highlighted the need for devolving more power to the people to empower them in making decisions about matters that affect them, and thereby enhance political and economic participation. In my opinion, the decision to move the whole government machinery to Tamale was an impetus to the process of decentralisation. In international development literature, decentralisation of local government is a very important process for the democratic development of any country.
As the president indicated, the creation of six new regions and thirty-eight (38) more districts – and the decision to expand full democracy to local government, are part and parcel of this process of reconstruction that will be the bedrock for fairer, freer, more efficient and equitable distribution of national resources.
Principally, decentralisation is aimed to:
Make a more stable democratic system;
Increase government efficiency and effectiveness;
Stimulate the creation of a stable basis for economic development at the local and national level;
Make governance more transparent, and above all to promote the
involvement of citizens in decision-making.
The major promise of democratic decentralisation – or democratic local governance (DLG) as it is called elsewhere – is that by building popular participation and accountability into local governance, government will become more responsive to citizens' aspirations and more effective in service delivery.
As stated earlier, the central idea of participation is to give citizens a meaningful role in local government decisions that affect them, while empowering them to be able to hold local government responsible for how it is affecting them.
The local economy
In fact, the concentration of economic activities in Accra-Tema, Kumasi and Sekondi-Takoradi over years has limited economic opportunities to the south. This explains why youth in the north tend to migrate toward the south in search of opportunities. So, apart from honouring the peace process with celebrating Independence Day in Tamale, the event brought the northern economy into the local and international spotlight. Besides, the northern economy received its biggest boost ever, as the government machinery moved and did business in Tamale for at least a month.
The local airline business was the biggest beneficiary, as flights were overbooked during the entire week of celebration.  Reports indicated that hotels in and around Tamale had been overbooked, as demand exceeded supply for the first time since 2008 when Tamale co-hosted the Africa Cup of Nations.  Women and men, boys and girls seized the opportunity to undertake short-term business – like food vending, ice-water selling and other petty trading.
Also, one of the sectors that received enormous patronage was the smock business. It was reported that by close of day on fifth March, all the smocks in town had been sold out. In general, tourism was the overall beneficiary of the Independence celebration. In fact, with Ghana touted as one of the 19 preferred global tourist destinations, according to CNN, the event marketed the northern culture to potential tourists.
Small wonder that the president urged Ghanaians to prioritise local tourism over travelling outside to destinations like Dubai, Johannesburg, Paris, Rome etc.  "I urge those who live in the big cities, in particular, to get around the country a little. It just might change their outlook and make them a little more tolerant of the difficulties that we need to overcome. I congratulate the people of Tamale for being such gracious hosts. This has never been done before, and doubtlessly we shall learn from the experience. The success of the Tamale experience may, however, set a trend for the rotation of this ceremony".
There couldn't have been a better time for the president to announce the potential discovery of oil in the Voltain Basin, thanks to investments in upstream sector, which includes the Northern and Volta Regions.
"I am confident that our search will not be in vain, and that very soon these areas which have been characterised by avoidable levels of poverty will be buzzing with significant investments and creation of jobs.  Our efforts are not limited to petroleum and agriculture alone. Again, we shall soon be introducing a bill in Parliament that will add new focus in the promotion and establishment of an integrated iron and steel industry in Ghana – an industry whose natural resource, iron-ore, is in abundance in these areas," the president assured the people.
Democracy and development
The President reiterated the need for multi-party democracy to promote development through divergence of opinions, instead of dividing the country along interest groups. "Under a multi-party democracy there is no room, no room for violence. It should be a contest of ideas that seek to win over the hearts and minds of the people.
"Success should be counted by how many young people go to school and get skills and jobs, and not by how many young people can be marshalled to disrupt elections or how many broken bones we can count. The people of Ghana do not deserve to be toyed with in such a reckless manner. The very concept of political violence is offensive, and shames us all who are in politics.
"This is why I am determined that, hopefully, the impending dialogue between the two major political parties, the New Patriotic Party and the National Democratic Congress – who, between them, regularly take more than 95% of the vote in elections – will see an end of thug/vigilante excesses. I will spare no effort, including initiation of the relevant legislation, to ensure we rid our nation of politically-related violence."
(***The writer is a Development and Communications Management Specialist, and a Social Justice Advocate.  All views expressed in this article are my personal views and do not represent those of any organisation(s).
Email: safoamos@gmail.com