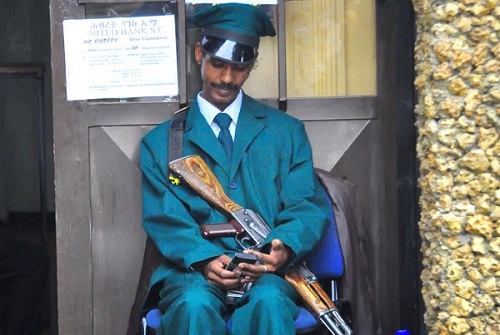 "Let us not look back in anger or forward in fear, but around in awareness". — James Thurber
Dear readers, I started a discussion on branch security after reading about the bank robbery at Kenya Commercial Bank last week. These Hollywood movies are real, because I heard its not the first time that bank vaults have been raided via an underground tunnel. Although underground tunnel robbery is a rare occurrence, I will examine general hold-ups or armed-robbery through traditional or normal means and ways to maintain a 'no surprise' environment.
It is a banking industry standard practice for banks to provide adequate security at banking facilities. This is also the case with general requirements for any other type of cash-handling business. Bank customers Top of Form
Bottom of Form
take their money to a bank because they perceive it as the safest place possible, and it naturally follows that bank customers feel safe themselves in a bank.
Banking regulations require that a bank's security programme should be codified in a bank's policies and procedures manual. Regulations do not specifically require the presence of a security guard, but they do require that banks provide a safe and secure place of business for preservation of the bank's assets and safety of its customers and employees. In many cases, that means a security guard should be present. One thing to note is that physical security is not only meant for branches. There is a need to create awareness among all staff, but before then let us look at some procedures in the branches.
Basic Opening Procedures – Branches
All branches must have both day and night security services in place. All staff must take note of the following procedures when entering branch premises in the morning:
Staff members must check for the signals – any signs of damage or break-in, and any persons acting suspiciously before attempting to enter the branch. If there is any other cause for concern, staff must not attempt to enter the branch. They should alert the police and branch manager, and warn others who may attempt to enter the branch.
If a guard or staff member is attacked or taken hostage when in or attempting to enter the branch, he/she should follow the procedures for hostage incidents and wait for assistance to arrive. If it is possible to do so without putting themselves at greater risk, he/she should, activate the attack/duress system on the branch alarm.
Basic Closing Procedures – Branches
It is important that the following procedures must be adopted for offices that are closed overnight and at weekends. Designated officers must be made responsible for checking that:
All windows and external doors have been closed and locked.
No unauthorised persons have remained in the office.
All fire-proof safes, filing cabinets and other storage containers have been locked by the users/key-holders.
All non-essential electrical power has been switched off.
All Highly Confidential and Confidential documents have been locked away and staff have complied with the clear desk policy.
There are no fire hazards, such as partly live electrical gadgets.
When the last member of staff leaves the office, he/she should set the office alarm system (if fitted) and depart using the staff exit.
General Bank-wide Reminders
Let us look at basic tips on security bank-wide
Record-keeping
Technology is always making banking easier for every generation, but it is important that replacement of paper documents should not be just a mere convenience. Are your bank's documents being electronically archived?  In case of fire, flood and other damages, can you retrieve your data? Is the service provider an outsourced company? Did your bank conduct the requisite due diligence on the service provider? Documents can fall into wrong hands, resulting in breach of confidentiality, alterations to documents before archiving and fraud. Moreover, these processes should be regularly audited to ensure consistency and reliability.
Although record-keeping is a must across all departments, historical events have shown that data can be lost, documents get missing – especially in the following sensitive areas:
Human Resources (fraudulent pull-outs of sensitive correspondence on staff files)
Credits (customers' loan files)
Procurement (Agreements and contract information)
Legal (mortgages, Agreements, contracts, MoUs, guarantees, court cases etc.)
No-Entry Points
The signs are there, yet we allow our colleagues, visitors and friends to enter these no-go areas. Examples are:
Data centre and Server rooms
Treasury
Data processing centres
SWIFT
Branch back offices
Some cash areas
CCTV monitoring areas
Teller enclosures
Safes and Vaults
Cabinets containing ATM/VISA cards, pin-mailers, cheque books. Bank drafts, Fixed Deposit certificates, and other security documents.
Partnering Security Guards in Risk management
Security guards increase customer confidence and overall safety and security of the banking facility, the employees, the customers, and assets in the bank. Banks have outsourced two types of security: Unarmed Private security and Armed Police Guards.
The Role of the Security Guard
The security guard is the front-line and face of the institution, and stays alert to watch for potential threats to the safety of employees and customers. They assist in arresting fraudsters or robbers, and need to investigate any suspicious behaviour among the customers or employees to safeguard the bank's financial assets. When a disgruntled customer becomes a threat, the guard will need to diffuse the situation.
They also accompany cash in transit teams on cash collection from customers' premises (gas stations, supermarkets, factories etc.), and specie movement to the BoG.
Guards may also be required to know and enforce bank safety regulations, and assist during fire, smoke detection, burglar/intruder alarms, faulty elevators and natural   disasters). The police and guards are points of contact for enquiries when the bank closes, and guard ATM users at night.
Challenges faced by security Guards
Some are over-age (retired personnel) or unemployed youth, dismissed staff from the security services. Who does their background check since there are infiltrators among them? Check and confirm from the police before selecting a private security company; do a background check on them. Some over-fraternise with the staff, leaving their posts while on errands. They are low-paid and can be easily corrupted by fraudsters, or can pilfer from cars whose drivers leave their keys after parking.
Some can connive with cleaners for sensitive information from documents to sell to fraudsters. Can you imagine that some guards collude with employees, and know the direction and state of the CCTV equipment and positions covered?  Employers should be cautious with its operation. Leaving official car keys with security guards should be monitored regularly. Some guards have very little sense of loyalty to the companies they guard, due to lack of respect and appreciation for their services by the employees.
Regular staff Training/Refresher
When it comes to security, please note that nothing should be taken for granted. New gadgets continue to be deployed, so staff should be educated on fire drills, evacuation during failure of an elevator, a hold-up, smoke or fire detection; and panic-alarm and burglar intruder alarms. I still remember the fire drills that I went through, and can still apply my fire extinguisher at home! Enforcement of wearing ID cards ensures visitors and suspicious characters are easily identified.
All staff should be security-conscious and not count large cash deposits in full view of customers. While observing cash holding limits, serve large withdrawals at the back to avoid being followed.
Front line staff should be monitoring idle customers in the banking hall, engaging customers more, to deter robbers from being noticed.
Shredding extra or unwanted documents at the close of day.
Keep a suspicious activity logbook for sharing preventive measures
Avoid discussing sensitive information in the presence of security personnel.
Cordial Relationship with Security Guards
Dear bankers, do you treat your security guard as partners in risk management? Do we appreciate the role of the security and police guard as a partner? They also do their own risk-profiling of visitors and customers, and they can share their apprehensions and good feelings about their encounters with you.
The security guard is the first point of contact with clients, while the police guard is not always seen – although he sees most customers as they enter the bank premises.  When customers have a good encounter or relationship with them, they have a good feeling even before entering the bank. Bad experiences make clients vent their anger on the front-liners.
It would be wonderful if your bank could arrange some weekend training or brainstorming sessions with them, at your company's expense, to discuss ways of mutual cooperation. You will be surprised by the wealth of information and security tips they can share with you.
Meanwhile, be on your guard and check your dashboard. Is it good and ready for any surprises? All the best.
ABOUT THE AUTHOR
Alberta Quarcoopome is a Fellow of the Institute of Bankers, and CEO of ALKAN Business Consult Ltd. She is the Author of two books: "The 21st Century Bank Teller: A Strategic Partner" and "My Front Desk Experience: A Young Banker's Story". She uses her experience and practical case studies, training young bankers in operational risk management, sales, customer service, banking operations and fraud.
CONTACT
Website www.alkanbiz.com
Email:alberta@alkanbiz.com  or albique@yahoo.com