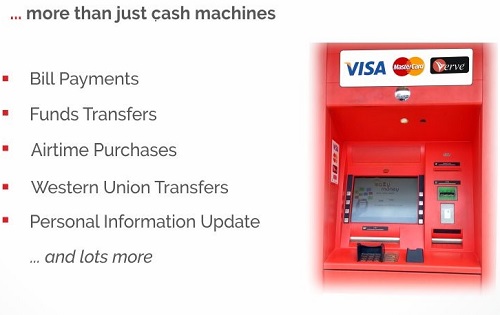 "From being only cash dispenser machines in the 1960s, ATMs have evolved into multifunctional automated teller agents that  allow cardholders to perform variety of banking transactions on their own" …………T.L   
The once only cash dispenser machine has since been transformed to allow patrons to do more banking transactions without actually being inside the banking hall.
Today Automated Teller Machines (ATM) can allow customers to withdraw cash, deposit cash, check account balances, request for bank statements and also transfer funds.
An advance feature has also been added to allow even withdrawals without even the usual ATM card. For example credit can be moved between one's mobile money wallet and an ATM.
Since the 1960s when the first cash dispenser machine was operated, a lot has happened over the years that still make the ATM's use very relevant in our daily transactions.
World Wide
Forex exchange is not even an issue in most cases as most of these machines are able to convert before dispensing cash in the right denomination if different from the card holder's account. There is however an exchange rate that will apply.
Local Distribution
The lure for going cashless on all fronts is the convenience and quick accessibility to one's cash when he or she needs it.  In my opinion ATM distribution in the country is not the best. Let me take Tema-Ashaiman as an example. There is an increasing shift of the young working population from the central Tema communities such as Comms. 1,5 and 8 to areas   such as Golf-City, Saki, Bediako, Afienya, areas around Michel Camp. Zenu  etc.  People in these areas usually have to commute to central Tema or Ashaiman to get cash from ATMs which are mainly situated at banks' premises. What difference does it make if I have to in most cases only travel to the bank to get cash from the ATM?
 Processing
This is a two-way communication between your bank and the host processor is essential for the approval process that allows the machine to dispense the amount you request.
These days as stated above, one can even get cash out of the machine without using the card. An approval process is however still followed even without using a card.
It's also advisable to keep your receipt with you or shred it properly before binning
Charges
Withdrawals I have done with my own card showed approximately 1% charge on withdrawals from other bank's ATMs.
Conclusion  
As self-serviced machines today they can be used in paying bills, mobile credit top-ups, reloading prepaid cards, for government or social payments such as LEAP or SSNIT.
What if bank customers become more enlightened all across the world and can practically interact with machines as may be required in the near future; then I see ATMs becoming fully equipped to serve customers who will have nothing to do with a human teller any longer.