According to the MONEYVAL Committee of Experts on the evaluation of Anti-Money Laundering Measures and the Financing of Terrorism Annual Report (2017), estimates of the amount of money laundered worldwide ranged from US$500billion to a staggering US$1trillion. Since perpetrators of the menace have always devised such sophisticated methods of carrying it out, governments, state institutions and other key authorities have responded with many stringent measures to control it.
In this regard, the Financial Action Task Force (FATF), which is the global and independent inter-governmental body for anti-money laundering (AML) and counter-terrorist financing (CFT), has so developed its standards or policies to protect the global financial system.
The Financial Action Task Force (FATF) periodically reviews its standards and issues recommendations to guide countries in their risk assessment strategies. In the face of this, one of the challenges state authorities have faced is the difficulty regarding how they can obtain timely and accurate information to establish evidence against suspects. Ghana's experience was confirmed by the National Risk Assessment on Money Laundering and Terrorist Financing Report (2016).
Thus, the report clearly identified the inability of institutions to provide the required information, or the difficulty of some to validate their data due to weak data management systems. Hence, one of the approaches identified to facilitate access to information is the need for stronger and effective inter-agency collaboration. This cardinal recommendation has been reiterated in the 'Terrorist Financing Risk Assessment Guidance' issued by the Financial Action Task Force (FATF) in July 2019.
Meanwhile, based on FATF methodologies, Ghana is currently ranked 66th with a risk score of 5.32 (2018), which is an improvement from 6.33 (2017) among 129 countries assessed in the world. This assessment was done by the International Centre for Asset Recovery, part of the Basel Institute for Governance, and contained in its Anti-Money Laundering Index (2018).
The ten (10) countries with the greatest improvements in risk score in the Basel AML Index 2018 are: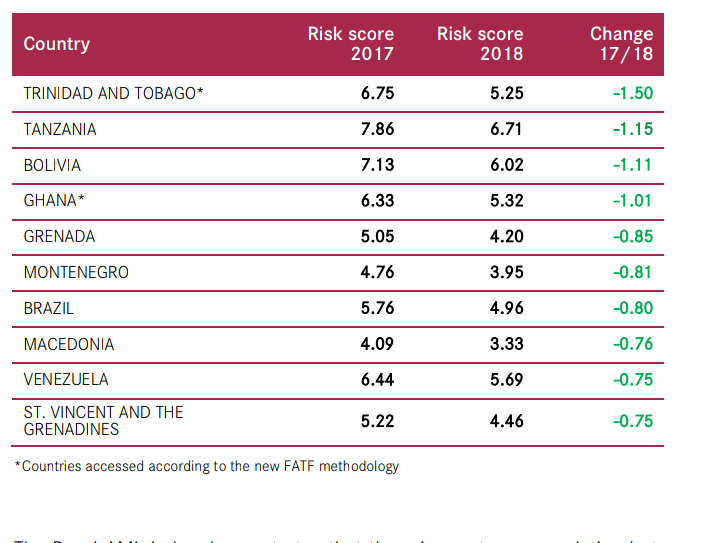 FATF, in the July 2019 risk assessment guidance, by extension recognised other relevant approaches key authorities need to consider in their bid to remove the barriers to information sharing, and thereby consolidate gains made in the fight against the Money Laundering and Terrorist Financing (ML/TF).
Information Sharing
Information sharing facilitates the process of assessing Terrorist Financing risk. The approaches include:
Establishing procedures and mechanisms to handle the exchange of sensitive information from an early stage in the risk assessment process (e.g. including engaging with intelligence agencies to ensure relevant safeguards are in place from the beginning of the risk assessment).
Ensuring that the lead agency is able to access and facilitate the sharing of sensitive information, and where necessary segregating the process of handling sensitive and non-sensitive information (e.g. having distinct working groups wherein all participants have appropriate security clearance to exchange information).
Exploring innovative ways to share information with competent authorities and non-government stakeholders (where possible); (e.g. through redacted/sanitised reports, extracts of cases, 'closed' briefings, use of anonymised/aggregated statistics; use of proxy organisations/competent authorities to validate information).
Key authorities in Ghana – the Bank of Ghana (BoG) and Financial Intelligence Centre (FIC) – collaboratively published in July 2018 a revised working document titled 'Anti-Money Laundering/Combatting the Financing of Terrorism & the Proliferation of Weapons of Mass Destruction (AML/CFT&P) Guideline" to help banks and non-bank financial institutions.
While not resting on any oars on that score, there is a need to adopt new developments that enhance our domestic strategies towards the insurgency. In doing that, it is therefore important we continue to identify the operational weaknesses or loopholes in our current framework.
For instance, it is a matter of fact that dealers in motor vehicles recognised by the Anti-Money Laundering Act (874), 2014 (amended) as accountable institution have some members continuously allowing third-party transactions without recourse to the Act. So, it is commonplace to see people buying vehicles from a garage with naked cash. Indeed, the Basel Anti-Money Laundering (AML) Index (2018) also established that predominantly cash-based economies are more prone to Money Laundering and Terrorist Financing (ML/TF).
By inference, we must collectively intensify our efforts aimed at promoting a cashless economy with mechanisms to manage the associated risks. Aside from that, since access to information has been a bane to the fight against the problem through intelligence gathering, key stakeholders need to use the backing of the Freedom to Information Act to navigate their way across the board. Alas! Together, let's fight against Money Laundering and Terrorist Financing (ML/TF) on all fronts.
Thank You for reading. Your interesting comments are welcome. God bless You!
This script was written by a Chartered Banker with a flair for feature writing. Apart from his work schedules, he edits or proof-reads corporate material for his colleagues, executive managers – including distinguished professionals working in various fields outside Banking. Through this column, his articles feature on third-party online media platforms in Ghana and outside. Email: Kwaku.Anumu@gmail.com