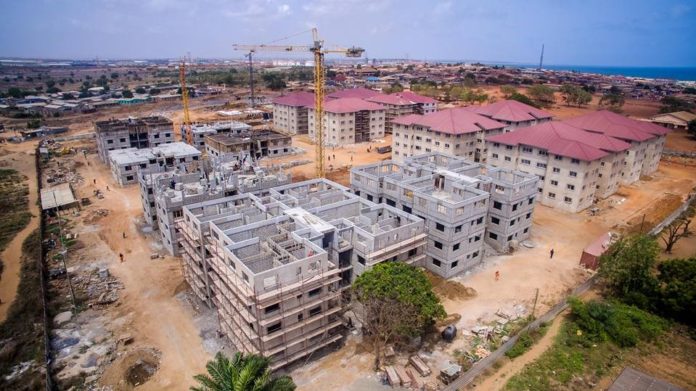 According to a recent UN-Habitat study, Ghana's housing deficit is projected to hit 5.7 million by 2020. It is estimated that the country needs at least 100,000 units of housing per year to meet the growing demand for housing.
The current supply of housing is estimated to be about 40,000 units annually leaving an un-met deficit of 60,000 units every year. Additionally, the prices of many of the houses currently supplied are beyond the reach of the middle to low-income earners that need them most. Also, there is a low availability of appropriately priced mortgage loans with adequate tenure that can enable middle to low-income earners to purchase homes.
One-Sided Housing Market Intervention
Government and private sector interventions in the past have focused on investing in housing supply with the anticipation that the beneficiaries (i.e., potential homeowners) will be able to buy or lease these properties on their own without any need for seeking financing. The mere act of building 'affordable' houses (which affects only the supply-side of the housing market) has not helped in addressing the housing problems in Ghana, because we have not solved a key demand-side constraint of the housing market: which is a lack of long-term funding to be used as mortgage lending. This goes to reinforce the argument that, developing a vibrant housing finance system should be a national priority as it is critical to the growth of the economy.
Current Housing Solution
The Government of Ghana (GoG), in its 2019 budget, proposed to set up an interim board to implement its Mortgage and Housing Finance Scheme. The scheme is to be done in collaboration with five (5) selected commercial banks to kick-start the process of developing and deepening the local mortgage and construction finance market. An amount of 40 million Gh-cedis is to be used in the pilot phase of the project with more funds expected to be pumped in if successful. The latest government intervention is intended to fix both sides of the housing market — supply and demand sides — by promoting cheaper houses, through the provision of affordable construction-finance loans to developers, and providing a cheaper source of mortgage loans to public servants to purchase homes. A couple of the selected banks have started advertising mortgages under the scheme with a relatively lower cost of the houses (starting at 80k Gh-cedis) with an interest rate of about 12%. A direct intervention in this manner is typically not sustainable as it never lasts. It is like creating artificial pricing for mortgage loans, which are long term, and when market conditions change it falls apart. Hence, a more well-functioning and sustainable approach and model is proposed in this piece to fix the long-term financing needs for the mortgage industry.
Current Housing Finance System
The current housing financing system in Ghana is very elementary. It has a primary market with no existing secondary market. Hence, structures that promote long term funding to enable the primary banks to underwrite mortgages on a large scale and in a sustainable manner are not developed.
The only source of financing for mortgage lenders, particularly specialized non-deposit taking mortgage finance houses, is to secure long-term funds, mostly in USD, from foreign-based Development Finance Institutions (DFI) at relatively high-interest rates for on-lending to potential home and property owners. This approach to managing housing finance and mortgage lending is not robust enough and thus generates significant risks that extend beyond the control of mortgage lending banks.
Also, it offers no room for mortgage lenders to utilize available long-term funds from local debt capital market investors such as pension funds and insurance companies. This limits the ability of the bank to underwrite a sizeable number of mortgages on a continuous basis, as they are restricted to their deposit funding (which exposes them to asset-liability mismatch) or their ability to raise long-term funding from external sources, which comes along with currency risk.
Robust & Sustainable Housing Finance System is Needed
Any robust housing finance system must ensure that there is continuous availability of the needed long-term funds (liquidity) for homebuyers to purchase their homes via mortgages, and all associated risks — such as credit, market, prepayment, currency, and other risks — are allocated and/or shared within the appropriate agency in the financial eco-system with the competency to handle such risk.
To design a housing system, we need to have a clear understanding of the structure of the housing market and where housing finance sits within the housing market structure. Broadly speaking, the provision of housing (i.e., the housing market) falls into two categories: housing supply and housing demand. Supply-side activities entail the development and building of houses, while the demand side covers activities that relate to the ability of homeowners to get proper and sustainable funding to purchase homes. A housing finance system sits primarily within the demand side of the housing market.
The proposed model requires the simultaneous development of a two-component Housing finance system: a primary market and a secondary market. Lenders or banks make new loans in the primary market, and the loans are packaged and sold as fixed income securities in the debt capital market (i.e., the secondary market). The design of this housing finance system is the most widely used model in various developed and emerging economies across the globe, with the USA being the pioneer.
Within the primary market, mortgage origination and underwriting must be undertaken by licensed banks and mortgage lenders using their balance sheets or other funding sources. At this stage, the banks will own the mortgages, service them and undertake foreclosure proceedings as needed. Activities in the secondary market mainly involve pooling mortgages from the primary market and selling it as a Mortgage-Backed Bond (MBB — a bond collateralized by a cover pool of mortgages) in the secondary market (Ghana's debt capital market). The proceeds of the MBB are used to refinance the banks' qualifying mortgage portfolio to ensure that banks will always have the liquidity to underwrite newer mortgages, while the re-payment stream associated with the mortgages are used to pay capital market investors.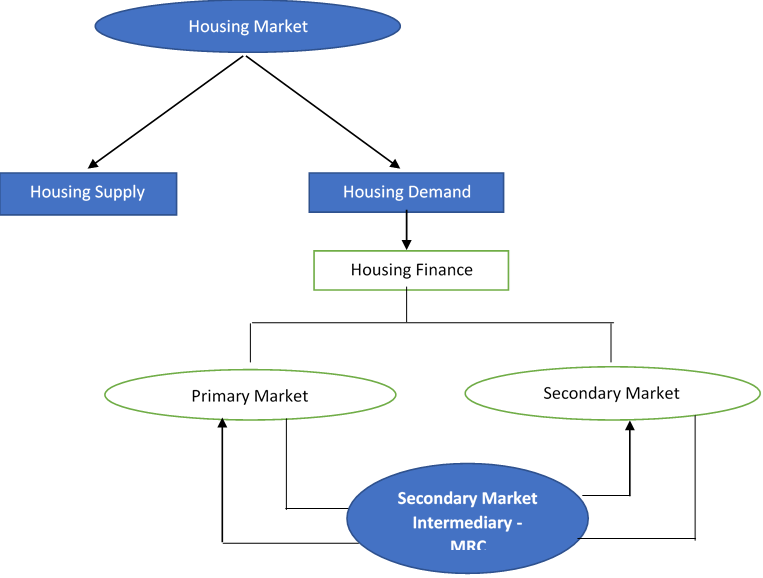 It is of utmost importance that this process is customized in a way that it would be managed and undertaken by a financial market intermediary that is private sector-led. This intermediation role is mostly undertaken by Mortgage Liquidity Companies or Mortgage Refinance Companies (MRCs). MRCs are specialized institutions that intermediate between mortgage lenders and the capital market with the sole aim of ensuring the continuous flow of liquidity from the capital market to mortgage lenders.
MRCs are second-tier, non-deposit taking financial institutions that channel long term funding and liquidity support to primary mortgage lending banks. The focus of the MRC is to solve a major constraint in the housing market — a lack of long-term financing and liquidity. Thus, through their intermediary role, an MRC is able to create an efficient secondary mortgage market.
The key attributes that the MRC should posses are a strong balance sheet and a broad equity base in order to diversify risk and raise debt capital at a cheaper cost to reduce the interest rate on Gh-cedi mortgages. To achieve these attributes, the MRC must adopt what is termed as a Cooperative Equity Ownership Model.
This means that equity owners of the MRC must be its users — that is licensed commercial banks, deposit-taking financial institutions, and primary mortgage lenders ("together referred as member banks") that offer mortgage loans in Ghana.
Recommendation
If the Government of Ghana (GoG) wants to have a permanent, market-driven and sustainable approach to solve the housing problem we believe this is the way to go. Funding for housing should be pivoted to the debt capital market, as it is the base system required for a sustainable and robust housing market.
Industry stakeholders, including regulators like Bank of Ghana, Securities and Exchange Commission, and National Pension Regulatory Authority, as well as the Ghana Association of Bankers, should commence discussion to create this all-important secondary mortgage market intermediary.
Government ministries, including the Ministry of Finance, as well as the Ministry of Works and Housing, should be keenly interested in pursuing this two-component housing finance model since it is a proven and sustainable solution that will transcend governments.
While the latest GoG intervention may look appealing on the surface, it is not sustainable in the long term, as the state cannot continue to distort the market by simply 'pumping' its scarce capital resources to artificially reduce prices of houses and mortgage interest rates. Let's look at a more sustainable way by relying on the capital market in order to fix the housing problem.
Michael is a Structured Finance Analyst with interest in Real Estate/Housing Finance and Debt Capital Market development. Michael has high-level skills in Quantitative Credit Risk Modelling as well. Kweku is a Doctoral researcher, Financial Analyst, Project Management Specialist, and a former banker.
Contact writer: kwaku.qantabisa@gmail.com