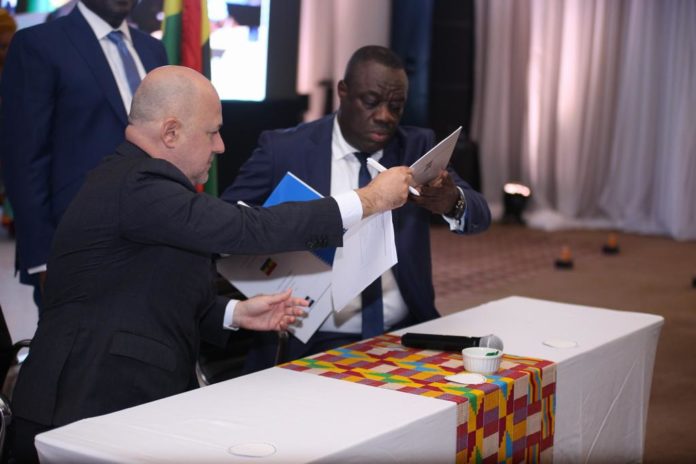 Mr. Baybars Altuntas, Chairman of the World Business Angels Investment Forum (WBAF), has revealed that there is available funding between US$50,000 and US$500,000 from world angel investors to Ghanaian start-ups that meet the WBAF's stipulated criteria.
He made this statement in an interview with the BFT during the opening of the Ghana Office of the World Business Angels Investment Forum.
He said WBAF focuses on the 'smart' factor in innovation, in the context of entrepreneurial ecosystems which include developing smart investors, smart finance, smart exits and smart entrepreneurs, start-ups and SMEs.
"The only true sources of smart finance are angel investors, who are able to influence a country's economic development by providing more than just money to entrepreneurs and SMEs. They contribute their own know-how, provide mentorship, and share their own networks in contributing to the businesses they invest in. They are, thus, the main drivers of innovation and natural leaders of the world's early-stage investment markets," he added.
Criteria for selection, according to Mr. Altuntas, are available on the WBAF website.
In partnership with the Ministry of Business Development, the WBAF's aim is to support entrepreneurs in starting up; support SMEs as they scale-up their businesses; and create jobs worldwide every year.
Speaking on the theme 'Innovating Financing for Entrepreneurs', the Minister for Business Development, Dr. Ibarahim Mohammed Awal, noted that access to finance and high interest rates are the biggest challenges faced by most entrepreneurs across the country.
He said the partnership with WBAF will enable the ministry to connect Ghanaian entrepreneurs and enterprises to the world's angel investment community.
Touching on the importance of opening a Ghana Office for WBAF, Mr. Awal lamented that last year an amount of USD$50 billiondollars was invested into businesses by Angel Investors, but Ghana however did not benefit from this.
"Having an office here will now prepare businesses, especially the start-ups, so that they can qualify for angel investors to invest in them. Most of these angel investors are people who have been very successful at businesses and some of them have retired; they have access to networks and capital. So, when we send the businesses to them, they will scrutinise and find out how much they can invest into the businesses and help them grow to a point – and then they back out," said Dr. Awal
He assured that the criteria for selecting start-ups and entrepreneurs to benefit from the investment will be published on the ministry's website and media outlets by next week.
In his remarks, Mr. Altuntas said it is rewarding to see that governments around the world have understood the importance of angel investment for boosting their economies.
He noted that after applications are made, a team of global start-up committees – made up of five members and 18 investors – will independently score the entries for about 10 days after applications are closed.
The start-ups and companies that make it to the final stage will get opportunities to make their pitches to investor groups.
The final stage of the pitching will take place in Istanbul, where global investors and angel investors will be present to make selections of the companies they are interested in.
Ghana serves as the first country West Africa to benefit from World Business Angel Investors Forum.
About WBAF
The World Business Angels Investment Forum (WBAF) is an international organisation aiming to ease access to finance for businesses from start-up to scale-up, with the ultimate goal of generating more jobs and more social justice worldwide.
It is committed to collaborating globally to empower world economic development by creating innovative financial instruments for innovators, start-ups, and SMEs.
The Forum interacts with leaders in all areas of society, first and foremost in business and political spheres, to help assess needs and establish goals – bearing in mind that the public interest is of paramount importance.