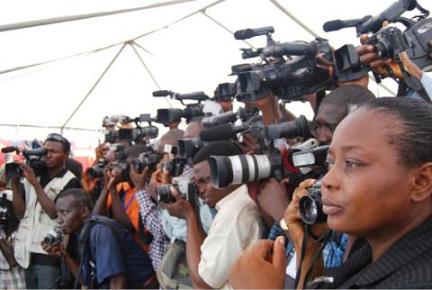 The value of Ghana's entertainment and media industry is projected to breach US$1billion in 2019 to total US$1.5billion in 2022, increasing at a 14.2% Compound Annual Growth Rate (CAGR), PwC's Entertainment and media Outlook 2018–2022 has revealed.
Today, the media is one of the largest and growing industries in the world.  In Ghana, the media landscape has seen a lot of growth. The number of authorised FM Radio Broadcasting Stations in Ghana as at the end of June 2017 was 505. Out of this number, the National Communications Authority (NCA) estimates that 392 stations are currently operational.
The number of authorised TV operators also stood at 75 as at Q2 of 2016. Proliferation of newspapers and magazines are also indications of the expanding media industry.
The media and entertainment industry's growing value is decisive, given the evolving role of media in society, the generation of employment for the youth, and increase in taxes realised by government from players in the industry.
The political role of media, according to Rutovic (2016), consists of interpreting political and economic relations; communicational linking of social subsystems of authorities, politicians and citizens; representing interests and statuses of social groups; initiating and conducting public hearings; influencing public opinion, and so on. The economic role of media is reflected in its dominant orientation to the profit element.
Growing Internet penetration, economic growth, and strong business confidence are expected to drive the envisaged growth.
"Internet access spend in Ghana accounts for much of this revenue and growth. The country's telecom market in general is projected to maintain high growth over the next five years to 2022. The digital services segment – comprising mobile data, mobile financial services, e-commerce and ICT enterprise, among others – will remain a key revenue driver for service providers. As such, competition will shift from voice to mobile financial services and broadband segments in future.
"Ghana has also commenced roll-out of the 4G spectrum in the 800MHz band through public auction. MTN Ghana was the first operator to be granted a licence, and has since launched a commercial 4G LTE network, with other operators later following suit. Mobile Internet access revenue alone will exceed US$1billion in 2022, growing at an 18.1% CAGR," the report noted.
The country's projected strong economic growth and business confidence is what, according to the report, will drive TV and video revenue between 2019 and 2022.
After inheriting a challenging economy that was under an International Monetary Fund (IMF) programme, the Akufo-Addo-led government has achieved some significant economic gains.
Economic growth increased from 3.7 percent in 2016 to 8.5 percent in 2017. This was driven by growth in agriculture and industrial sub-sectors.
Growth in the agriculture sector increased from 3.0 percent in 2016 to 8.4 percent in 2017; Industry grew from -0.5 percent in 2016 to 16.7 percent in 2017; and the services sector grew at 4.3 percent in 2017 compared to 5.7 percent in 2016.
However, data show that the nominal GDP growth rate for 2018 reduced from the 2017 level to 6.3 percent. This, though, remains significantly higher than most lower middle-income economies.
For the 2019 fiscal year, government has set for itself an overall real GDP growth of 7.6 percent; non-oil real GDP growth of 6.2 percent; end-year inflation of 8.0 percent; and a fiscal deficit of 4.2 percent of GDP.
This ambitious target, which according to Finance Minister Ken Ofori-Atta is very much achievable, is what will drive TV advertising revenue.
"TV and video revenue was the only other segment to have exceeded US$100million in 2017, but within this number pay-TV is struggling for growth, with subscriptions relatively flat and additions primarily focussed on entry-level low ARPU packages.
"This leaves the Ghanaian market relying on consistent economic growth and strong business confidence for advertising to thrive, but with GDP growth on a strong path to 2022, TV advertising revenue will rise from US$73million in 2017 to US$112million in 2022, an 8.9% CAGR," the report which focused on five economies on the continent said of the Ghanaian TV and video landscape.
Writer's email: Dominic.Andoh@thebftonline.com +233 243376878