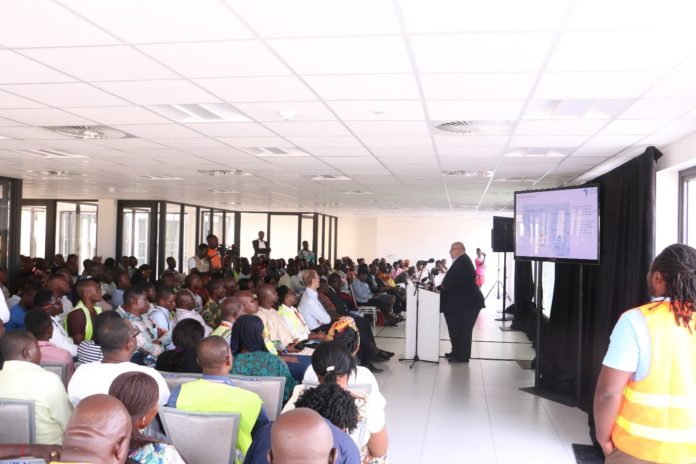 Shippers, freight forwarders and other stakeholders in the shipping and logistics sector have toured the new MPS Terminal in the Port of Tema to familiarise themselves with operational procedures before it officially opens for business, on 28th June this year.
The tour was organised by the Ghana Shippers' Authority (GSA) in collaboration with the Meridian Port Services (MPS), and drew participation from about 300 representatives from trade associations such as the Association of Ghana Industries (AGI), Ghana Union of Traders' Associations (GUTA), Abossey-Okai Spare Parts Dealers Association, Ghana Chamber of Commerce among others.
In a welcome address, the Chief Executive Officer of the GSA, Ms. Benonita Bismarck, said it is expected that transitioning from the old terminal to the new one will introduce some changes in the cargo flow processes – particularly for domestic and transit cargo within the new facility.
"It is in the light of this that the Authority, in collaboration with MPS, has rallied all key stakeholders to acquaint themselves with the new operational procedures and thereby adjust their expectations of improvements in service delivery by MPS," she explained.
She assured the shipping public of the GSA's commitment to continue upholding an efficient mechanism for negotiating port tariffs per LI 2190, to ensure there is certainty and predictability regarding tariffs and costs within the shipping industry.
For his part, the Chief Executive Officer of MPS, Mr. Mohamed Samara, said the new terminal facility will among other benefits improve vessel turnaround time, reduce congestion and also boost the economy of Ghana through trade facilitation.
"We are creating new trade, connectivity and routes to new markets in West Africa. Basically, we are adding value to the shipping lines, exporters and importers in the region, and overall to the country," he added.
The Acting Director of Tema Port, Mrs. Sandra Opoku, appealed to shippers and other stakeholders not to hesitate in calling on the Ghana Ports and Harbours Authority (GPHA) for redress on any challenge they face with usage of the new port facility.
The new termina has two berths and a draft of 16m that can accommodate the world's largest vessels. The third new berth will be operational in the first quarter of 2020 – ahead of the scheduled completion in June 2020.
This will be followed by a fourth berth, bringing the quay length to 1,400m.