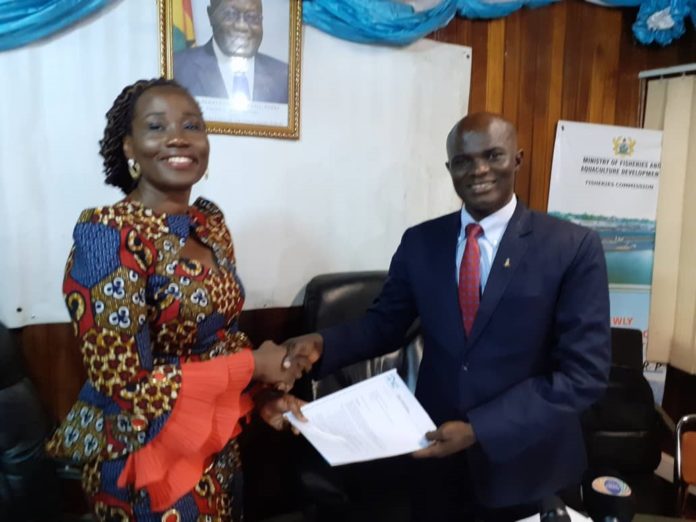 The Ghana Aquaculture Stakeholders (GAS) has appealed for government to place restrictions and enforce standards on the kind of tilapia imported into the country, as some of them have introduced diseases to local farms – thereby resulting in high mortality rates.
According to the Founder and Convener of the interest group, Patricia Safo, a survey conducted by JCS Investments Limited has revealed that various tilapia farms along the Volta Lake are experiencing severe declines in survival trends. Fish survival rate figures from the survey averaged 38 percent in 2019, comparing unfavourably with the 53 percent and 59 percent recorded in 2018 and 2017 respectively.
It is for this reason that Ms. Safo is calling on authorities to see to it that such unwholesome fish are not allowed into the country in order to protect the local industry and reduce the rate of depletion.
"Rogue players who act illegally to pursue short-term profit must be identified and driven out of the industry. We are requesting swift action to resolve this problem so as to establish a level playing field based on clear standards; and everyone involved in the sector must follow the correct procedures," she said in a petition made on the floor of parliament.
She further added that the Fisheries Ministry should ensure vaccines are available at subsidised rates so farmers are enabled to revamp their businesses and bounce back, and that vaccination teams are made available to assist farmers to handle vaccination properly.
Again, the group also petitioned the minister to resource the Fisheries Enforcement Unit with human capital and logistics to carry out its mandate.
Deputy Minister for Fisheries and Aquaculture, Francis Kingsley Ato Cudjoe, assured the group that government is aware of challenges the sector is going through and is keen to revamp it. To this effect, it has developed a programme called Aquaculture for Food and Jobs with the view of tripling output within a short time.
"We have had our own challenges, but next year, we hope to be able to boost production and encourage more young people to take up fish-farming. To do so, we need to address the concerns of practitioners who are already in this business so that we can learn and address concerns that will come our way as we try to expand and improve aquaculture farming in Ghana.
"Concerns will be noted, don't have fears; we are committed to cleaning up the sector and we are committed to making sure that it becomes a profitable venture to the Ghanaian especially," he said.