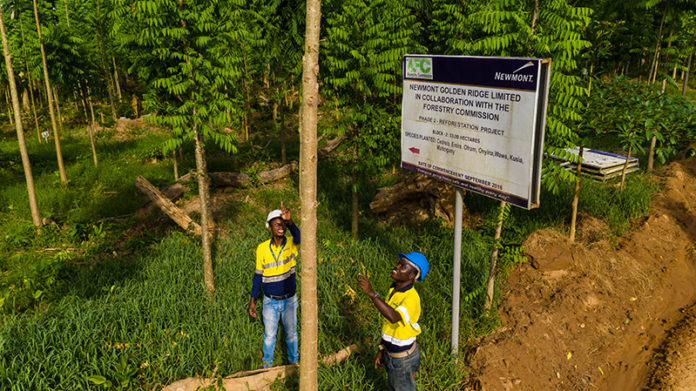 Responsible mining presupposes that minerals and metals mining should benefit the economy, improve the lives of people and respect the environments of producing countries, while also benefiting mining companies in a fair and viable way. It also requires that mining companies continue to improve on the economic, environmental, social and governance issues, with the emphasis on leading practices and learning
Newmont Goldcorp, Ghana's leading gold producer, on this backdrop, has outperformed policy requirement on allocation of Productive Forest Reserve (PFR) for mining with its reforestation project at the Akyem Mines in the Eastern Region.
The mining regulation articulates that a mining company who operates in a Productive Forest Reserve (PFR), should reforest three times the size of land allocated to it by the Minerals Commission but Newmont Goldcorp, who was allocated 101 hectares of PFR land has reforested 317 hectares and is also embarking on a biodiversity project.
Larry Anning Dei, Environmental Representative and Forester, Newmont, explained that Kwekaru forest reserve is a 257-hectare restoration project by Newmont Goldcorp in collaboration with Forestry Commission, to transform the degraded production forest into a useful one. This is in addition to an extra 60 hectares land that was reforested earlier in the Ajenjua Bepo forest.
"Newmont is to establish and manage the project for 10 years after which it will be handed over for the Forestry Commission. The first six year of the project which is the main development part would cost US$3.1 million. The company is also embarking on a biodiversity project in the Atewa Forest Reserve. That is as a result of our direct and indirect impact on the environment and communities. Its purpose is to offset or mitigate the impact of our operations," he said.
The 257 hectares land is divided into six plots with different planting approach for easy management against unforeseen circumstances like fire outbreak, and it consist of 15 different plant species out of which 14 are local.
Cedrela, which is the only exotic species is a timber plant that matures only in 15 years as compared to the locals that mature in 50 years and above. It is said to have high economic value and will serve as an export commodity for government when successfully handed over.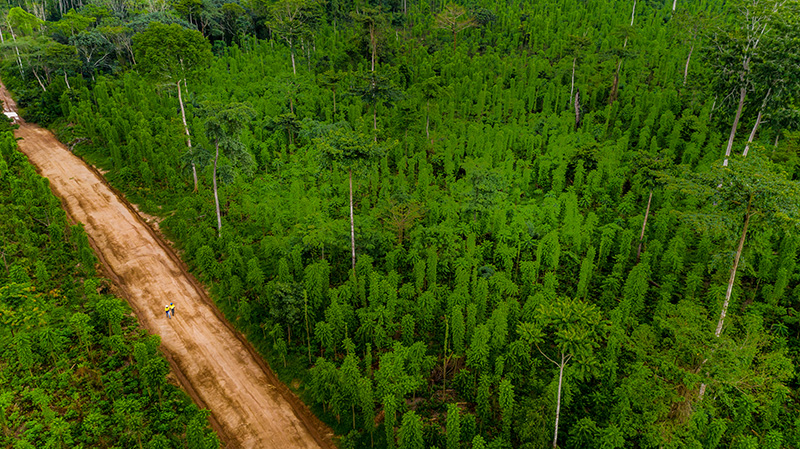 Director, External Relations and Communication, Ghana Chamber of Mines, and Member of the Monitoring Liaison Committee, Ahmed D. Nantogmah, expressed that the reforestation project of Newmont is of top standard, meeting all the guidelines by the Forestry Commission as to which tree species to plant, when to plant it and how to take of it.
"The only reason why the Akyem Mines is still operating and in the reproductive forest is because they are doing the right thing and meeting the guidelines of mining in production forest and are growing trees that are of high economic benefit to the country. Newmont Akyem, is doing so well with its mitigation activities and this can serve as a yardstick to say that if you put into terms the responsible agenda for mining, then mining can be done anywhere," he said.
Newmont Goldcorp Africa, is leading gold producer in Ghana and has two gold mining operations in Ghana; the Ahafo Mine located in the Ahafo region and the Akyem Mine located in the Eastern region.
The Akyem Mine achieved commercial production in October 2013. The operation has produced more than 2.5 million ounces of gold as of March 2019, and reserves stood at 3.4 million gold equivalent ounces as of December 2018. Newmont Goldcorp Ghana contributed US$987.7 million to Ghana's economy in 2018, winning the Most Compliant Taxpayer Award at the GRA 2018 Awards.