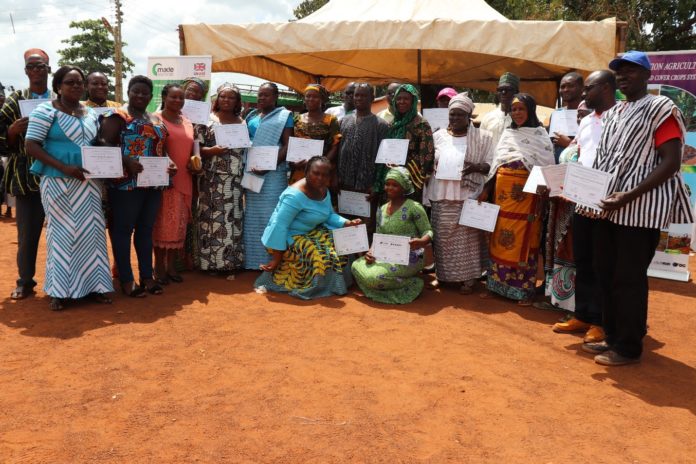 The DfID-funded Market Development Programme for Northern Ghana (MADE) and the USAID ADVANCE project have celebrated the contribution of Ghanaian rural women in agriculture, at a ceremony held at Zinindo in the Gushegu district of the Northern Region.
The ceremony marked the United Nations' (UN) International Day of Rural Women (IDRW) celebrated on October 15th each year. The day recognises "the critical role and contribution of rural women, including indigenous women, in enhancing agricultural and rural development, improving food security and eradicating rural poverty".
The 2019 IDRW celebrations, held under the theme 'Enhancing access to productive resources and inclusive markets for agribusiness growth and empowerment of rural women', created a platform for more engagement by women smallholder farmers and agribusinesses in Northern Ghana.
It was attended by women-led agribusinesses, farmers, input dealers, end buyers and processors. Other participants included financial institutions, ICT companies, business advisory service providers, financial institutions, representatives of the Ministry of Food and Agriculture, District Assemblies, traditional chiefs and development partners.
The celebration's highlight was an awards ceremony that recognised women actors in the agricultural value chain who have excelled in their fields of operation. Agribusiness owners and individuals who are supporting women to realise their potential and contribute toward Ghana's agriculture sector also received awards.
The MADE Programme shared experiences, knowledge and lessons learnt over the past five years in implementing the market systems development approach with agribusiness partners in the Northern Savannah Ecological Zone.
Over 40 percent of MADE's beneficiaries are women smallholder farmers who have been supported with agro-inputs such as seeds, fertiliser, mechanisation and farm advisory services, as well as produce buy-back to increase productivity and yields. Incomes earned by these women smallholder farmers have been used to cater for their children's basic, education and health needs.
MADE is a six-year programme (2014-2020) funded by the UK government's Department for International Development (DfID). Using the market systems approach, MADE is driving pioneering changes in the way small rural agribusinesses engage with smallholder farmers in the Northern Savannah Ecological Zone of Ghana.
MADE has in the past five years partnered with over 100 small enterprises to build their capacity and facilitate the introduction of innovative business models – leading to the delivery of integrated packages of input supplies and services for over 70,000 smallholder farmers to increase productivity, yield and incomes.