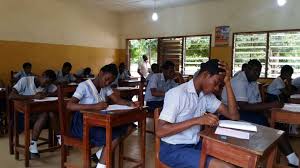 Infrastructure is still a major issue among most Senior High Schools (SHSs), as the country braces for over 1.2million students waiting to be posted to various second cycle institutions this month.
This follows the release of results from the Basic Education Certificate Examinations (BECE) – the third set of beneficiaries under the Free SHS programme.
The SHS population had remained constant at around 600,000 every year over the last decade, until the introduction of the free SHS program – which has tremendously increased enrolment figures in second cycle institutions.
While the number of students has doubled in the last two years, infrastructure to accommodate them has not seen any major improvement.
An analysis of the Public Interest and Accountability Committee's Annual Report on Management and Use of Petroleum Revenues for the Period 2018 reveals that of the total Annual Budget Funding Amount (ABFA) allocation of GH¢419,871,012 to the education sector, a little over GH¢414.6million was spent on fees for Free SHS beneficiaries and GH¢5.2million was spent on expanding existing infrastructure and building new ones.
The negligible amount spent on physical infrastructure is worrying, given that there has been a major increase in enrolment of SHS students as a result of government's Free SHS policy.
This month, the Free SHS secretariat is expected to release the list of placements for senior high schools across the country, and over 400,000 students are expected to receive placements.
These students will add to the about-900,000 continuing students who are already enjoying the free SHS policy and competing for the limited space.
The lack of space for these students forced government to implement the double-track system; a system that was introduced last year which ensures the large number of students placed under the free SHS policy can all have access to education.
Experts have argued that the double-track system cannot be sustained, and there is a need for government to embark on a massive infrastructural development across all the country's SHSs to accommodate the increasing demands of secondary education.
Integrated Social Development Centre (ISODEC) was one of the stakeholders that raised concerns about what it believes is a hasty implementation process of the double-track system for SHSs.
"The speed with which government is trying to introduce the two-track SHS system – i.e. two months from now – without any meaningful broad stakeholder consultations in consonance with the principles of good governance is worrying," the governance and human rights non-governmental organisation said while criticising the Education Ministry in a press statement.