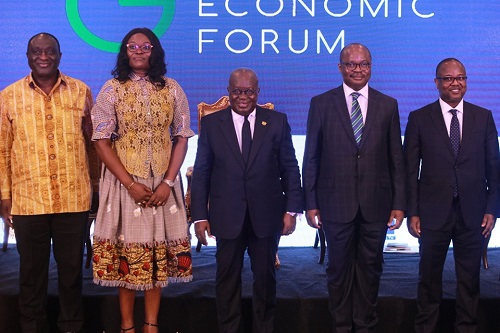 President Nana Addo Dankwa Akufo-Addo has assured the business community of his government's commitment to ensuring fiscal rectitude going into next year's general elections, so as to ensure that gains made on the economic front are maintained.
Delivering the keynote address at the 8th Ghana Economic Forum (GEF) 2019 held in Accra yesterday, President Akufo-Addo said: "I am committed to fiscal rectitude becoming an essential feature of our DNA in the management of our public finances and national economy".
He said prudent management of the Ghanaian economy is what has made it possible for his government to finance the Free SHS programme as a means of building the manpower of a young country whose population is projected to hit 32 million in 2020, and 51million by 2050.
"Proper management of the economy has resulted in our ability to finance our flagship programmes, such as Free SHS which is currently enrolling some 1.2 billion students in Senior High Schools (SHS) – the largest in our history," he said.
The Planting for Food and Jobs Programme, he noted, has also reduced the import of some food items and turned the country into a net exporter of food. "The programme of Planting for Food and Jobs has led to the revival of Ghanaian agriculture, bringing in its wake a bumper-harvest in 2018 and exports of significant quantities of food crops to our neighbours."
The country's economic growth has averaged 7 percent over the past three years, and for the last two years it has been among the fastest-growing in the world. This year, the economy is expected to grow at 7.6 percent.
With a surplus trade balance, a 4.5 percent fiscal deficit, and 4.3 months of import cover President Akufo-Addo said these gains will be maintained going into elections next year.
The GEF 2019, held on the theme 'Sustaining Macroeconomic Stability through Election Cycles: The 2020 Test Case', brought together over 400 key business leaders and policymakers under one roof to deliberate of how the country can avoid the slippery path of economic slippages in election year 2020.
The opening ceremony was also addressed by Dr. Ernest Addison, Governor of the Bank of Ghana; Abena Osei-Poku, Managing Director-Barclays Bank Ghana (a member of Absa); Allan Kyerematen, Trade and Industry Minister; and Dr. Edith Dankwa, CEO of the B&FT.
The first plenary session, on the theme 'Sustaining Macroeconomic Stability through Election Cycles: The 2020 Test Case', saw some insightful submissions that can help keep the country on the right economic path.
Panellists for the session included Ken Ofori Atta, Minister for Finance; Mr. Kwame Pianim, Economist; Dr. Ernest Addison, Governor-Bank of Ghana; Prof. Peter Quartey, Director-ISSER, University of Ghana; and Dr. Albert Touna Mama, IMF country representative.