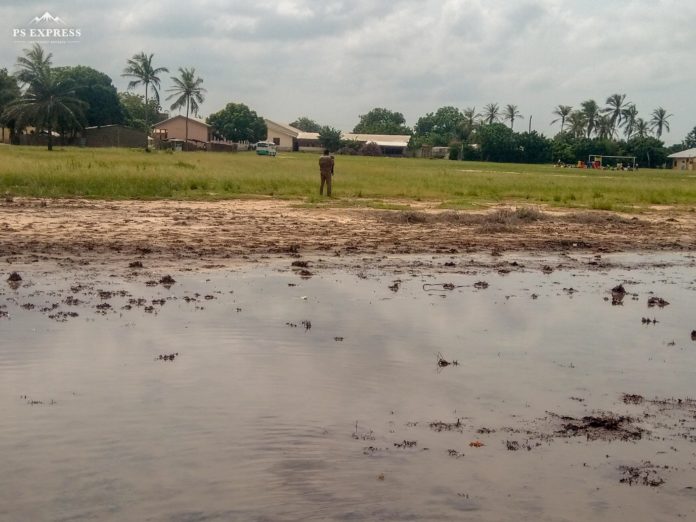 Afiadenyigba Senior High School (Afiasec) in the Ketu North Municipality of the Volta Region has accused Diamond Salt Mining Company of disposing of saline water into a pond close to the school.
According to school authorities, Diamond Salt – after extracting salt from its trapped underground water along the Keta Lagoon which it uses for its main production – disposes of the residual water into a pond sited 10 metres from Afiasec; a practice that has been ongoing since 2016.
The highly saline water has now left scars on the school's buildings and metal gates.
The painting on the classroom blocks and dormitories of the school can be seen peeling off, and metal gates and windows can be seen rusting away. The very foundations of the school's buildings are also being weakened by the salt water deposited a stone's throw from the school.
The schools' field is totally submerged in highly salt-concentrated water any time it rains in the community, rendering the once-lush green field a dry, bare wasteland
According to some authorities of the school, who requested to remain anonymous, the company started discharging waste into the pond in 2016. The school, according to these sources, drew their attention to the danger but little was done to control the situation.
"Whenever it rains heavily, the whole place gets flooded and the school field is totally submerged. We confronted Diamond Salt about the destruction its activities are causing in the school, and they proposed constructing a canal that would make the water flow into the lagoon, which they did – but because the place is on the lower side of the lagoon, the water does not flow unless there are heavy rains," a highly-placed source at the school said.
Authorities are therefore demanding a more solid solution to the situation, so that properties of the school will be protected, be free from rust, and available for use by students during the full academic year.
Company's response
The General Manager-Diamond Company, Tata Ramarao, in response to the allegation refuted the assertion that his company is discharging waste water into the pond, indicating that it is rainwater that is causing the problem.
"We do not discharge any by-product into the pond. We recycle our water after production to produce salt again; and we also have a pond for storing our waste water, which is from water used to wash the salt. We also did not construct any canal for the school; the one we constructed was to prevent the lagoon water from coming to our concession. But we will confer with the school and see what we can do to help them," he said.