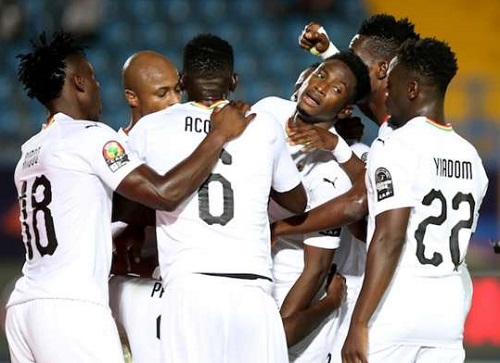 Government spent a total of US$4.5million on the Black Stars' 2019 Africa Cup of Nations (AFCON) campaign, which the Minister for Youth and Sports, Isaac Kwame Asiamah conceded was a below par performance by the senior national team.
Presenting a statement on the floor of Parliament on Ghana's preparation and participation in the 2019 AFCON, which came off in Egypt and was won by Algeria, Mr. Asiamah noted that the expenditure was made from a budget of US$6.3million.
With the team getting knocked out in the round of 16 to Tunisia, the remaining US$1.7million, according to the minister, will be returned to the state.
The breakdown of the US$4.5million expenditure covered the following: the playing body, technical team, Members of Parliament (Select Committee on Youth, Sports and Culture), representatives of Ghana League Clubs Association, representatives of Old Footballers Association, some staff of Ghana Football Association, some staff of the Ministry of Youth and Sports and members of Ghana Supporters Union and journalists.
For the details: US$924,168, airfares; US$187,050, per diem for players; US$129,600 per diem on technical staff; US$90,750, per diem for additional technical staff; US$965,405, winning bonus for players; US$347,027, winning bonus-technical; and US$177,000, winning bonus-additional technical staff.
Others are accommodation at a cost of US$1.143million; feeding/allowance, US$419,300; match tickets, US$41,750.00, medicals, US$44,574.00; visa fees, US$8,541.00; internal transportation US$43,092; whiles incidentals took US$42,576.00, with all totaling US$4.5m.
The government has requested for a comprehensive report from the Normalisation Committee to determine the way forward for Ghana football, the minister added.
The Minister also explained that it is not true he led an excursion of Egypt while AFCON was ongoing adding that it was organized by CAF and FIFA, with his office only briefed. He maintained that no supporter was stranded in Egypt.
Majority Leader, Osei Kyei-Mensah-Bonsu in contributing to the statement, indicated that the local league needs to commence as soon as possible because in preparing for the upcoming World Cup, the country will be shortchanging itself.
Mahama Ayariga, Member of Parliament (MP) for Bawku Central said the issue of how the national team players are remunerated should be discussed and called for standards to be set for the national team that are followed irrespective of who wears the team jersey.
Samuel Okudzeto Ablakwa, MP for North Tongu said managers of football in Ghana should be open to new ideas on matters of the coach, embrace the issues of dispassionately. "I think we are not paying enough attention to our local league and to talent development."
Alex Kofi Agyekum, Chairman of Youth, Sports and Culture, on the way forward, said "The government with all the stakeholders will sit down and decide on a way forward for the national team."