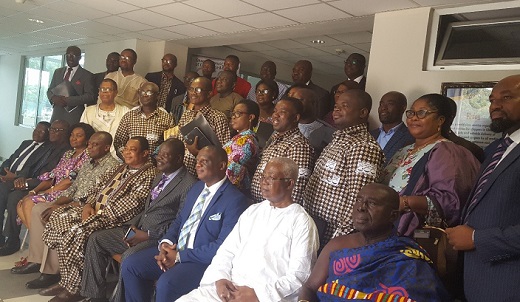 It will take the joint effort of government and industry to fashion out a long-lasting solution to the perennial slide of the cedi into yearly depreciation, Chairman of Parliamentary Committee on Trade, Industry and Tourism, Nana Marfo Amaniampong, has said.
He said the nature of the local currency's depreciation requires business owners and government to collaborate more closely to ascertain the underlying factors, as well as how to boost industry – particularly import substitution. He said this will ultimately help to reduce imports and ease pressure off the cedi.
"As captains of industry you know what is happening in the economy, and it is your duty to work with government to find a lasting solution to the cedi's depreciation; we cannot expect the currency to be strong by importing almost everything.
"I represent industry in Parliament, so whatever inputs you have as to why the cedi is always falling, bring them and let the Finance Minister also bring his side of the story for us to see what we can do to help our country. We have only one Ghana and it will take each one of us to make it a better place for future generations," said the Member of Parliament for Afigya Kwabre North Constituency in the Ashanti Region.
Mr. Amaniampong said this at an event in Accra to inaugurate a Council and Central Executive Committee for the Ghana National Chamber of Commerce and Industry (GNCCI).
Since the beginning of February 2019, the cedi has been depreciating significantly and is currently hovering around US$5.3 to US$5.5 – a situation business associations have described as worrying.
GNCCI's President, Nana Appiagyei Dankawoso I, for instance said the cedi's depreciation disrupts business planning, escalates cost of imports, diminishes the value of bank capital in real terms, and threatens the solvency of banks.
The depreciation, he added, also necessitates high lending rate since it compels banks to charge high rates in anticipation of future depreciation.
"The continuous depreciation of the cedi needs to be addressed to enable businesses to stay competitive," he said, adding that any further depreciation will be detrimental to the business community and the entire economy.
According to Bank of Ghana data, the year to date depreciation for January was 2.7 percent. This increased to 4.2 percent for February 2019.
President Nana Akufo-Addo on Wednesday alluded to the plight of businesses. He said he feels "extremely upset and anxious" about the cedi's depreciation.
He however assured that efforts are being made to curb the decline and restore the cedi to stability, adding: "Very soon, we will be seeing the results of our policy".