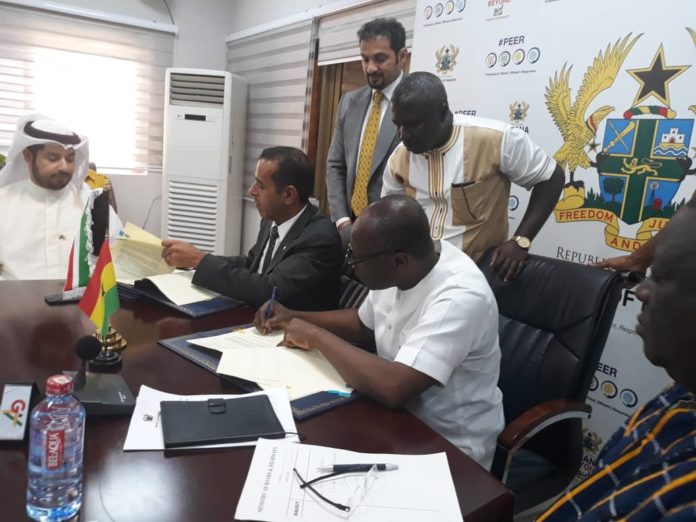 The Government of Ghana, represented by the Ministry of Finance and the Ministry of Roads and Highways, has signed a USD$23.8 million (seven million Kuwaiti Dinars) loan agreement with officials of Kuwait Fund for Arab Economic Development for the rehabilitation of the Dome-Kitase Road Project.
The amount covers about 64 per cent of the total cost of the project and the Government of Ghana will cover the remaining cost of the project.
The project, when completed will connect the Accra-Kumasi road (N6) to the Accra-Aburi-Koforidua highway (N4) and provide an alternative route to road users thereby reducing traffic congestion on the two national roads.
The financing terms for the loan facility are an interest rate of 1.5 per cent (including 0.5 per cent administration charges), maturity period of 28 years (including four years' grace period) and two payments (equal principal payments) per annum.
With a grant element of 36.53 percent, the project is expected to be completed by the end of 2022.
Speaking at the event, Finance Minister, Mr. Ken Ofori-Atta expressed gratitude to the Kuwait Fund for Arab Development adding that: "This is a great milestone in strengthening the longstanding healthy bilateral relationship between the Government of Ghana and the State of Kuwait".
He revealed that over the years, the State of Kuwait through the Kuwait Fund for Arab Development has supported Ghana with concessional facilities in various projects and Technical assistance. This includes; the Korle Lagoon Ecological Restoration Project (Phase I and II); Aboadze-Volta Transmission Line Project; Accra Plains Irrigation Project feasibility study; Maternity and Children's Hospital feasibility study, which had all been completed and the expansion and development projects of 26 existing senior high schools.
On his part, the Deputy Director-General of the Kuwait Fund for Arab Economic Development, Mr. Nedhal  Alolayan, said the Kuwait Fund efforts in the development of Ghana goes back to 1977, when the fund participated in the financing of the Kpong Hydro-Electric Project with a loan equivalent to about GHC167,000,000.
He assured that both Cabinet and Parliament have given their approval for the project and therefore, there should be no fear of fund management activities.
Also present was the Minister of Roads and Highways, Mr. Kwasi Amoako-Atta, who noted that his Ministry identified the 19.1km Dome-Kitase road, inclusive of the one kilometre Ashesi University internal roads as one of its key priority projects.
He noted that the provision of this concessional financing is in line with the Government's agenda for the provision of road infrastructure and development of critical road sections across the country to accelerate the socio-economic development.