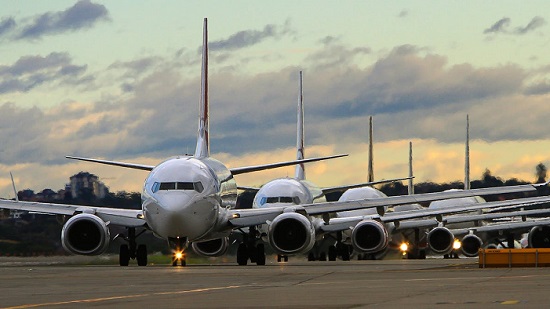 Ghana has signed two separate deals to purchase a total of nine planes to kick-start the establishment of a new home-based carrier.
The Letters of Intent, signed at the on-going Dubai Air Show 2019 in the United Arab Emirates, involve the purchase of six (6) Dash8-400 turboprop planes from Canadian Manufacturer De Havilland Aircraft and three (3) Boeing 787-9 planes from American Multinational Company Boeing.
Financial arrangement for the Dash8 and Dream-liners are expected to be completed in the coming weeks. The base price per each Dash 8 is about US$35million.
However, the final price determination per each Dash8 aircraft that can seat up to 82 passengers is to be informed by the base price, configuration, branding and any other such modifications a customer may deem necessary.
The B787-9 on the other hand cost about US$200million. This may go up based on the configuration and other requests Ghana may submit.
Aviation Minister, Joseph Kofi Adda, speaking to the B&FT after the signing ceremony for the two deals said: "We have decided to use the turboprop aircraft to serve the domestic and regional needs of passengers. We have done our research and assessed all the aircraft that are available, and we think this one is the one that is most efficient and the one most suitable given the weather; and so, on that we can use them to transport Ghanaians within the country and also send them to other West African countries.
"We could go all the way out to Senegal, Gambia and Cameroon. These are things that the route-planning people will work on. We want to be sure we have a critical set of aircraft that the new airline will own and start operating with."
He indicated that the Boeing 787 dream-liners will be dedicated to long-haul flights to areas such as the Far-East
Financing for the 9 deals
The country is assessing two financing arrangements for acquiring the nine (9) aircraft: either a leasing arrangement with a third party funding it and regular payments made by the new carrier, or an outright purchase with funding from investors or central government.
Mr. Adda, speaking on the financing arrangement said: "There are other processes that we have to go through now with the manufacturers themselves, the approvals that will be required from all government levels; we will have to go through those and secure that by end of the year.
"As for procurement, there are different ways of procuring aircraft; there are leasing arrangements that could go on with a third party paying for the aircraft and then you will pay maybe monthly or quarterly for the aircraft's service, with some down-payment.
"There is also outright purchase, which is also another option for procuring aircraft; and usually it is advisable to have that for the first few aircraft within your fleet. Once you have that, you can then have the luxury to go out and lease others to expand. These are options we will place before government. We hope that once government makes a decision on this we will be able to make payment and have the aircraft delivered."
He also indicated that there is interest from private investors who are willing to be equity investors or help purchase the planes.
ET, AWA participation
Answering questions on government's initial MoU with ET and why we should establish a new home-based carrier when Africa World Airlines (AWA) is already based in Ghana and serving the sub-region, Mr. Adda noted that government is open to working with both airlines to deepen connectivity in-country and within the underserved sub-region.
Need for a new home-based carrier
A recent Airbus study predicted that Accra and Lagos will become airline megacities in the next two decades. This means that they will handle about 10,000 more long-haul passengers a day.
However, there is a dearth of domestic and regional airlines to serve the over-350million people in the region and the millions more who visit every year.
The  International Monetary Fund (IMF) says Ghana's economy is expected to perform strongly because of its ability to return to private capital flows, which are an important source of financial funding .
Sub-Saharan Africa is showing a solid macroeconomic performance, with many economies now growing at rates close to their pre-crisis average. Nigeria is slightly slower in its growth rates, reporting a smaller-than-2 percentage point difference from pre-crisis levels. Ghana, on the other hand, has one of the continent's fastest-growing economies.
"Nigeria and Ghana are headlining growth in West Africa, but it is mainly being captured by foreign (US, Middle East and European) carriers in the absence of financially stable and internationally competitive local airlines," a recent Centre for Aviation report noted.