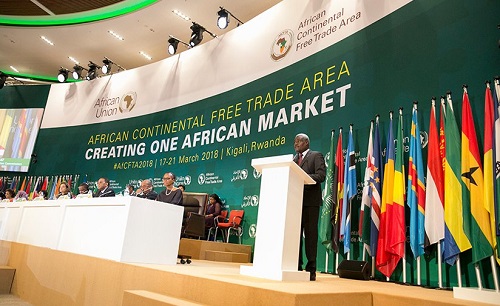 Africa's total merchandise trade in 2018 was valued at approximately US$997.9billion, showing that the continent remains one of the fastest-growing regions in the world. Africa's output grew by 3.4% between 2017 and 2018, despite the slowdown in global growth during that period, the African Trade report 2019 has indicated.
The report noted that while the European Union remained Africa's main continental trading partner in 2018 – accounting for 29.8 % of total trade – African trade with the South grew significantly over the last decade to account for more than 35% of the continent's total trade in 2018.
China and India further consolidated their positions as Africa's first and second-largest trading partners, accounting for over 21% of total African trade in 2018. Intra-African trade also increased steadily in 2018, growing by 17% to reach US$159billion.
These statistics show that Africa trades more with the rest of the world than it trades with itself. Put simply, African countries deal less with each other and more with economies outside the continent, despite the inherent potential in intra-Africa trade.
Dr. Mukhisa Kituyi, Secretary-General of UNCTAD, identified a major challenge to intra-Africa trade that has held back past propositions of a free continental area. "One of the main challenges to intra-African trade is the non-tariff barriers. When there is a deficit of political goodwill, excuses are made to slow down trade.
"Many times, traders will reach the border and be told 'This product looks too old to be sold to us', or 'The quality doesn't seem to be right', or "We cannot ascertain that this was made in your country". The absence of goodwill leads to the use of too many non-tariff measures as excuses to slow down trade. Cultivating goodwill requires that non-tariff barriers are rolled back and trade is increased between African countries."
Various economies on the continent and its new crop of leaders, realising the economic benefits of a continent-wide free trade area, have now agreed and started implementing the Africa Continental Free Trade Area (AfCTA). The AfCTA is a Single Market (Duty-free, Quota-free) trading bloc covering the entire African continent – with a total population of 1.2 billion and a combined Gross Domestic Product (GDP) of almost US$3trillion.
It is in this light that a decision was made by Ghana, one of the continent's economic giants, to join the bandwagon and bid to host the African Continental Free Trade Area (AfCFTA) Secretariat. As it stands now, the bid has been won – so, what next?
What are the three most immediate gains for an African country in a free trade area? Dr. Kituyi explains: "All studies show that what Africa sells within Africa has more value added than what Africa sells to the rest of the world, which is mostly raw materials. This means intra-African trade creates more employment in the source country than with Africa trading with the rest of the world.
"We look to gain more industrial and value-added jobs in Africa because of intra-African trade. Secondly, it will build competitiveness – which you can then unleash onto the rest of the world. Thirdly, we will be removing domestic market distortions which have been adding a burden to domestic consumers because of too much protectionism."
Ghana's Trade and Industry Minister, Alan Kyerematen, told Parliament that implementation of the AfCTA and Ghana successfully winning the bid to host the Secretariat is "great news, as this will not only put Ghana on the map but also enable our local businesses to thrive through export of their goods".
Among the expected strategic benefits of AfCTA is that it will increase intra-African trade through its better harmonisation and coordination within the African continent. It is estimated that intra-African trade will increase by as much as US$35billion per annum, or 52 percent, by 2022.
With this decision and selection of Ghana as host, the positive implications for Ghana's economy cannot be overemphasised.
By creating a market of 1.2 billion people, you are expanding access in terms of market opportunities for small and medium enterprises.
"Now all the young boys in Kumasi and other parts of the country who produce wonderful shoes have the opportunity – duty free, quota free – to move their products from Kumasi to South Africa.
"It is all about trade and market information; once there is a spotlight on an expanded Africa market, producers or manufacturers of any product now sees his or her market opportunities not only within ECOWAS but within the context of Africa," Mr. Kyerematen said.
Presently, 54 out of 55 countries in Africa have so far signed the AfCFTA, with 27 counties having ratified the agreement.
The benefits of the AfCFTA will not come automatically. To harness the benefits of AfCFTA by AU member-states, a Programme of Action to Boost Intra-African Trade (BIAT) has been endorsed by AU Heads of State.
The BIAT looks at some cluster priority areas, and it is instructive to note that Ghana is already ahead in all those areas toward harnessing benefits from the free trade area. The clusters are: Productive Capacity (Industrialisation); Trade Facilitation; Trade-related infrastructure (e.g. Transportation and Communication); Trade Finance; Trade Information; Trade Policy; and Factor Market Integration.
Industrial Productive Capacity – Under this cluster, Ghana is already implementing programmes such as the 'One District, One Factory (1D1F)' Initiative; establishment of Strategic Anchor Industries Initiatives, such as automobile, iron and steel industries. Ghana is equally vigorously pursuing the 'One Region, One Park' initiative (Industrial Parks & Special Economic Zones); and development of the SME sector to enable them tap into the value chain.
On Trade Facilitation, there are ongoing Customs Management Reforms including the Single Window Platform and implementation of the paperless system. The country is also implementing the WTO Trade Facilitation Agreement
The third area of priority has to do with trade-related Infrastructure. It is worth noting that the Port Expansion Project, facelifts in transport infrastructure such as roads, airports and railways, are a testament that Ghana is ready for the AfCFTA.
In the area of Access to Finance, there is an ongoing rollout of the Stimulus Package for Local Industries; EXIM Bank Financing: Venture Capital Trust Fund; Ghana Infrastructure Investment Fund; FINTECH; and ongoing Banking Reforms
On Trade Information, the country already has the Ghana Commodity Exchange; The Electronic Trade Information system of the Ghana Export Promotion Authority (GEPA), among others.
With regard to the area of Trade Policy, Ghana already has in place a National Trade Policy; Trade Sector Support Programme; National Industrial Policy; and an Industrial Sector Support Programme.
The AfCFTA, among its objectives, seeks to increase intra-African trade through better harmonisation and coordination of trade within the African continent. It is estimated that intra-African trade will increase by as much as US$35billion per annum or 52% by 2022;
Address the challenge of small fragmented markets in Africa by creating a single continental market, which will lead to economies of scale;
Add value to Africa's abundant natural resources and promote economic diversification and industrialisation; Develop regional value chains and facilitate cross-border investments; Enhance access to an expanded market for SMEs in Africa on preferential trade terms; Attract Foreign Direct Investments (FDI) into Africa with strong regional and local content.
It is also expected to facilitate the integration of Africa economies into global markets; significantly improve the Terms of Trade for African countries; Enhance benefits to consumers in Africa through lower prices of goods imported from within Africa; and greatly enhance employment opportunities in Africa, particularly for the youth.
Some key operational phases of the AfCTA expected to be achieved are the setting-up of a permanent Secretariat by March 2020, as well as the start of trading and dismantling of tariffs to commence by July 2020.
Already, an online platform for Tariff-negotiations has been completed – including an Africa Trade Observatory and a Digital Payment and Settlement Systems (AFREXIM Bank).
Conclusion
There could not have been a better time than now for Ghana to be hosting the Secretariat of AfCFTA. Despite Ghana's pioneering role in the struggle for independence in Africa and subsequent contributions to integration of the African continent, Ghana has not had the honour and privilege of hosting any AU organ.
Although it has been long in coming, it has come at a time when Africa is rising and Ghana is taking the lead.
Ghana can and should leverage the opportunity of hosting the AfCFTA Secretariat to become the new commercial capital of Africa, a regional trade hub and economic epicentre, and the new gateway to the continent.
Hosting the Secretariat will promote Ghana as an attractive investment destination and actively promote Foreign Direct Investments. It will attract major international financial institutions and become the preferred location for siting the Corporate Headquarters of international companies doing business in Africa. It will provide opportunities to recruit Ghanaian professionals and administrative staff to work in the Secretariat.
The AfCFTA will enhance government's current Industrial Development Agenda and contribute to diversification of the Ghanaian economy, and open-up new market access opportunities under preferential terms for Ghanaian producers – particularly SMEs.
Ghana will have the opportunity of hosting various Regional and Continental meetings and other events associated with the AfCFTA, and also enjoy many other collateral benefits which will enhance income levels for many Ghanaians.
Hosting the AfCFTA is without doubt a major step in Ghana's march toward economic prosperity.