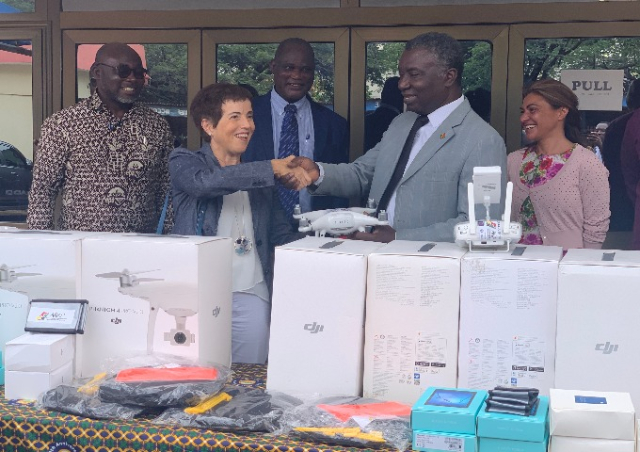 The European Union (EU), through its Accountability, Rule of law and Anti-corruption Programme (ARAP), has donated a set of 11 drones, 22 batteries, 11 tablets and other communication equipment to the Environmental Protection Agency.
The gadgets are intended to support the monitoring activities of the EPA in the small-scale mining sector, and to some extent the oil and gas industry.
The gadgets will, again, aid in providing additional data that are critical for effective prosecutions of environmentally-related crimes.
At a short ceremony to present the items, the Head of Delegation of the European Union to Ghana, Madam Diana Acconcia, said the European Union through ARAP has been supporting Ghana in various areas, including protection of the environment.
According to her, preservation of the environment must be seen as in the interest of everybody. She explained that the European Union has this value as the core of its agenda and policy.
In November 2018, the European Commission adopted a mission called the 'Clean Planet For All', with a vision of building up general guidelines for stakeholders, researchers, entrepreneurs and citizens of EU member-states, and to foster the transition to a climate-neutral future environment.
This, she said, confirms the EU's commitment to emit zero-greenhouse emissions by 2050 with the aim of becoming climate-neutral.
In her address, Madam Diana Acconcia noted that she is committed to this cause of the environment and climate not just as an ambassador but as a concerned human being – "because it entails the future of our children and our planet. So, whatever environmental activity that goes to affect the environment is something that I take very seriously".
Touching on the Ghana-Europe relationship, Madam Diana Acconcia said Ghana and the European Union share a common agenda of promoting peace and security, regional integration, democracy and rule of law, human rights, trade and economic growth for sustainable development.
She concluded by assuring EU's commitment to Ghana's development through governance by supporting electoral reforms and engaging in public sector reforms for domestic revenue mobilisation, public expenditure management, fighting corruption and improving the accountability standards.
Prior to this presentation, ARAP had previously engaged the EPA in a series of monitoring activities under its environmental governance project, whereby two drones and other gadgets were provided for the piloting of Information Technology (IT) compliance monitoring tools in some mining areas that included Dunkwa Offin, Konongo among other places.
Receiving the items, Minister of Environment, Science, Technology and Innovation, Prof. Kwabena Frimpong-Boateng said: "Climate change is a very big deal that prevents farmers from getting access to water to farm. There is coastal erosion from rising sea levels prevents farming or grazing, so we are seeing the effects of climate change".
He said the drones have come at a time when the Environmental Protection Unit is trying to engage more people, specifically for monitoring in the mining areas. "So, this provides us an opportunity to scale-up the work that we are doing."
He added that government has taken the initiative by setting up a high-powered committee comprising 10 ministers to deal with illegal mining, "and therefore for the EU to come and provide us with more drones is something that is commendable".
The minister expressed gratitude to the EU and ARAP, and assured that the EPA is a very responsible organisation and will make sure the drones are used for their intended purpose.