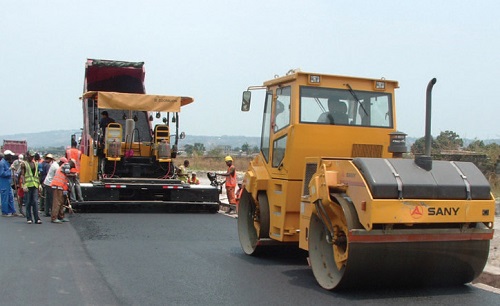 Banks and other financial institutions in the country have been criticised for not doing enough for road and other construction companies in the country to help bridge the yawning infrastructure deficit that is said to be holding back economic growth.
Usman Inusah, Chief Executive Officer of Oussman Inusah Ventures – a local construction firm, is convinced that the country will close its infrastructure deficit in the short-term and spur growth when banks extend more credit to contractors under terms that are not backbreaking.
"The reality is contractors need more support from banks. The support we are getting is not enough; and in that support, the provision of funds must be done under terms that are flexible," he said.
Speaking on the role of financial institutions in tackling the infrastructure deficit, Mr. Inusah said the capital-intensive nature of construction business requires that lenders develop strategic relationships with contractors to help execute government projects.
Through this, he said, the country will create employment, boost growth in national income and close the infrastructure gap, which the World Bank says requires an annual investment of US$400million to plug over a decade.
He admitted that the issue of delayed payments of loans is a major challenge soiling the relationship between banks and their contractor clients, but said such challenges can be addressed when both sides are long-term-minded. With government being the biggest spender on all public infrastructure, Mr. Inusah said, it is unproductive for banks to be avoiding road contractors.
Prioritise indigenous firms
Turning his attention to local contractors, the construction guru said the country needs to deliberately empower indigenous firms in the sector to help retain capital.
Mr. Inusah said it is heartwarming that the Minister of Roads and Highways, Kwesi Amoako-Attah, is committed to success for indigenous companies in the sector, and also called on local construction firms to take advantage of the relationship to upgrade their capacities.
"There are many indigenous contractors that have the requisite capacity and expertise, having executed world-class jobs throughout the country. Those firms need to be encouraged and supported to retain the local content in construction business," he said.
He said beyond retaining the revenue earned from those contracts in the country, local contractors normally work with Ghanaian employees – thereby making them a key contributor to government's job creation drive.
He advised other indigenous contractors to always apprise themselves of standards in the sector, noting that continuous education, innovation and sheer commitment to excellence are the keys to success for the companies. The CEO of Inusah Ventures Limited also advised local contractors to continually train their staff, to help bring their skills up to speed with changing trends in the industry.