The Youth Employment Agency (YEA) believes it is well-positioned to shoulder the burden of rising unemployment among the teeming youth in the country, by offering them jobs with good incomes.
Sammy Awuku, board chairman of the agency, addressing a gathering at the launch of the YEA Job Centre in Accra said: "The YEA as it stands today is more than ever ready to take on the huge responsibility of managing and providing sustainable and tailor-made solutions to addressing the youth unemployment situation in Ghana.
"It is in this light that the agency has employed technology to connect unemployed youth to available jobs by engaging both the private and public sector in a collaborative effort to facilitate employment for the youth. This is the founding principle of the YEA Job Centre," he noted.
The YEA Job Centre is expected to facilitate and coordinate jobs by way of training and preparing the youth to enable them match up the skill requirements of potential employers in Ghana. This process of facilitation and recruitment will be done purely based on merit and devoid of any political interferences.
These initiatives – the YEA Job Centre, Artisan Directory, Regional Flagship Project, and the Work Abroad Programme – are designed to create opportunities for matching job seekers to job opportunities, both inside and outside the country's shores.
Job seekers will be given adequate training in soft skills to position them strategically and enable them to take advantage of opportunities which the booming economy under this government provides.
Vice President Dr. Mahamudu Bawumia maintained that creating gainful and non-exploitative employment for young people "is now more than ever crucial to our development".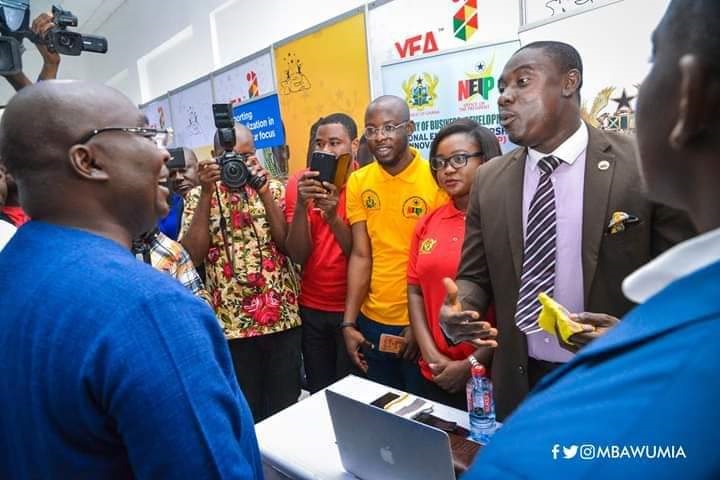 In Ghana some 250,000 people enter the job market every year, putting pressure on the limited employment opportunities – and getting this population employed remains one of the country's socio-economic challenges, he explained.
Minister for Employment and Labour Relations, Ignatius Baffour Awuah, indicated that it is a good initiative from the YEA and urged the private and informal sectors to strive to be industrious and entrepreneurial: "The public sector only offers 7 percent of jobs, and private sector 8 percent," he said.
He also stated that unemployment numbers have plummeted – from 11.9 percent in 2015 to 3.7 percent in 2019.
The CEO of YEA, Justin Kodua Frimpong, indicated that the Job Centre "is a one-stop shop for all employment opportunities" and added that it will also involve training in soft skills for trainees.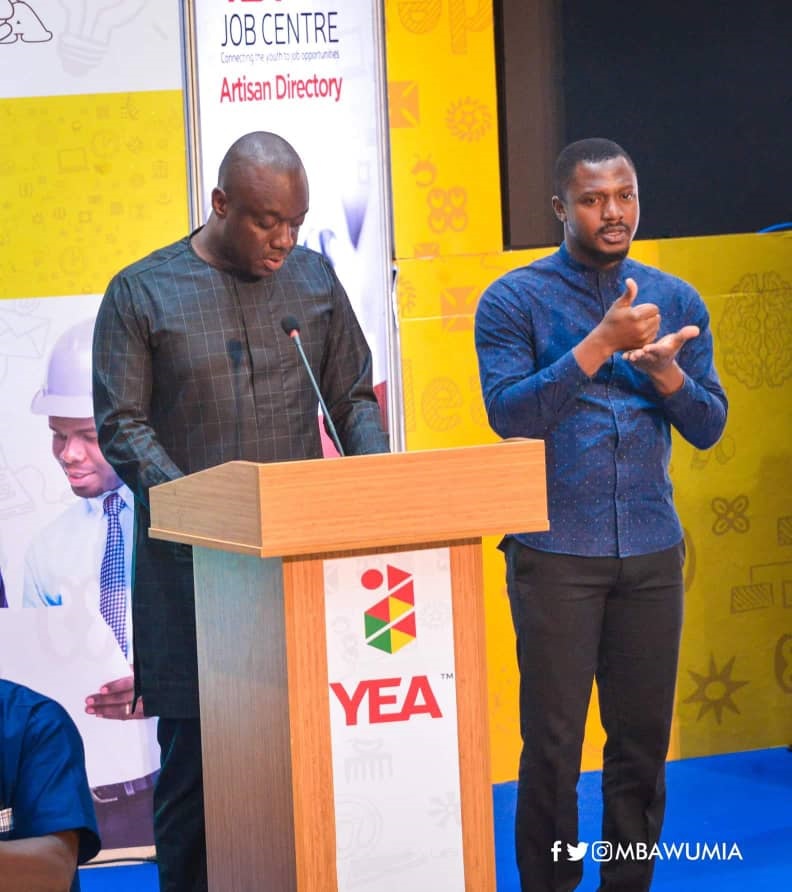 According to the International Labour Organisation (ILO), more than one-fifth of the world's youthful population are in neither employment, education or training. In Africa today, the youth account for more than 60 percent of all unemployed individuals on the continent.
The ILO further estimates that in sub-Saharan Africa alone, approximately 6 million youth will enter the labour market each year over the next 10 years.
The Artisan Directory is one of such key investments directed at providing sustainable lifelong skills to young Ghanaians. It is our hope that this programme will provide transformative skills to most of its beneficiaries and enable them become entrepreneurs with the capacity to, in turn, employ many other people.
The platform comes with three main components: Online Portal, which is a virtual platform that allows job seekers to search and apply for jobs advertised by employers while employers, on the other hand, enjoy the convenience of advertising vacancies online and placing a request to the Job Centre for their supply of goal-oriented personnel.
Next is the Walk-in Centres: these are localised offices across all districts in the country, designated to supporting and guiding job seekers and employers alike. These are face-to-face centres where advisory, counselling and mentoring services will be provided.
There are also Training Hubs, which will be temporary centres set up to provide quality training, skills-upgrades and matching to give job seekers a head start in the job market.