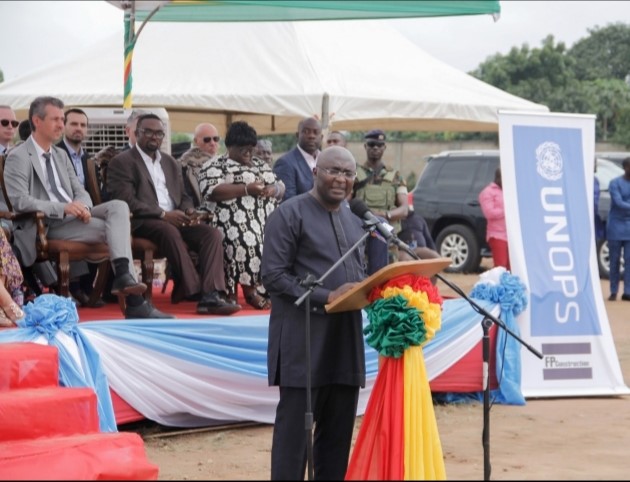 The Ministry of Works and Housing, in collaboration with the United Nations Office for Project Services (UNOPS) and Sustainable Housing Solutions (SHS), has launched a US$ five billion affordable housing project in Amasaman-Accra.
The affordable housing project which is fully funded by the United Nations, is aimed at helping to reduce Ghana's housing deficit which currently stands at 2.5 million units.
The five year duration project is to estimated to build 6,500 housing units in Amasaman, and a minimum of 100,000 units across various constituencies districts and regional capitals in the country.
Affordable housing is defined as accommodation that is appropriate for working class households in terms of size, standards and access to services and facilities.
Vice President of the Republic of Ghana, Dr. Mahamudu Bawumia, speaking at the project launch expressed government's gratitude to UNOPS committing such a significant amount to help address a very pressing developmental issue in Ghana.
"Shelter as we are all aware, is the next most important need after food and clothing. Our inability to meet the housing needs of our citizenry in the past has created a huge backlog, estimated to be in excess of 1,700,000 units. Whilst the housing supply requirement is about 150,000 units per annum, available data indicates that less than 40% of this figure is achieved annually.
"One of the greatest ongoing needs across our African continent, as a whole is the availability of affordable housing for its citizens.
"The UNOPS Sustainable Housing Project seeks to de-risk and structure infrastructure investment projects in an effort to help attract financing from the private sector to national development agendas. Projects selected are subjected to a rigorous and comprehensive due diligence process that will ensure a positive environmental, social and economic impact, with financial returns for private sector investors. Ghana is one of two countries in Africa that made it through the vetting process for this project and we are grateful to UNOPS," he said.
Executive Director of UNOPS, Grete Faremo, said the large scale affordable housing project is innovation driven and is expected to unleash larger sources of funding as it will create more jobs.
Deputy Minister of Works and Housing, Barbara Ayisi Aisha, stated that shelters is a basic human right and the next most important need after food and clothing which allows us to live happy life. But increasing population and urbanisation have made access to homes a difficult challenge in cities in the country.
"In bridging the housing gap; 60 percent of Ghana's urban population will need some form of government's support to be able to afford housing, 35 percent will not be able to afford even with governments support, whilst only five percent can acquire housing without government support.
This calls for massive support from both government  and private sector partnersships to make housing accessible to all," she said.
She further indicated that government is hoping that its partnership with UNOPS and SHS, Government yields the needed results expected.