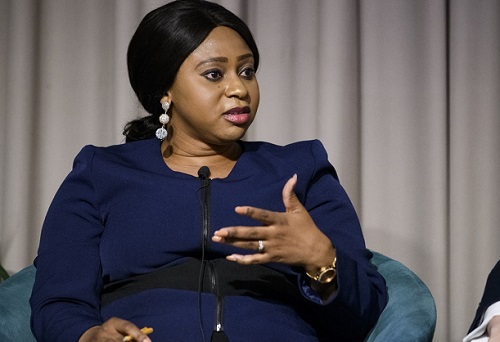 The Minister of State In-charge of Public of Procurement, Sarah Adwoa Safo, has admonished stakeholders in the fight against corruption to reinforce all efforts at addressing the menace by making it a high-risk activity in the country.
Such a bold initiative, she noted, will strengthen the country's procurement system – which has been recording a higher percentage of malpractices in the Auditor-General's report on Ministries, Departments and Agencies (MDAs).
"I wish to state that the Auditor-General's Report captures about 80% of its findings being public procurement-related malpractices. This is very worrying. To achieve Ghana beyond Aid, we need to strengthen our procurement systems by making corruption a high-risk activity and punishing public officers. This will serve as a deterrent to many," she noted.
According to her, public procurement in Ghana, statistically, accounts for approximately 70% of expenditure – which represents a large chunk of the country's total Gross Domestic Product (GDP).
However, conflict of interest, collusion and fraud pose major threats to the judicious utilisation of public funds; a situation, she emphasised, that must be reduced to the barest minimum if not eradicated completely.
If not, she believes, they will derail government's efforts at achieving the Ghana beyond Aid objectives.
Ms.  Safo, who is also the first female Deputy Majority Leader of Ghana's Parliament, made this observation on Saturday, when she delivered a welcome address to the leadership of Parliament and leadership of various Committees of Parliament at a two-day workshop in Koforidua.
Among the committees were Finance, Roads and Transport, Works and Housing, Public Accounts, Health, Local Government and Rural Development, Communications and Defence.
The rest are Mines and Energy, Trade Industry and Tourism and Education.
The workshop was under theme 'Enhancing Parliamentary Oversight through Public Procurement'.
Commenting further, she said Ghanaians should be alarmed by the current report of Transparency International (TI) on Ghana – which recorded corruption in all sectors of government, and urged the people to work toward remedying this in future.
That notwithstanding, the Organisation for Economic Cooperation and Development (OECD) indicated that procurement corruption, collusion and fraud undermine development, and this should be a wake-up call to all.
The First Deputy Speaker of Parliament, Joseph Osei Owusu who delivered the keynote address, recalled a number of instances when the country has failed to act in blocking the loopholes people have been capitalising on while making lots of money at the state's expense.
For instance, he said, the Public Procurement Act, 2003 (Act 663), mandates each Member of Parliament to serve on the procurement entity board at the Assembly. However, the said provision in the Public Procurement Act has been neglected, thereby providing fertile ground for some players in the procurement process to abuse the system.
Dishonesty
Another issue very critical in addressing corruption within the procurement process, according to the Hon. First Deputy Speaker – who is also the Member of Parliament for Bekwai, is dishonesty.
"The biggest challenge we have to deal with as a country is how do we deal with our dishonesty? And it is that which informs all these discussions. I dare say that there is not a single person who does not know the rules or the laws on procurement – whether the person is applying as a contractor or officer. If the rules are circumscribed and he wins the contract, he is a good man; but if he doesn't win, then the person who won has paid a bribe or the officer has accepted a bribe. If that same officer tomorrow circumvents the rules and he gets the contract, the narrative changes," he said.
He added: "The worst part is our political activists. He or she believes that because he or she is a party activist, he or she must automatically benefit from his or her party in power irrespective of any consideration; and yet he or she will turn around to accuse another of being corrupt when the tables turn. We must confront this as a country".
Reforms
The Minority Leader, Haruna Iddrisu, on his part said for the country to reduce corruption to the barest minimum, it must undertake a number of reforms. One of such reforms, he noted, is for the lawmakers to change the way they assess contract documents brought before them for scrutiny and to make recommendations for plenary approval.
Another reform he proposed for the Public Procurement Act is to deal with the issue of political interference and favouritism in the award of contracts.
"Mr. Speaker, one major weakness of the Public Procurement Act in Ghana today is political interference/favouritism. Today, if you are NDC contractor you have no business when the NPP is ruling; and when you are NPP contractor, you have no business when the NDC is ruling. The essence of the Procurement Act was to provide for judicious use of public resources to safeguard it in a non-discriminatory manner. Let anybody in this room challenge me that our public procurement process is discriminatory, and I say this without fear of contradiction. This has to be corrected. That is why we cannot develop businesses – Your business fortunes are tied to a political administration in power; it's a national wrong we are doing as a country, and we need to work to see if we will be able to correct it," he stressed.
Additionally, he said, delays in payment to contractors and suppliers is a major setback in the procurement process – and called on the legislature to lead in addressing this phenomenon.