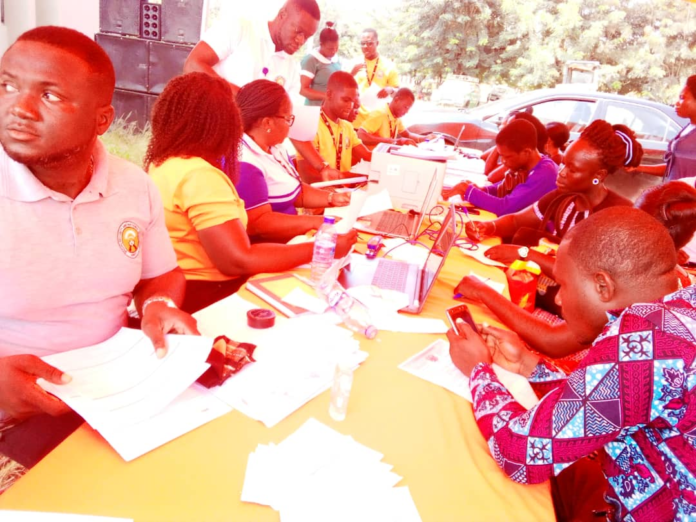 The Social Security and National Insurance Trust (SSNIT), has held its week-long mobile service initiative across the country as part of efforts to bring its services closer to the doorsteps of Ghanaians.
The mobile service initiative, which was launched last year, is among others also aimed at educating the public on social security issues while also providing the platform to register new contributors.
During this occasion, existing members of the scheme are also given the chance to update their information and taken through their statements.
The Director-General of SSNIT, Dr. John Ofori-Tinkorang said the new approach is to increase SSNIT's visibility and make its services easily available to clients and potential customers.
He noted that the processes leading to retirement, the transitioning, has to be seamless. It against this backdrop that he indicated that SSNIT, continuously explore avenues to enhance accessibility in order to make it less frustrating.
He said: "We want to demystify the fear associated with accessing our physical structures and encourage more people especially those with their own businesses to roll onto the scheme."
Dr. Ofori-Tinkorang, who was speaking in an interview at Mankraso, on the occasion of the mobile service week, disclosed that about 2,000 new customers were registered after the tour of the Ashanti, Bono, and Ahafo Regions.
"SSNIT, as you know, has contributors, pensioners, and employers as its main stakeholders. Our primary objective is to pay pension and other related benefits to our contributors and their dependents."
He explained that before an establishment can pay contributions, it must be registered, and before someone can become a SSNIT pensioner, the person should have first registered and contributed into the Scheme.
He said "Our job is to provide you services from the point of registration to retirement" while noting that the initiative to bring the operations out among others demonstrates how SSNIT values the importance of client service.
During this event, SSNIT officials move from their various branches and attended to customers at these selected vantage points.
"Essentially, they carry their branches or offices to the doorsteps of the customer."
The year's event was held under the theme "The SSNIT Pension Pot; How Much You Put In Determines What You Get Out."
Officials of the Trust were on hand to assist the public to understand calculation of pension. This is hoped to correct the misleading impression about benefit computation.
Some members of the public being assisted by SSNIT officials at the Mobile Service week celebrations, at Mankraso