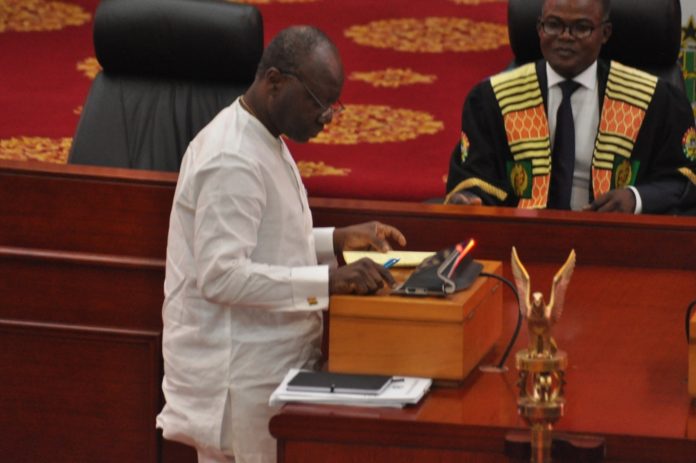 Pension funds investors are expected to reap profits from their investments after a five-year period when the Ghana Amalgamated Trust (GAT) Limited's lifespan elapses, a parliamentary report has revealed.
Speaking on the floor of the House during the approval of a request for issuance of a sovereign guarantee of up to GH₵2billion in favour of Ghana Amalgamated Trust Limited to support indigenous Ghanaian banks, Minister for Finance Ken Ofori-Atta said: "The strategy we have taken, we are confident that appropriate and strong management will be given to these institutions; that the banks will turnaround; that pension funds will make back their money; and we have also given the possibility of participating in the equity pickup".
Commentators have warned about fund managers risking pension funds for GAT, with the minority in parliament maintaining that it is too much of a risk and the arrangement requires "deeper and better consultation".
The sovereign guarantee is aimed at supporting the GAT Limited to issue instruments on the domestic debt market which will target private sector institutional funds – including pension and insurance funds as well as foreign and other investors – to be used as equity investment in the selected banks.
The objective is to protect strategic Ghanaian interests in banks that are solvent but undercapitalised in the banking industry.
According to Ofori-Atta, government cannot stay in the country for banks to be owned by foreigners, saying "that is a compromise we cannot adhere to".
On the issue of the shareholding structure at Nestle, he explained that government does not intend to sell shares because they are important for the industrialisation that it envisions.
The minister also indicated that NIB has had many challenges and there is a lot of cleaning-up that has to be done – and besides, government is not certain it will ever be able to raise the amount of capital – US$1.2billion – that it is requesting.
"Through the GAT we have been able to give them the capital and the appropriate technology and leadership governance, and to ensure that they become the ADBs and NIBs of old that we have always looked out for.
"Yes, we want a strong banking framework for the country; we want strong indigenous banks, we want to protect banks. There are various ways in which this can be done, and this is a tested way that we are sure will get us the type of results we aspire to for the country".
In spite of the positive outlook painted by the Finance Minister during the debate, the Member of Parliament for Bolgatanga Central, Isaac Adongo said: "The pension trustees are going to risk our money; we are going to subsidise this transaction for about US$1.9billion, and in the end we don't even have protection for the money we are investing".
GAT is an independent special purpose vehicle (SPV) with the objective of raising capital for local banks to help them meet the Bank of Ghana's minimum capital requirement.
It is not intended to be a permanent structure, and has a maximum time-horizon of five years to exit its holdings in the banks and repay its investors.
The GAT structure is a private sector approach that will encourage a temporary shareholding in these banks, to be divested within a period of three to five years.
The identified banks for the GAT support are: The Agricultural Development Bank, Prudential Bank, Universal Merchant Bank (UMB), Sahel Sahara/Omni Bank (BSIC/Omni) and National Investment Bank.
The banks were selected based on the fact they were majority Ghanaian-owned, solvent and had no regulatory breaches with the Bank of Ghana as at 31st December 2018.  Though NIB has faced some challenges and realised financial losses in recent years, it was still included in the beneficiary banks due to government's substantial and majority ownership stake in it.