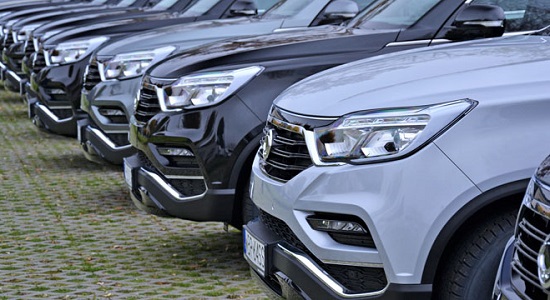 Government has scrapped the controversial Luxury Vehicle Tax that was introduced exactly a year ago – in response to opposition from several institutions including the Car Rental Association of Ghana.
Ken Ofori-Atta, Finance Minister, presenting the mid-year review of the 2019 budget in Parliament yesterday said government has noted suggestions from the general public on implementation of the tax and has moved to withdraw it.
"Government in 2018 introduced the Luxury Vehicles Levy to raise revenue.  We have noted suggestions from the general public on the implementation of this tax, and as a listening government we are proposing withdrawal of the levy to the House," he said.
Between August and December 2018, only GH¢21.3million was realised from implementing the tax – far below the GH¢104million that was projected to be collected within the period.
Mr. Ofori-Atta assured that government will continue to improve compliance, expand the tax net and explore other innovative sources of raising revenue.
In last year's mid-year budget review, the Finance Minister introduced the Luxury Vehicle Tax for vehicles with engine capacities of 2.9 litres and above.
Vehicles with engine capacities of between 2.9 – 3.5 litres attracted an annual tax of GH¢1,000; those with engine capacities of 3.6 – 4.0 litres paid GH¢1,500 annually; while 4.1 litre engine vehicles and above paid GH¢2000.
Exempted from the levy were tractors, ambulances, commercial vehicles that have the capacity to transport more than 10 persons, and commercial vehicles for the transport of goods. Other exemptions were prescribed by the Finance Ministry.
Since introduction of the tax, players in the car rental industry have consistently urged government to exempt them from paying taxes on their luxury vehicles – since such vehicles are not for private use but commercial purposes which positively impact the tourism industry.
Akwasi Marfo, Vice-President of the Car Rental Association of Ghana (CRAG), noted that as a sector that significantly contributes to development of tourism in the country, being subjected to more taxes is counterproductive and discourages others from coming in with investments.
"The biggest issue with the luxury tax is simple: our vehicles are commercial vehicles and we are improving the tourism industry with these vehicles, unlike private vehicle owners. We therefore do not see why we should be paying luxury tax on such vehicles. This tax is stifling our operational resources," he told the B&FT in an exclusive interview.
He argued that members of the association already pay between 5 percent and 17.5 percent Value-Added Tax (VAT) on their services; 1 percent tourism levy; 7.5 percent withholding tax; metropolitan or municipal assembly business operating permits; Ghana Tourism operating certificate, and corporate income tax. "These car rental companies are properly set-up corporate entities that pay a lot of taxes," he added.
Members of the Vehicle and Asset Dealers Association Ghana (VADAG) have even embarked on a demonstration to press home their demand for government to scrap the luxury vehicle tax. According to them, the levy imposed on such vehicles is collapsing their businesses and needs to be looked at again.