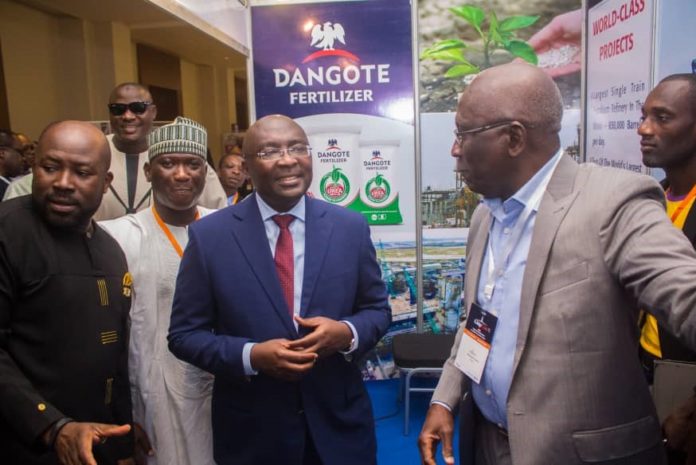 The first phase of the Dangote Fertiliser production plant is currently undergoing pre-testing and is expected to be inaugurated later this year, with a 650,000 barrel per day refinery also under construction.
The first phase of the world's second-largest Urea plant, which is expected to produce 1.4 million metric tonnes of fertiliser annually, will be serving the Nigerian market and West African sub-region before the second phase of 1.6 million metric tonnes comes on stream in the next half decade.
Ing. Babajide Soyode, Technical Consultant on Refinery & Petrochemical Projects-Dangote Industries, speaking to the B&FT in an interview at the three-day Ghana International Petroleum Conference (GhipCon) 2019, explained that the fertiliser plant is completed.
"The fertiliser plant is completed and in the pre-commissioning stage, with the refinery far advanced. We are fully ready to commission the plant; we have already started commissioning different aspects of the plant. With the refinery, which has a capacity of 650,000 barrels per day, it will start refining in quantities which the market demands," he said.
He explained that the fertiliser plant is significant to the agriculture sector in the West African sub-region because most West African countries import their fertiliser from others parts of the world; but with Dangote producing fertiliser, the cost of imports will significantly reduce.
"The plant is so unique because it is going to be producing different grades of fertilizer. It will produce Urea and assist farmers to boost their yields through easy access to fertiliser. Dangote Fertiliser will guarantee substantial saving of foreign exchange in Africa, as a matter of fact, and create surplus Urea for farmers to enhance production," he added.
Currently, more than 26,000 people are working at the construction level; and on completion about 80,000 people will be fully engaged while almost 50,000 others will be living in the complex.
With the largest sub-sea pipeline infrastructure in any country of the world, at 1,100 kilometres to handle 3billion SCF of gas per day, the industrial complex will have world-scale gas treatment stations; a world-class petrochemical complex; a 480MW power plant in the refinery and fertilizer complex; and a 500KTPA polyethylene plant.
The over-US$12billion project is funded not only by Nigerian banks but also foreign ones, as well as equity funding from Dangote Industries. Dangote's equity stands at 60 percent while 40 percent is from debt coming from local and international banks.