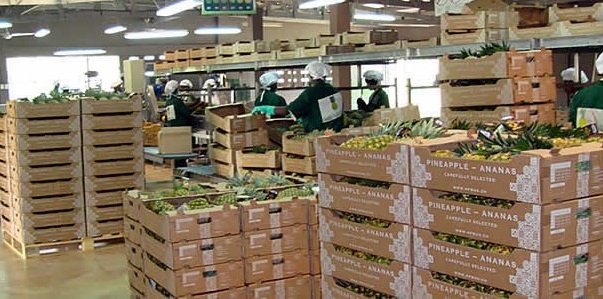 The recent increase in Non-Traditional Exports (NTEs) receipts shows that the country can maximise its NTE exports by leveraging the African Continental Free Trade Agreement (AfCFTA), if more attention is given to adding value to agriculture products.
The 2018 Non-Traditional Export statistics report indicates that more than US$2.8billion was realised from NTEs in 2018. Out of this amount, processed and semi-processed goods was the largest contributor with a 78.5 percent share; followed by agriculture goods with a 21 percent share.
This means that if deliberate policies are put in place to add value to the ten leading NTEs in the agriculture sector – namely cashew nuts, banana, fresh or chilled tuna, shea nuts, mango, medicinal plants and parts, pineapple, yam, cuttlefish and squid, and rice – the country can maximise its potential gains from the AfCFTA.
CEO of the Ghana Export Promotion Authority, Afua Asabea Asare, supported this position in her speech delivered at the report's launch in Accra.
"The projected benefits of the agreement have been largely touted as crucial; and more especially for those of us in the business of exports, the huge expectations of breaking frontiers and increasing intra-African trade and international investment emerges on the horizon.
"Our growth performance as a country reinforces the need for structural transformation and to constantly enhance the value of our exports if we are to maximise the potential AfCFTA offers. Under certain given conditions, trade can promote industrialisation. However, trade-industrialisation is not automatic and requires intentional strategic interventions," she said.
A closer look at the report shows that the cashew industry was the main driver of the 2018 growth, as it saw a 43.8 percent increase in its earnings at a value of US$378.2million. This is attributed to increased yield of quality nuts to meet growing demand, reduced cost of credit, and streamlined mechanisms to facilitate approvals and disbursement of credit facilities.
However, pineapple, fresh or chilled tuna, cuttlefish and squid saw a contraction in growth. Pineapple contracted by 48.7 percent, fresh or chilled tuna by 23.6 percent, and cuttlefish and squid by 8.9 percent.
In the case of pineapple, for example, the fall in export earnings was due to low yields resulting from unfavourable weather conditions, low quality of reliable fertiliser and inadequate financial support for operations. Similar reasons were also given for other farm produce that didn't really see a significant growth.
This calls for government and the private sector to team up and find workable solutions for some of these age-old problems which have choked the agriculture sector's growth.
As a country which has agriculture as its backbone, enormous opportunities exist for the economy if the challenges are addressed and most of these agricultural products are processed or semi-processed – especially at a time the AfCFTA is about to take full flight.