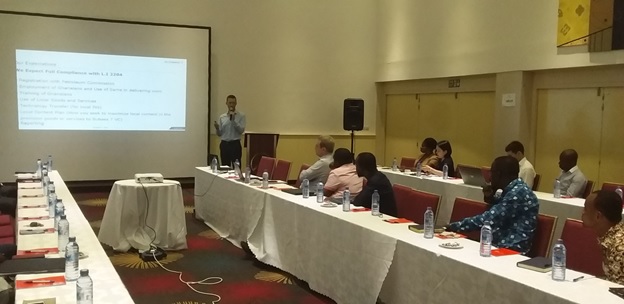 Offshore sub-sea construction and engineering firm, Subsea 7 Volta Contractors Limited, has organized a one-day workshop for potential and existing local suppliers at Alisa Hotel in Accra.s
The event was in line with the company's promise to maximize local content and the use of Ghanaian suppliers in their operations within the country's oil and gas space.
The workshop provided the opportunity for the company to network with its local supply chain get to understand their capabilities and interests and to discuss available projects and how they could be accessed by the suppliers.
Country Manager of the company, Pierre-Emmanuel Boulanger, told the B&FT in an interview that the turn up was impressive and was optimistic that there were opportunities in the oil and gas sector for competent Ghanaian companies to work.
"We believe we can maximize local content because there are some very competent and experienced Ghanaian companies that we can work with.
A lot of them are up to international standards in terms of quality and safety and can offer some technically sound and competitive solutions for us," he said.
Mr. Boulanger said the engagement was the company's way of providing equal opportunities to every supplier "by explaining to them who we are, what we need from them, the opportunities that are available and how they could access them."
He assured that Subsea 7 will work collaboratively with local suppliers to become competitive on both the domestic and international fronts.
He indicated: "We have got a good experience in taking local suppliers that are good, work with them collaboratively to help bridge the gap that can exist between local suppliers and international standards, especially in the oil and gas sector where the quality and necessary requirements can be very stringent."