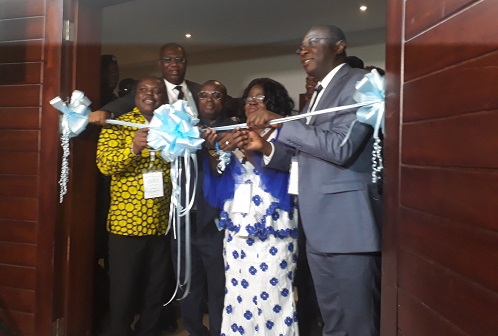 Mr. Egbert Faibille Jnr., Chief Executive Officer of the Petroleum Commission (PC), has warned Ghanaians to put a stop to fronting – which does not augur well for growth of the oil and gas indusrty.
"The era of fronting is about to end; beginning next year, the Commission will be working with other state actors including the Registrar General's Department and Ghana Revenue Authority to begin enforcement of the relevant laws – including tax assessments on the basis of one's equity participation and hence profit-sharing; revocation of operating permits; and non-issuance of permits to Indigenous Ghanaian Companies (IGCs) and their partners, proven after thorough investigations to have been engaged in fronting," he emphasised.
According to him, Ghana needs an indigenous pool of experience and highly-skilled upstream service companies willing to prioritise, adapt and compete prudently in the industry.
Mr. Faibille was speaking at the 2019 Local Content Conference and Exhibition in Takoradi on the theme 'Maximising In-Country Value Addition; the Role of Indigenous Ghanaian Companies (IGCs) and Joint Ventures (JVs) in the Upstream Petroleum Sector'.
He said: "In spite of the fact that a majority of staff in the Joint Venture Companies are Ghanaians occupying various positions across respective organisational strata, the Commission will not rest on its oars".
He announced that as at now the PC has achieved a localisation ratio of over 80%, and almost all the major companies have achieved or exceeded their L.I. targets. "We will continue to strengthen our monitoring and inspection efforts, and partnerships with the Ghana Immigration Service to deepen compliance.
"We also work with industry players to ensure full compliance with succession and training plans, with the ultimate objective of ensuring systematic transfer of knowledge, know-how and technical skills to Ghanaians," he added.
He pointed out that the PC as at October 2019 has issued, a total of 60 certificates and permits to foreign companies, 553 to Fully Indigenous Companies, 27 to Indigenous companies and 75 to Joint Venture(JV) Companies by the Commission.
This, he said, represents an about-16% increase over that of 2018 – when a total of 618 permits were issued in total. "This is encouraging in view of the relative slow-down in activities, but it marks the continued confidence of investors in Ghana's upstream industry."
He mentioned that 2019 did not go exactly the way it was expected in the industry. Nonetheless, a number of contracts were awarded and executed; The Commission approved contracts at a total value of US$420m. Of this, about US$77m went to Indigenous Ghanaian Companies (IGCs).
These figures, he explained, exclude contracts in respect of the Jubilee and TEN Fields being operated by Tullow Ghana Limited.
According to him, in spite of the fact that some key projects earmarked in 2019 could not be implemented, a good number of contracts and works have been performed by IGCs and Joint Venture (JV) companies.
"For us at the Commission, the most important thing is to ensure that for every cent or pesewa expended in an upstream project, the Ghanaian businesses get their fair share," he said.
He said the Commission continues to monitor closely the major operators' procurement and bidding processes, in line with the requirements of L.I. 2204.  In exercising its mandate, the Commission scrutinised all local content documents (Local Content Plans, Procurement Plans, Invitations to Tender, Requests for Proposals among others) submitted to it.
"A number of those plans were queried, and in some cases rejected with the view to ensuring maximisation of local participation and in-country spend as much as practicable," he said.
Mr. Faibille said the PC is working with a number of IOCs and major service companies to establish a framework for providing technical training to a number of Ghanaians. Some of these companies include Halliburton, Subsea7 and Saiwest.
"Having implemented the Local Content Regulations over the last six years, it is time to look back at our achievements and challenges. The Commission has embarked on an exercise to review relevant provisions of L.I. 2204 to make it more responsive to current industry trends and demands," he said.
He added: "We expect to submit the proposed review to Parliament through our sector minister in the course of next year. This will happen after extensive stakeholder consultation; we met with the Ghana Oil and Gas Service Providers Association (GOGSPA) just last week to discuss its proposed amendments. We shall do so with other identifiable stakeholders in due course," he concluded.