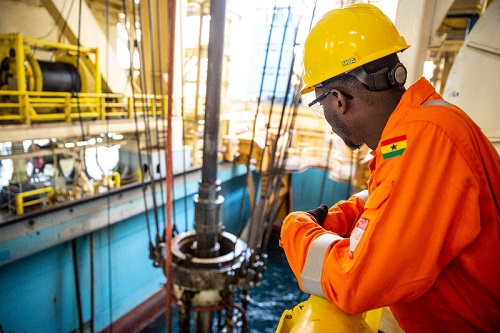 Eni has announced the discovery of gas and condensate in Cape Three Points (CTP)-Block 4, offshore Ghana.
The well, drilled on the Akoma exploration prospect, has an estimated volume between 550 and 650 bcf of gas and 18-20 mmbbl of condensate. It has additional upside for gas and oil which requires further drilling to be confirmed, a statement from the company said.
The exploration well Akoma – 1X is located approximately 50 kilometres off the coast and about 12 km north-west from Sankofa hub, where the John Agyekum Kufuor FPSO is located.
The well was drilled by the Maersk Voyager drilling ship in a water depth of 350 metres and reached a total depth of 3,790 metres.
The well proved a single gas and condensate column in a 20m thick sandstone reservoir interval of cenomanian age with good petrophysical properties..
It is the first well drilled in CTP-Block 4 with a commercial nature, due to its close distance to the existing infrastructure.
"The discovery can be put in production with a subsea tie to the FPSO with the aim of extending its production plateau," the statement added.
CTP-Block 4 is a joint venture between Eni Ghana (operator, 42.469%), Vitol Upstream Tano (33.975%), GNPC (10%), Woodfields Upstream (9,556%), Explorco (4,00%).
According to the statement, Ghana is among the key countries for Eni's organic growth and the discovery is expected to increase the company's contribution to the Ghanaian economy.
The Italian company has been present in the country since 2009 and currently boasts a gross production of about 60,000 barrels of oil equivalent per day.