Traditional Authorities in the New Juabeng Traditional Area in the Eastern Region have called on the region's residents to embrace efforts by the National Petroleum Authority, NPA-regulator of the downstream petroleum sector, to implement the Cylinder Recirculation Model – which is in part designed to address safety in the discharge of gas products and create jobs.
Speaking at a stakeholder engagement in Koforidua, Nana Twumasi Dankwa, Gyeasehene of the traditional area, said the policy has come at a time when industry experts continue to explore ways of improving safety in the petroleum sector.
"It's a policy that will not only create jobs but also improve our safety, and I encourage all of us to give the NPA our maximum support in this area," he said.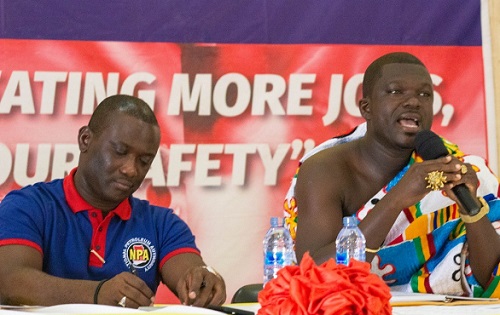 The stakeholder engagement is an ongoing exercise by the NPA to galvanise public support for the policy, educate consumers on the policy, and also seek their views – which are to be incorporated into a final draft document before the final rollout.
The NPA intends carrying out the pilot-programme in Kade and Denkyembor, both in the Eastern Region.
Nana Twumasi Dankwa advised the NPA to broaden consultations to the community level, so it can dispel claims being made by persons who are not ready to embrace the good of the policy.
Chief Executive of the NPA, Hassan Tampuli, said the NPA will continue to engage with the public on the policy, since a people-friendly policy is what his outfit is determined to roll out.
"Every region we go to, new ideas emerge; and we believe here in the Eastern Region something new will come up."
Again, Mr. Tampuli used the opportunity to dispel claims that the policy will lead to job losses. According to him, there is no truth in that; and he challenged anyone with counter-arguments to come forward and discuss them with his outfit.
Mr. Tampuli said gas explosions have disfigured people who are living with unfortunate effects. He also said the deaths have been one too many, and it is therefore important for the situation to be addressed once and for all.
Regional Minister Eric Kwakye Darfour – who is also the MP for Nkawkaw – appealed for participants to accept the policy, since it will help improve their health and safety.
He said it is not the intention of government to deploy a policy that will collapse jobs, and urged his constituents to give support to the energy policy.
Chief Executive of the Association of Oil Marketing Companies, Kwaku Agyeman Duah, said his outfit is in "full support" of the policy.
The programme was attended by chiefs, market women, wives from the security agencies like Police, Fire Service; and the Association of Moslem leaders.