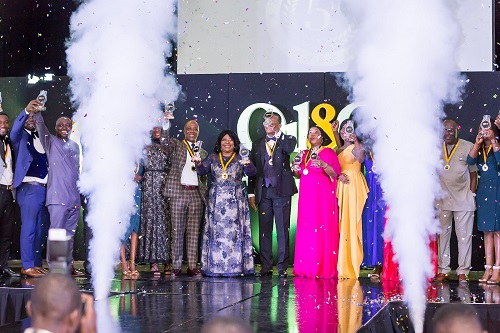 The sixth edition of the annual Ghana Oil and Gas Awards (GOGA), scheduled to place on Friday 13th December 2019 at Movenpick Ambassador Hotel, has announced the list of companies and individuals vying for top honours.
Thirty-one companies and 11 individuals are competing for the 2019 GOGA. Participating companies include Ai Energy Group, Rigworld International Services, Seaweld Engineering Limited, J.K. Horgle Transport and Company Limited, J.K. Ahiadome Transport & Co Limited, Petroleum Solutions, Puma Energy, Rigworld Solutions, Meridian Logistics and Engineering Limited, KEK Insurance Brokers, Hills Oil Marketing Company Limited, Eni Ghana Exploration & Production Company Ltd., and Rigworld International Services Ltd.
Others include Rigworld Training Centre, Xpress Gas Company Ltd., Vivo Energy-Shell Licencee, Goil Company Ltd., Jonmorre International Ltd., Juwel Energy Ltd., Adonai Shipping Ltd., Andev Company Ltd., Manbah Gas Company Ltd., Republic Bank Ghana, Fidelity Bank Ghana, Total Petroleum Ghana Ltd., Blue Ocean Investments Ltd., Frimps Oil, Modec Production Services Ghana JV Limited, Pacific Oil Company Ltd., Africa Centre for Energy Policy, Axiss Shipping Company, and Integrity Logistics & Consult Ltd.
The Ghana Oil and Gas Awards remain the largest industry initiative dedicated to championing excellence, endorsed by the Ministry of Energy in Partnership with industry stakeholders like the National Petroleum Authority and Ghana Oil and Gas Service Providers Association.
GOGA brings together players in the oil and gas industry, and recognises achievements from local and international companies involved in the Ghana oil and gas sector that have played a defining role in moving the industry forward. With the Ghanaian economy becoming increasingly reliant on energy to sustain growth, operators in oil and gas fields must be the very best at what they do to win an award.
The Awards are a trademark owned by Xodus Communications Limited, organiser of the Ghana Insurance Awards, Ghana Manufacturing Awards, Forty Under 40 Awards and Ghana Auto Awards. The initiative is to showcase company's activities and achievements in the past year and reward excellence in Local Content, Stewardship, Health and Safety, Corporate Social Responsibility and more.
According to a statement released and signed by Richard Abbey Jnr. – Events Director at Xodus Communications Limited, the Awards represent a cross-section of oil and gas stakeholders ranging from government, upstream, midstream, downstream, regulators, civil society, financial institutions, and insurers among others.
This year's awards will confer special recognition Awards on Moses Dotsey Aklorbortu, a reporter at Daily Graphic, and Yaa Amoaku-Adu as Young Achievers of the Year. The Awards are expected to induct three companies into the Hall of Fame and further celebrate giants in the oil and gas industry.