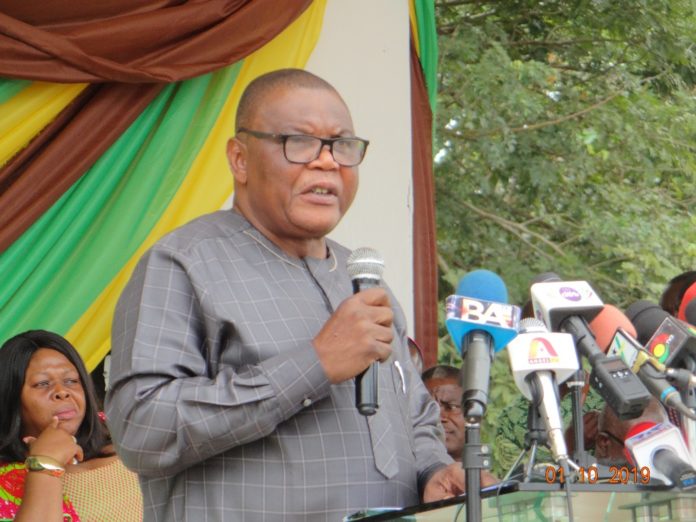 Government has announced a marginal increase in cocoa producer price by 8.42% for the 2019/2020 crop season.
The increment means a tonne of cocoa beans will be sold at GH¢8,240 while a 64kg bag will be pegged at GH¢515, increasing by GH¢40 from GH¢475 in the previous crop seasons.  With the aforementioned price increase, farmers will now receive 72.27% of the FOB price.
The Minister of State in charge of Agriculture, Dr. Gylele Nurah who announced the new price, said the move is one of many government incentives to motivate cocoa farmers as well as better their lives. He said though the price has not improved on the world market, government won't farmers down by not continuing to motivate them.
Dr. Nurah was deputising President Nana Addo Dankwa Akufo-Addo at the 2019 Cocoa Day celebration in Sunyani, and also stated that government is committed to strengthening cocoa extension activities by engaging 1,343 agric extension officers to narrow the staff-farmer ratio so as to provide better extension and other support services to boost cocoa productivity.
The CEO of Ghana Cocoa Board (COCOBOD), Joseph Boahen Aidoo, said in the wake of continuous instability in the price of cocoa since 2016, his outfit is committed to advance interventions to ameliorate the impact from falling prices of cocoa on poor farmers.
"Our efforts at securing a fair and remunerative producer price/income for our farmers have not been without teething issues, but some significant strides have been made. Our quest for buyers to pay a Living Income Differential (LID) of US$400 per tonne of cocoa will provide a relief, indeed, to our hard working farmers and bridge the income gap," he said.
The COCOBOD CEO also stated that implementation of the productivity enhancement programmes (PEPs) – including hand pollination, pruning, rehabilitation, irrigation, fertiliser application and diseases and pests control – has really improved productivity on cocoa farms to the current level of 500 kilos per hectare, saying: "It is our objective to increase our productivity to at least 1,000kg per hectare by 2021".
He however noted that the success of PEPs "will not make the necessary impact in the life of the cocoa farmer if Purchasing Clerks continue to manipulate their weighing scales". He announced that COCOBOD is considering an arrangement with Licenced Buying Companies to acquire electronic weighing scales for cocoa purchases. "We have been reliably informed that such scales cannot be tampered with.  We are confident the decision will lessen the extent of cheating perpetuated by Purchasing Clerks and guarantee farmers their incomes."
The Board Chairman of COCOBOD, Hackman Owusu-Agyeman, on his part said: "We have resolved to continue exploring more market opportunities and partnerships, in line with our policy of ensuring that at least 50% of cocoa produced annually is processed locally to the tertiary level. Already, we have made some strides – as a little over 300,000 mt was processed last year".
Meanwhile, the new price received mixed reactions from farmers: some expressed appreciation to government while others were of the view that government could have done better, looking at the plight of Ghanaian cocoa farmers.