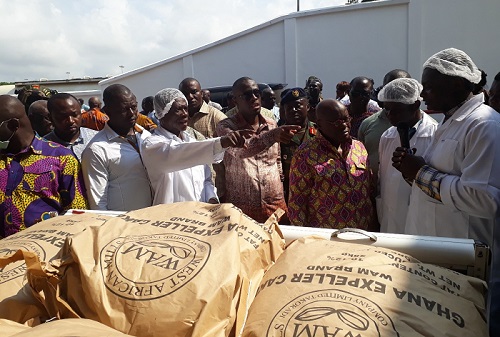 President Nana Addo Dankwa Akufo- Addo has said that the cocoa industry is becoming more and more buoyant again and this, is helping in the socio-economic development of the country.
He said this when he visited the West African Mills Company (WAMCo) at Takoradi as part of his two-day visit to the Western Region.
"During my campaign, I promised to see the revival of WAMCo and this has happened; the period of non- achievement has ended and we are looking forward to a brighter future" he said.
"Those responsible for the collapse of WAMCo will stop giving lectures on it" the added.
Joseph Boahen Aidoo, Chief Executive Officer of COCOBOD said the tragedy of WAMCo, was as a result of cocoa beans which was none existed at that time; it was closed down and workers had to go home for about three years just because of cocoa beans same as Plot Enterprise at Eshiem near Takoradi.
"We came to produce enough beans to supply WAMCo and other companies; WAMCo is making a net profit of US$2million , workers are being paid and WAMCo is now on its feet" he added.
Kwabena Okyere Darko-Mensah, Western Regional Minister said "before election, we promised that WAMCo will bounce back and this, is enough testimony to show Ghanaians that we can deliver on our promises", he said.
Mr. Frank Bednar, Managing Director of WAMCo, was happy about the current state of the company and praised the government for delivering upon its promises
WAMCo, as a joint venture private company between Government of Ghana (COCOBOD) 40% share and Walter Schroeder GmbH of Germany- 60% share.
The company has three plants which, at full capacity, process 55,000 tonnes of cocoa. Analysis of the company's performance for the period 2004-2016 shows that 2007 was the best year operationally and financially.
For the period between 2013-2016, the company was shut down for its inability to acquire raw cocoa beans for processing culminating from gross mismanagement including misappropriation and misapplication and embezzlement of funds.
A total of 254 employees were sent home. Upon assumption of office, the current management led by the Chief Executive visited the factory to apprise itself of the condition of the company.
Subsequently, a technical team was put together to conduct technical, structural and financial audit of the company.  A committee was thereafter constituted to oversee the re-activation of the company.
Initial 150 tonnes of cocoa was supplied to WAMCo in September 2017.
In 2017-2018 season (Oct. '17 – Sept. '18), a total of 4,462 tonnes of cocoa was supplied to the company. For the period Oct. 2018 – May 2019 a total of 5,540 tonnes of cocoa has been supplied to the company. The company, currently has a total of 170 employees.