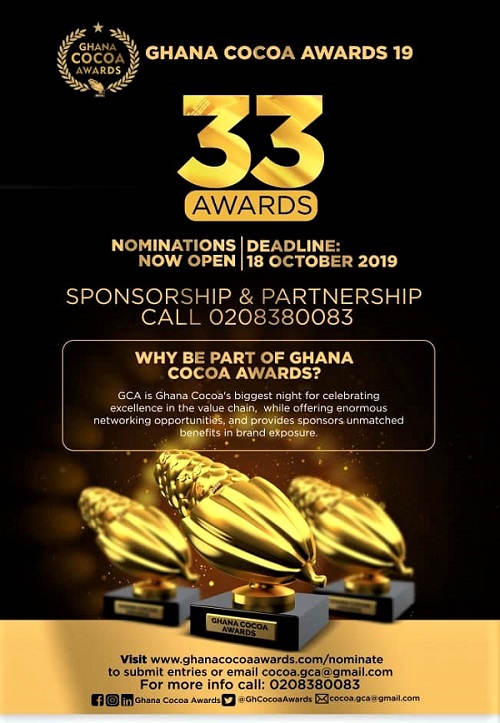 After a thorough and meticulous selection and evaluation process of 161 entries submitted from various actors in the Ghana Cocoa value chain, 78 entrants have been shortlisted for recognition.
The historic first edition of the Ghana Cocoa Awards has been scheduled for Friday 22nd November 2019 at the plush Movenpick Ambassador Hotel, Accra.
The Ghana Cocoa Awards Jury is presently working around the clock to deliver the ultimate winners for all categories to be announced ONLY at the Awards Gala Night, which starts 6PM prompt.
These and more were contained in a press statement issued and signed by the Managing Director of VC Media organizers of the Ghana Cocoa Awards, Mr. Kojo Hayford.
The statement says over 30 awards are up for grabs in various categories including Agro Input, Processing, Manufacturing, Packaging and Innovation, Entrepreneurship, Media, Consumption promotion, Sustainability and Leadership.
The coveted top award of the Night is the Tetteh Quarshie Cocoa Personality of the Year.
Some organisations and individuals are also set to receive Honorary Recognition in the Special Awards category for their stellar contribution to premium Ghana cocoa brand.
GCA is an independent scheme that recognises and celebrates outstanding achievements in the Ghana cocoa value chain, annually.
The Awards Gala Night, a gathering of the crème de la crème of industry and beyond, offers unparalleled networking opportunity, shines the spotlight on great works, celebrates excellence and etches the names of winners in the annals of the global cocoa industry.
Ghana Cocoa Awards (GCA) is powered by VC Media and supported by ECOM Ghana, Solidaridad West Africa, Fairtrade Africa, Hershey's, RMG and AMP Logistics.
"VC Media recognises this initiative that it is the hard work and dedication of the Ghanaian cocoa farmer working in concert with industry that delivers the peerless world acclaimed premium quality Ghana Cocoa, hence this initiative to honour them" the statement said.
Ghana's cocoa sector is said to contribute about US$2billion annually to the country's economy touching very critical aspect of national development namely, finance, infrastructure, education, health and nutrition, among others.
According to the industry regulator, Ghana Cocoa Board, the agro commodity offers direct employment to about 800 thousand Ghanaians and provides a livelihood for some 6 million more.