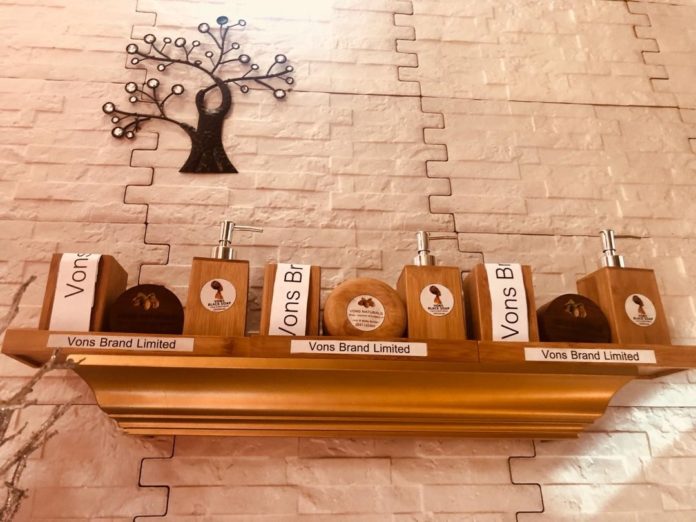 Young entrepreneurs in Ghana are also responding to the call to save our environment from plastic. Even though it is quite expensive to go green, especially for startups, some entrepreneurs have moved beyond the profit motive to think about the environment. To them, profit cannot be made at the expense of Mother Earth. To this effect, they are developing products using eco-friendly methods and materials.
This week's B&FT's Inspiring Startups features a young lady who is making strides in the cosmetics industry. Her products have caught the attention of many, especially because of her eco-friendly packaging. As plastic has become a menace around the world, this lady has replaced her plastic packaging with bamboo. Read on as she narrates her entrepreneurial journey with us.
Background
Yvonne Amakwah, 24, is from Kwahu Atibie in the Eastern Region, but grew up in the country's capital, Accra. She is a graduate of Bradford University College in Accra, where she obtained a degree in Business Administration – Human Resource major. She is also a 2016 fellow of Yali. While in university, she was president of an entrepreneurship group on campus. After her first degree, she went to the Ghana Institute of Management and Public Administration to obtain an MBA.
Her entrepreneurship interest started when she was president of the entrepreneurial group on campus. In the group, members were required to think of a business idea that was creative and would have positive impacts on people and the planet, and still reap a profit. They christened it the 'three Ps'.
Yvonne started her journey with making detergents and cosmetics (hand-wash and shower gel), selling these to her friends. Then she took a short training course in detergents and cosmetics, and also learned from online sources. With such knowledge, she decided to spread her tentacles and move into doing other products. That is when the shea butter idea came up.
Vons Brand Ltd. hits the ground running
Yvonne wanted to make the products unique – especially with her 'three Ps' principle of having in mind people, planet, and profit. So she made it a point to make the packaging from bamboo rather than plastic in order to make it friendly to the environment. Then, keeping people in mind, she chose to train people with disabilities in detergent-making and cosmetics.
The products have been widely appreciated by clients for two main reasons: the packaging and the fragrance of the shea butter. Clients are wowed by the finesse of the packaging and the fact that it is eco-friendly.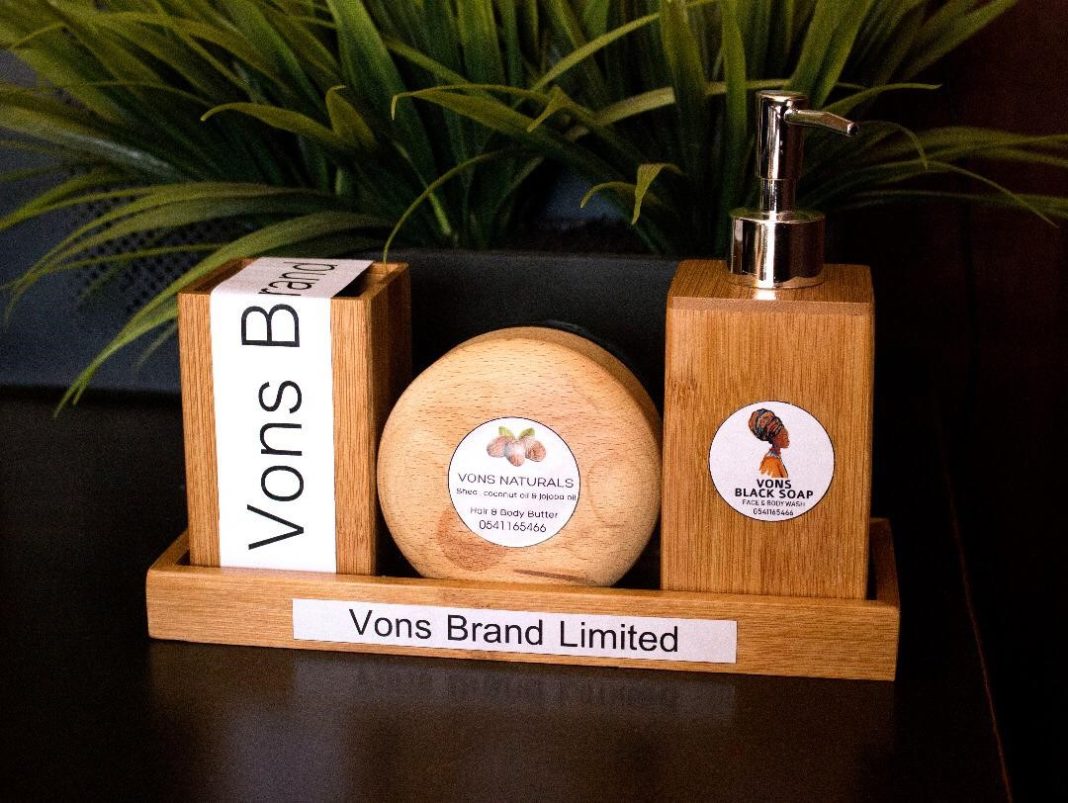 Vision
Vons Brand Ltd. wants to be one of the big names in the cosmetics industry of the future. She wants her products to be among the first to come up in the minds of consumers when they think about locally-made cosmetic products.
Again, she wants to export to other countries – and so has started with the FDA certification process.
Challenges
Yvonne has financial constraints as one of her major challenges. For a startup that has chosen to think about the environment in its production, she is not spared the extra cost that comes with this. She needs to purchase machines for her packaging, and this comes at great cost.
Again, with another vision of training people with disabilities in her trade, she needs to hire the necessary human resources and logistics to accomplish this.  All these require financial strength before she will be able to do it. But for a startup that is barely a year old, it is difficult for her to raise the finances needed to push her business to the next level.
How education has helped
For someone who has a background in business administration, she is not ignorant about how communication with customers, marketing, book-keeping and branding can impact on businesses. She takes these three seriously in whatever she does, and that has contributed to the phenomenal growth of her business. She said her background in business "has really been helpful".
Her views on economic empowerment of women
"If you look at our training for persons with disabilities, our main focus is on women. This is because when women are empowered economically, they impact more on society than men. So, I think it is important for women to also work and support the family."
Government's role in supporting entrepreneurs
Yvonne says government programmes for entrepreneurship like the National Entrepreneurship and Innovation Programme (NEIP) are very important for startup,s but must be extended to more people in order to have a greater impact on businesses and the economy.
Advice for young people
"I would advise young people not to give up in trying. I remember my first business idea failed, but I didn't quit. I tried again and I succeeded. So, if you make mistakes or you try and it doesn't succeed initially, keep doing it till you get it right. Giving up is not an option for you; keep trying and be focused. Do your research well and you will come with the best idea on how to start your business. But the most important thing is don't give up."
Contact: 054 116 5466
Facebook: Vons Brand
Instagram: vons_brand_ltd