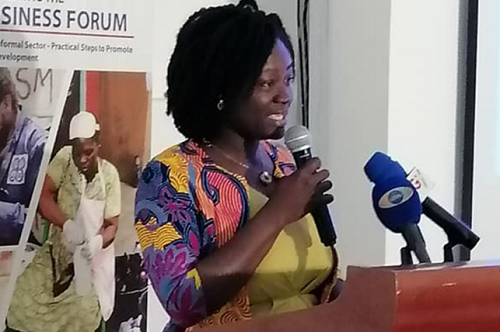 The National Board for Small Scale Industries (NBBSI), an agency of the Ministry of Trade and Industry (MoTI) that is mandated to develop and grow SMEs in the country, has indicated that it is currently working closely with businesses within that bracket on getting them to trade competitively within the AfCFTA market.
Executive Director of the NBSSI, Kosi Yankey, in an interview with journalists at a GEOP Business Forum in Accra indicated that one critical area of support is getting such businesses to become formalised by helping them to acquire the necessary business and tax clearance documentations, all of which come together to support both the economy and continental trade.
"The AfCFTA is such an important thing to have; we are talking about the largest trade zone in the world that gives access to other markets.
"This is the time for us to build the capacity of businesses within the space, especially so women-owned business and those of persons with disabilities are groomed to take advantage of the huge AfCFTA market," she said.
She added: "At NBSSI, we are working very closely with MSMEs and entrepreneurs to see how best we can position them to benefit from trading across borders, so they can grow, expand and actually create more jobs".
According to the NBSSI boss, positioning MSMEs to become formalised or digitally controllable is very important in developing the economy and also helps to build robust businesses that can easily access funding.
MSME Policy heads to Parliament
Meanwhile, the Micro, Small and Medium Enterprise Policy – a legal document to give guidance and direction to businesses within the bracket, has been forwarded to Parliament for approval and subsequent implementation.
According to Ms. Yankey: "The policy is currently being worked on so it can be implemented on the ground; we don't want a policy that will remain on the shelves, but a workable document that can provide the needed support to entrepreneurs and the MSMEs space in general".
It provides structured means of enhancing access to finance, access to markets and maps out measures which will create an enabling environment that supports entrepreneurs to grow and expand their reach.
According to the Integrated Business Establishment Survey (IBES) of the Ghana Statistical Service, 62 percent of commercial establishments in the country fall in the informal sector – which makes it largest in the Ghanaian economy.
In spite of this, the sector is faced with numerous challenges – among which are poor use of technology; non-existing databases of businesses due to the low level of registration for micro, small and medium-scale Enterprises (MSMEs); poor financial accounts, managerial problems; and inadequate availability of affordable finance, among others which have been well-documented.