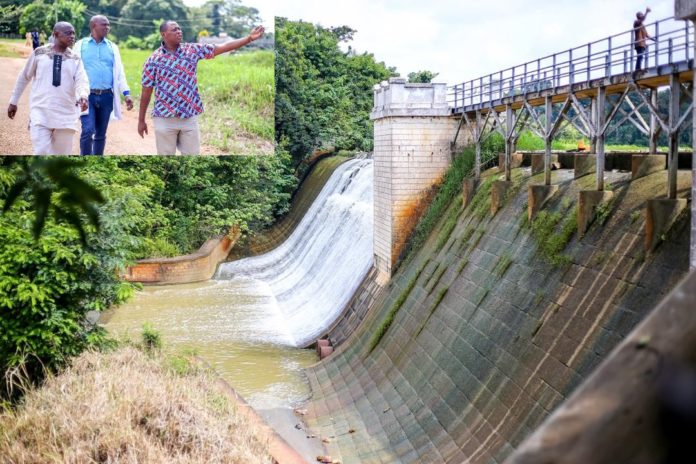 The Ashanti Regional Minister, Simon Osei-Mensah has proposed a new security arrangement that will ensure that all water treatment facilities, together with its buffer zones, are declared as a National Security Zone.
This proposal follows massive encroachment of the Owabi Head Works and the Barikese Water Treatment facility, of the Ghana Water Company Limited (GWCL), by estate developers and farmers.
According to the management of the two facilities, the activities of these encroachers threaten the security of the facilities.
The GWCL noted that in addition to this danger that the development poses the situation also increases their cost of production, since a lot of chemicals have to be acquired to treat the water, for human consumption.
The Owabi facility, for instance, which originally had a depth of 22.5 feet have been drastically reduced to just 6.5 as a result of rampant and indiscriminate human activities.
Plastic bottles, as well as empty sachets and other debris, had covered portions of the dam, and the GWCL had to employ people to remove them from the dams on daily basis, also at a cost to the Company.
The situation if not dealt with, with the urgency it deserves, could lead to acute water shortage in the Region in the next five to ten years, it was indicated.
This is also an affront to the attainment of SDG6 which deals with "ensuring availability and sustainable management of water and sanitation for all." The two water bodies, Owabi and Barekese dams, provide potable drinking water to million homes in the Region.
The Ashanti Regional Minister, who visited the site noted that 'the Regional Security Council will as soon as possible write to the President through the National Security Minister to urgently consider declaring all water treatment areas across the country including its buffer zones a purely Security Restricted Areas.'
Mr. Osei-Mensah said the state of the dams as a result of the haphazard human activities and encroachment was because there is no adequate security around these areas.
He said, 'when these places are declared security zones with the Military or the Police taking over and building their camps there, it will be very difficult for people to penetrate and construct buildings there-whether for commercial or private accommodation or any other settlement in such zones.
He said the absence of the security in those areas, people penetrate the buffer zones with impunity while asking that everybody should be involved in ending this menace which is fast dwindling the volumes of water in the dams.