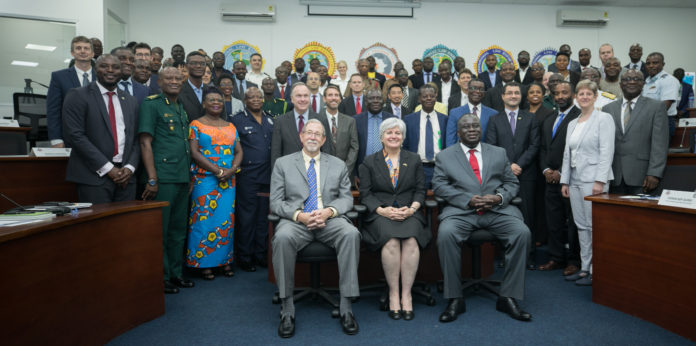 The 5th Security Governance Initiative (SGI) Steering Committee Meeting between Ghana and the United States of America (USA) has been held at the West Africa Regional Training Center in Accra.
The event was attended by senior representatives from the governments of the United States and Ghana including U.S. Ambassador to Ghana Stephanie S. Sullivan and Ghana's National Security Coordinator, Joshua Kyeremeh.
The retired U.S. Ambassador, Michael Arietti, who serves as the U.S. Government's SGI Ghana Head of Delegation also participated in the meeting.
In their remarks, both the Ghanaian and American officials underscored both countries' commitment to improving security sector governance in Ghana.
Ambassador Sullivan highlighted the importance of information-sharing to promote security and said that SGI reforms are "strategic, mutually reinforcing, and of mutual benefit."
She added that the United States will continue to stand firm in their partnership with and to support Ghana in making the reforms.
SGI focus area experts briefed Steering Committee members on progress achieved to date and goals established to strengthen mutually shared objectives.
SGI is a partnership between the Government of Ghana and the United States of America aimed at improving the effectiveness of Ghana's security sector and enabling the conditions for national prosperity.
The United States also has SGI partnerships with Kenya, Mali, Niger, Nigeria, and Tunisia.
Under SGI, in 2016 Ghana and the United States signed a Joint Country Action Plan (JCAP), which identified three priority areas of the partnership: Maritime Security, Border Management and Integration, and Cybercrime and Cybersecurity.  In addition, the Administration of Justice serves as a cross-cutting theme.