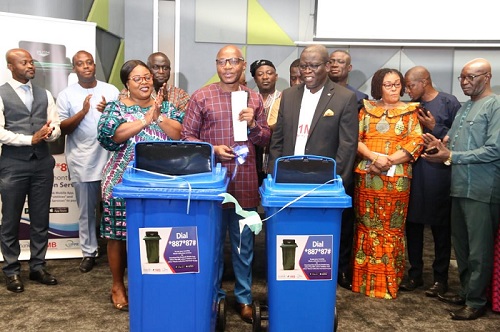 Universal Plastic Products and Recycling (UPPR) Ghana Limited, in collaboration with Ecobank Ghana and Environmental Service Providers Association (ESPA), has formally launched the first phase of a US$10million household waste-bins distribution project in Accra, dubbed the 'One Million Waste-Bins Project'.
The project is aimed at facilitating the supply of some one million waste bins to households and institutions in all cities and local communities across the country for free, to curb indiscriminate littering and promote good health in the communities.
In his address at the event, Managing Director of Ecobank Ghana, Dan Sackey, reiterated Ecobank's commitment and interest in the country's environmental issues, hence the decision to partner the other agencies to facilitate the project.
"Ecobank is very conscious of its environment, and we entered into the collaboration to ensure that we are able to help create mass awareness about environmental cleanliness among the Ghanaian populace, encourage the use of waste-bins in every home, and promote recycling of waste.
"It is in this direction that we have committed over US$10million as a medium-term loan facility to support in production of the waste-bins," he added.
The bank has also introduced payment solutions to enable clients of service providers pay their monthly collection-fees conveniently. The key tools for the project include Ecobank Mobile, Ecobank Omni, all of the bank's branches, and a dedicated USSD code that accepts mobile money payments from all operators in the country.
Chief Operating Officer for Technical and Logistics Cluster of the Jospong Group (managers of UPPR), Alex Atakorah, remarked that the initiative is a laudable one that will not only create a cleaner and healthier nation, but also improve plastic-waste recycling for the production of other plastic materials.
"A good percentage of the recycled materials used for the waste-bins are sourced and recovered from our dumpsites and landfills, thereby reducing the waste burden in the country," he said.
He further pledged that the UPPR will ensure the production of top quality waste-bins to enable the project realise its full potential.
The bins will be fitted with Radio Frequency Identity (RFID) tags that enable the waste management companies to closely monitor and effectively oversee the operations of their workers in the field.
On behalf of the Ministry of Sanitation and Water Resources, Deputy Minister Michael Gyato expressed dissatisfaction with the low investment in the sanitation sector. According to him, the area of water – unlike sanitation – has for the past year received a lot of funding to facilitate projects across the country.
"While we are getting so much investments under water, we are not getting the same under sanitation," he stated, encouraging the private sector to emulate Ecobank's example by investing more in the area.